The project manager is on the ground, running the team and keeping the daily operations of a project running smoothly. But who looks after the project manager? In project management, that position is called a project director.
Project management tends to be a hierarchical methodology that has numerous tiers of command. If you're looking for a job or need to fill an open position, you're in luck. The below job descriptions are very precise. Let's take a look at a project director and learn what they do.
What Is a Project Director?
A project director is a person responsible for leading a team of project managers, which can also include contractors, sub-contractors, software developers, web developers, graphic designers, testers, network engineers and other staff that are essential to the project. They work in industries as varied as construction to IT.
Project directors are responsible for the successful conclusion of the project by providing leadership, strategically managing risk, monitoring finances and making sure that each phase of the project starts and ends on schedule. Project directors work within the project's scope of work (SOW) or function specification documents (FSD).
The project director is responsible for critical decision-making, such as adjusting the budget and adding resources related to the project governance processes. The project managers report to the project director regularly and the project director then reports to the senior management team. You can find project directors in the office, at the factory or in the field. They tend to travel often to various project-related sites to check on the status of the operation.
Project directors oversee more than one project manager because they're often responsible for overseeing multiple projects. Their oversight is at the strategic level, managing shared resources and finances to make sure each project is progressing on time and within budget. Their leadership position requires that they're updated regularly so they can make needed adjustments to staffing or finance to align with the broader outcome goals.
To stay on top of one or more projects, project directors need project management software. ProjectManager is online software that delivers real-time data to help project directors make more insightful decisions. Our one-click reporting feature generates reports on project and portfolio status, costs, tasks and much more. All of these reports are customizable to show only the information you want to see and then can be shared with management to keep them updated. Get started with ProjectManager today for free.
What Does a Project Director Do?
As noted, the project director comes up with the strategic and operational plans for each of the projects that they're overseeing. One of the things that a project director does is monitor and report on project milestones, such as financial and programmatic ones.
They're also responsible for keeping the internal and external stakeholders updated on progress and any deviations from the plans as well as project risks. Project directors work closely with the project managers for each of the projects they oversee and discuss what the projects might need to remain on track.
Project directors develop and test various tactics that can help the projects they manage, from training to delivery mechanisms and public and private sector engagement. It's part of their job to be innovative and integrate those solutions to better project outcomes.
Main Duties and Responsibilities of a Project Director
We've been taking a high-level look at what a project director does, such as the overall management of the project. But there are more than the important tasks of project implementation, financial and administrative oversight, monitoring, reporting and evaluating the project. Here's a list of the main duties and responsibilities of a project director.
Coordinate project managers to make sure work is being done properly
Develop a timeline that captures milestones for projects
Create budget and monitor finances to ensure you keep to the budget
Recommend changes to keep projects on track
Make alternative plans if initial project planning is inadequate
Present to investors, business partners and company executives
Review, approve or deny proposals
Contract with outside agencies as needed
Manage resources
Track planned effort against actual effort and make changes as needed
Project Director vs. Project Manager
We've mentioned a bit about the relationship between a project director and a project manager, but it's worth going into more detail as they might seem similar but are different positions. As the project director is a leadership role, so is a project manager. The difference is what they're leading.
The project director works at a strategic and tactical level. They're responsible for understanding the broader context of the organization and the changes occurring in the program or portfolio of projects they're overseeing. They strive to align each project's approach and impact with the organization's larger goals and objectives.
Project directors tend to have a lot of work experience and need little direction and supervision. They are leaders, giving direction and guidance to the project managers under them and sometimes the project teams as well.
A project manager, as the name implies, is more of a management position. The project manager implements the plans and agreed-upon approach for the project. Gantt charts are the stock and trade of most project managers and they use them to organize project tasks and resources across a project timeline. These plans are open to review by the project director and executive team.
Project Director Skills & Education
Project directors need to have strong skills and a fair amount of education and experience to be considered for a job with so much responsibility. Top of the line is leadership skills. Next to upper management, the project director is the most powerful position on a project and is responsible for its success or failure.
In order to motivate the project managers and project teams, project directors must marry their strong leadership skills with management skills to execute the various initiatives related to the project.
In today's digital world, a project director cannot work as efficiently as needed without having a broad knowledge of computer operating systems. This includes project management software that helps plan, monitor and report on projects.
Naturally, persistence and determination are required to see multiple projects through their phases and keep them on schedule and within budget. It can be a very frustrating job and the buck stops with the project director. They need to be able to use initiative to implement ideas.
Related: Free Implementation Template for Excel
Any position of this type requires a thorough person who doesn't do a superficial job. Though they look over a number of different projects at a high level, yet they still have to have attention to detail to manage projects effectively. That includes a good deal of math, and excellent verbal and written communication skills.
In terms of education, most positions require at least a bachelor's degree in business, economics or a related field. Having an advanced degree or certification in project management isn't necessary but is more often than not what will differentiate you from other candidates in a crowded, competitive field.
Project Director Job Description Sample
Now that we've defined what a project director is, what they do and how they differ from project managers, you have the information you need to become a project director or start looking for one in your organization. Below is a project director job description sample. Simply copy and paste it to use in your job listings.
Summary
Seeking a project director for our company to provide innovative approaches to management and coordinate with partners, executives and stakeholders. Will supervise diverse teams across various projects while overseeing project implementation, financial and administrative oversight, monitoring and reporting, as well as continuous evaluation of operations.
Duties and Responsibilities
Provides strategic leadership and technical, operational, financial and managerial leadership for successful implementation of projects
Makes sure projects are aligned with overall strategic goals and objectives of the organization and, if not, revises plan to make them so
Oversees all project implementation related to project management, including monitoring and reporting, financials transactions, execution of project plans and performance
Selects and manages the training of project teams, assigning clear roles and responsibilities, providing effective supervision and managing performance
Ensures projects deliver specified results and meet quality expectations
Creates and manages project budgets
Regularly updates clients, stakeholders and executives with reports on the progress and performance of projects
Identify and mitigate project risk to avoid delays and cost overruns
Follow all regulations related to projects and ensure they're in compliance
Guides individual project managers across a portfolio of projects
Requirements and Qualifications
Advanced degree preferred in a relevant field from an accredited university
Project management certification preferred
At least 10 years of experience in a leadership position managing more than one project
Experience managing, designing, implementing and evaluating multiple projects
Technical proficiency with industry software and project management software
Demonstrated interpersonal, management and communication skills
Strong oral and written skills
Project Director Salary
The salary for a project director can vary depending on location and industry. The average annual salary for a project direction is between $75,000 to $200,000. This is the range for salary in the United States. Salaries for project directors can vary drastically from country to country.
ProjectManager Is a Great Tool for Project Directors
Whether you're working towards being a project director or you're in the market to hire one, you'll need the right project management tools to do the job well. ProjectManager is online project management software that helps project directors plan, monitor and report on one project, a program or a portfolio of projects. Access to real-time data allows you to respond to the project as it is, not how it was.
Track All of Your Projects on a Roadmap
Manage all your projects on the roadmap view of our Gantt chart. You can filter data to see only what you want to see, whether that's the scheduled start or finish, planned effort, actual effort and more. This high-level view helps project directors allocate resources across their projects. By setting a baseline for each project, you can also monitor the project variance to make sure you're on track.

Monitor Projects With Real-Time Portfolio Dashboard
Another tool for project directors is the real-time portfolio dashboard, which gives you a high-level view of all your projects. The dashboard requires no setup, as with inferior products, and automatically collects and calculates six project metrics: health, time, cost, workload, tasks and progress. It's like getting a portfolio status whenever you need it with real-time data to make better decisions.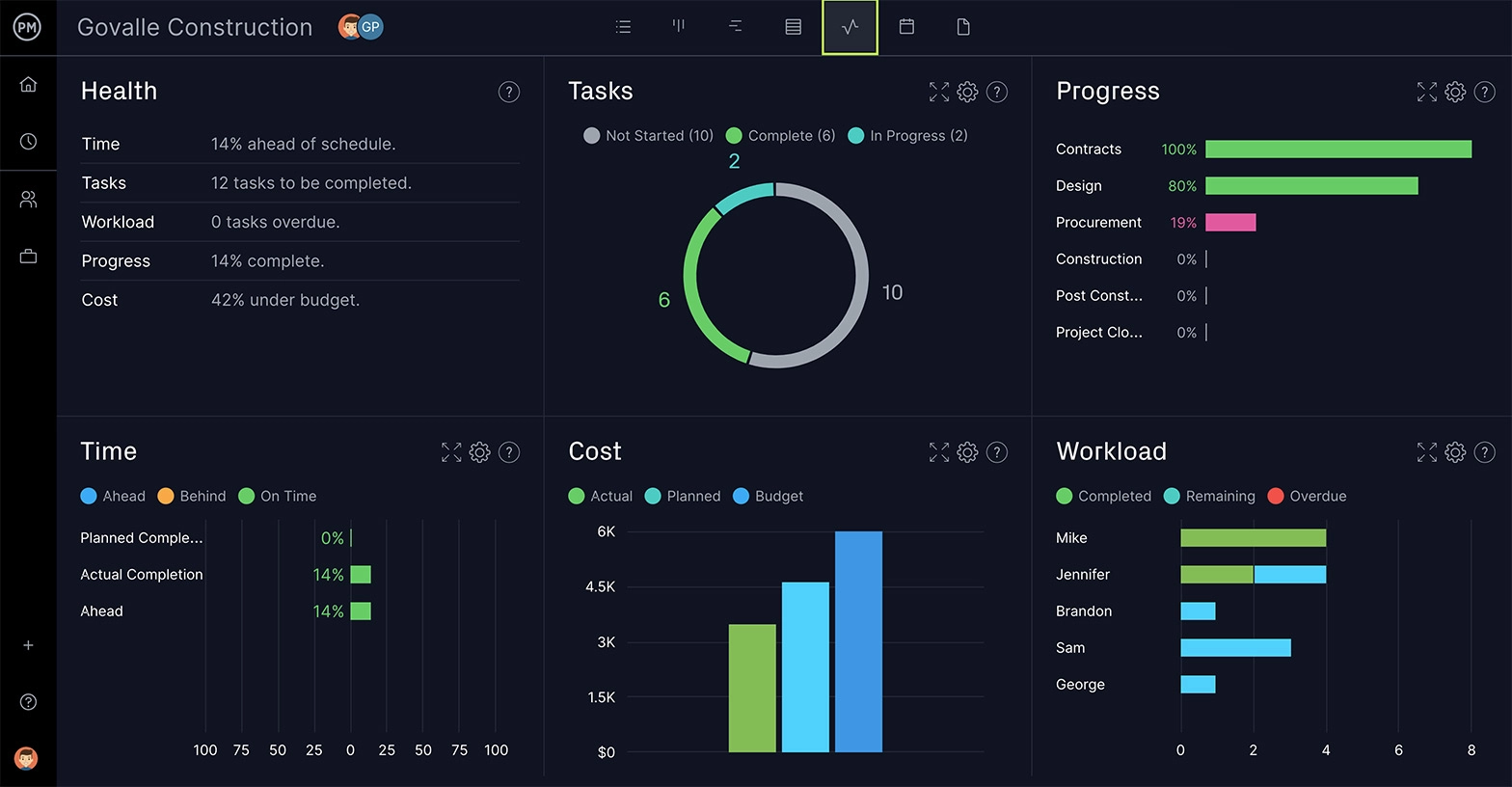 Our software also gives you a portfolio projects view which shows a list of all the projects you're managing. You can get to any of the projects by clicking on them on this page. There's project information and more data you can see at a glance. For resources, there's a workload page that lists all the users in your account and shows their allocation, vacation time and more, so you can balance the workload and have more productive projects.
ProjectManager is award-winning software that gives project directors the tools they need to strategically manage projects. We have features that help them plan, monitor and report across multiple projects, manage resources and all on a collaborative platform that connects teams whether they're in different departments or different parts of the world. Join the teams at organizations such as NASA, Siemens and Nestle who are delivering success with our tool. Get started with Project Manager today for free.