Understanding a project manager job description is critical if you want to become a project manager or hire one for your project. Project managers are the point person in charge of a specific project or project within an organization. We regularly feature project management resources to help train PMs to land jobs in the industry or develop better skills in their current role.
We thought it'd be helpful to look at the main roles, responsibilities, skills and qualifications required from project managers and further explain with project manager job description samples.
What Is a Project Manager?
A project manager is a professional who leads a team through the project life cycle by planning, budgeting, scheduling and tracking a project plan. The project plan thoroughly explains how the project will be executed and includes a budget, timeline, schedule, roles and responsibilities among other things.
To lead projects to successful completion, project managers need the right tools. ProjectManager allows project managers to plan, schedule and track their projects all in real time with tools like Gantt charts, kanban boards, project dashboards and task lists. Get started for free.
What Does a Project Manager Do?
Project managers plan, budget, monitor and report on the project with project management tools, sometimes pitching the idea of the project or being assigned to it once it's been approved. They make sure the project plan is sound, report regularly on its progress and monitor it to ensure that its execution stays within the approved budget and schedule.
However, the project manager isn't alone in this process. The project manager is the bridge between upper management, stakeholders and cross-functional teams tasked with the execution of the project. Besides collaborating with these teams, project managers use project management software to track costs, tasks, time and project progress.
Project Manager Job Description Sample
Now let's review what an average project manager job description would look like. We hope it's inspiring for you either as an applicant or as an employer.
Job Description
A project manager is responsible for the direction, coordination, implementation, executive, control and completion of the project while remaining aligned with the strategy, commitments and goals of the organization.
Responsibilities
Plan and implement projects
Help define project scope, goals and deliverables
Define tasks and required resources
Collect and manage project team
Manage budget
Allocate project resources
Create a schedule and project timeline
Track deliverables
Support and direct team
Lead quality assurance
Monitor and report on project progress
Present to stakeholders reports on progress as well as problems and solutions
Implement and manage change when necessary to meet project outputs
Evaluate and assess the result of the project
Qualifications
Excellent communication skills
Problem-solving and leadership skills
Project planning, risk management, time management and other project management skills
Project management qualification (PMP), Certified Associate in Project Management (CAPM), or equivalent experience as a project manager
Experience in strategic planning, risk management and/or change management
Proficiency in project management software tools
Contract negotiation
Conflict resolution experience
Project Manager Salary
According to payscale, the average salary for a general project manager in the US is $75,000.
Project Manager Interview Questions
A project manager job description is crafted to find the best project manager for an organization. The next step will be a series of interviews to gauge whether the candidates meet the qualifications required from them. For that reason, we've compiled the top project manager interview questions, so you're better prepared either as an employer or project manager.
Project Manager Job Description: In-Depth Analysis
Now let's review each of the elements that make up a project manager job description in more depth. It's important that you understand them as they can apply to your project manager's resume or job description.
Project Manager Qualifications
There are many entry points into work as a project manager. There is no one path, but there are more linear routes that one can take, just as if learning a trade. Being a project manager is a trade, after all, and there are many trade schools and universities that offer a course of study resulting in a degree.
Beyond academia, there is project management training and certifications. There are two major certifying bodies, PRINCE2 and the Project Management Institute (PMI). The latter offers a certification called Project Management Professional (PMP), which has become the primary certification for professionals in the field of project management. To obtain it, project managers must meet qualifications such as 35-60 months of project management experience, 35 hours of project management education and complete a certification exam with 180 questions.
Project Manager Education & Certifications
The Project Management Professional (PMP) certification is the most common certification for project managers, but it's not the only one there is. Here are the main project management certifications offered by the PMI:
Project Management Professional (PMP): This certifies that you're a capable project manager who is competent in waterfall and agile project management.
Agile certifications: These are ideal for those project managers that want to work in agile environments as a scrum master, agile certified practitioner or agile value stream consultant.
Certified Associate in Project Management (CAPM): This project management training program is the first step toward getting your PMP certification. It's recognized by many employers for entry-level project manager positions.
Program Management Professional (PgMP): As the name implies, this certification is meant for those who want to become a program manager. Program managers specialize in managing a group of closely related projects that are part of a program.
Portfolio Management Professional (PfMP): This project management training will allow you to apply for project management roles that require managing multiple projects simultaneously.
If you're looking to get your project management career started but you're not ready for those certifications, you could check the Google project management certification program, which is not as recognized as PMI or PRINCE2, but it's a good place to start before getting into more advanced project management certifications.
However, many people land as project managers without any education or certification in the field. While there's nothing wrong with getting educated and certified, experience is also a great teacher. Then there are those who become "accidental project managers," or people who find themselves being tasked to lead a project and must hit the ground running.
Related: Secrets to a Great Project Manager Resume
Project Manager Responsibilities & Duties
Project Planning
A project can begin and certainly is designed to fail if there first wasn't a plan devised to see it through, on time and within budget. The project manager's first role is to make a feasible plan that achieves the goals and objectives of the project and aligns with the organization's overall business strategy. This involves creating a project schedule, securing the resources and defining the project goals, among other things.
Assembling and Leading a Project Team
Project managers need resources to complete the project tasks, which include skilled and experienced team members. A project manager either takes a leadership role with an existing project team or creates one. Once a team is created, the project manager creates a project schedule to assign tasks and deadlines, giving the team the tools to collaborate without micromanaging every activity. It's important to meet regularly and get status updates to chart progress while reallocating resources as needed to avoid blocking team members or overburdening them.
Time Management
Time is always ticking towards the project deadline. While communication is key to addressing changes and making sure everyone is doing what they need to do, the project manager must also define, schedule and accurately estimate the task duration to develop and maintain a realistic project schedule.
Resource Management
Nothing is going to get done without money. Figuring out what the proper funding for the project is, having that get accepted and then keeping the project within or under budget is often what makes or breaks a project. You can get your stakeholder their deliverables on time, but if that cost more than the budget you created, then the project is a failure.
Stakeholder Management
You want to deliver to your stakeholders what they expected or better and make sure that they're satisfied with the results. But that doesn't mean ignoring them to focus solely on the project. Rather, you need to be in constant communication with them, reporting on progress and being open to their feedback to keep them happy and coming back to you with future projects.
Risk Management
Problems will inevitably arise in a project. That's called an issue. You need to be ready for them and work towards resolving them quickly so they don't derail your project. Then there are risks, which are potential problems, ones that have yet to occur or might not ever. Regardless, you must figure out beforehand what the risks are and set in place a plan of action if they in fact occur.
Monitoring Progress
To make sure a project is progressing as planned, you must constantly measure it and compare those metrics against the plan you created. It's essential to have a way to collect project data, such as status reports from your team, to see if the actual progress of the project is meeting what you had initially planned.
Reporting and Documentation
Reporting is one of the ways you communicate with your team and stakeholders. While teams need more detailed information and stakeholders are looking for broader data to check the project's progress, both are essential tasks for the project manager. This documentation, along with all paperwork, must be collected, signed off on and archived by the end of a project, which provides a history that you can revisit when planning for a similar project in the future.
Related: The 23 Best Project Manager Interview Questions
Project Manager Skills
Project managers may be required to have a certain skill set depending on the job, project, industry and experience level. However, there are general project management skills that are common to any project manager job description. These are the most essential.
Soft Skills
Leadership skills
Communication skills
Interpersonal skills
Team mentality
Organizational skills
Hard Skills
Time management
Team management
Risk management
Industry-related technical skills
Knowledge of project management software
Project management certifications
Project Manager Salaries
A project manager's salary depends on many things such as experience, industry and certifications, but in general, project managers are well-compensated for their work. Project manager salaries range around the low six figures. Project management is an exciting career path, rife with opportunities for well-organized individuals.
Project Manager Job Description Examples
Here are two more project manager job description examples to give you an idea of what's required of project managers for different roles.
IT Project Manager
Job Description
An IT project manager is responsible for developing and managing information technology projects and their cost, time and scope. Responsibilities include creating a project plan, communication plan, allocating tasks and setting milestones.
Responsibilities
Create & manage project plans
Define project schedules, allocate resources and monitor progress
Align project objectives with company goals, and make sure the project team is clear on objectives
Deliver and install technology solutions
Help project team with the design and development tasks
Lead process of issue identification and resolution
Manage risk tracking process
Monitor and manage project scope
Manage all project documentation
Work on multiple projects within the company's project portfolio simultaneously
Foster partnerships with customers, stakeholders and sponsors
Qualifications
Three or more years of project management experience in information technology I.T.
ITIL or ITSM certifications are preferred. PMP certifications are required.
Detail oriented
Thrives in a collaborative environment
Good communications skills, with customers, team and stakeholders
Business & IT strategy experience
Customer-focused mindset
Knowledge of related software development and project management tools
IT Project Manager Salary
According to payscale, the average salary for an IT project manager in the US is $88,900.
Senior Level Project Manager
Job Description
The senior project manager is in charge of schedules, budgets, resources and project deliverables. Delivers business results by ensuring that project management best practices are being met. Monitors teams to make sure the project goals and objectives are being kept. Knowledge of larger landscapes without neglecting granular details while tracking project health, staying alert for risk and resolving issues as they arise. Maintains standards and monitors project scope and quality requirements.
Responsibilities
Works with key stakeholders to understand the business needs, and creates a project management plan that aligns with the company's strategic objectives
Oversees strategic plan, monitoring and adapting as needed
Creates project plans, project charters and project schedules
Maintains project objectives
Monitors production and quality to customer/stakeholder/sponsor standards
Identifies and resolves issues and risks
Reports on project progress offer viable solutions and opportunities as they arise
Implements change practices
Manages resources to make sure schedule is on track
Project portfolio management
Lead meetings and set expectations for the project team
Maintain budget
Reporting on projects and portfolios
Qualifications
Bachelor's degree required; MBA preferred. Business administration, management, leadership and related fields.

10+ years experience in project management, especially larger projects with established firms
PMP certification required; PMO experience preferred
Knowledge of agile and lean approaches such as Scrum, Kanban, SAFe, among others.
Experience in Agile project management teams
Proven leadership skills
Expertise in conflict resolution
Analytical and strong organizational skills, with excellent verbal and written ability
Proficiency with project management software and related tools including but not limited to ProjectManager, JIRA, MS Excel, etc.
Senior Project Manager Salary
According to payscale, the average salary for a general project manager in the US is $91,350.
Related Content
There's a lot to learn about being a project manager. On top of overseeing projects, the role involves collaborating with similar leaders, cross-functional teams and third parties. For that reason, we've created blogs, guides and templates to help you better understand all the different aspects of this role.
ProjectManager Is Ideal for Project Managers
You've crafted a thorough job description and landed a highly qualified and motivated project manager. But they can't do it alone. They need ProjectManager, an online project management software that gives project managers the tools they need to better plan, monitor and report on their projects.
Planning & Scheduling
Think of all the responsibilities that weigh on the shoulders of a project manager. For starters, they must create a project plan. No problem. ProjectManager makes planning easy and there are even industry-specific templates to get started fast. Once tasks are inputted, they can use the Gantt chart to create timelines and roll out a schedule. From here, the project manager can assign work and even direct the team, commenting at the task level and adding relevant documents. ProjectManager also offers kanban boards to facilitate task management.
Tracking & Reporting
Monitoring production while the plan is being executed is how a project manager keeps track of time, work and costs. ProjectManager has multiple project management tools to track progress on your project. A real-time dashboard gets six project metrics and turns them into easy-to-read charts and graphs for a high-level view of the project, which keeps stakeholders updated.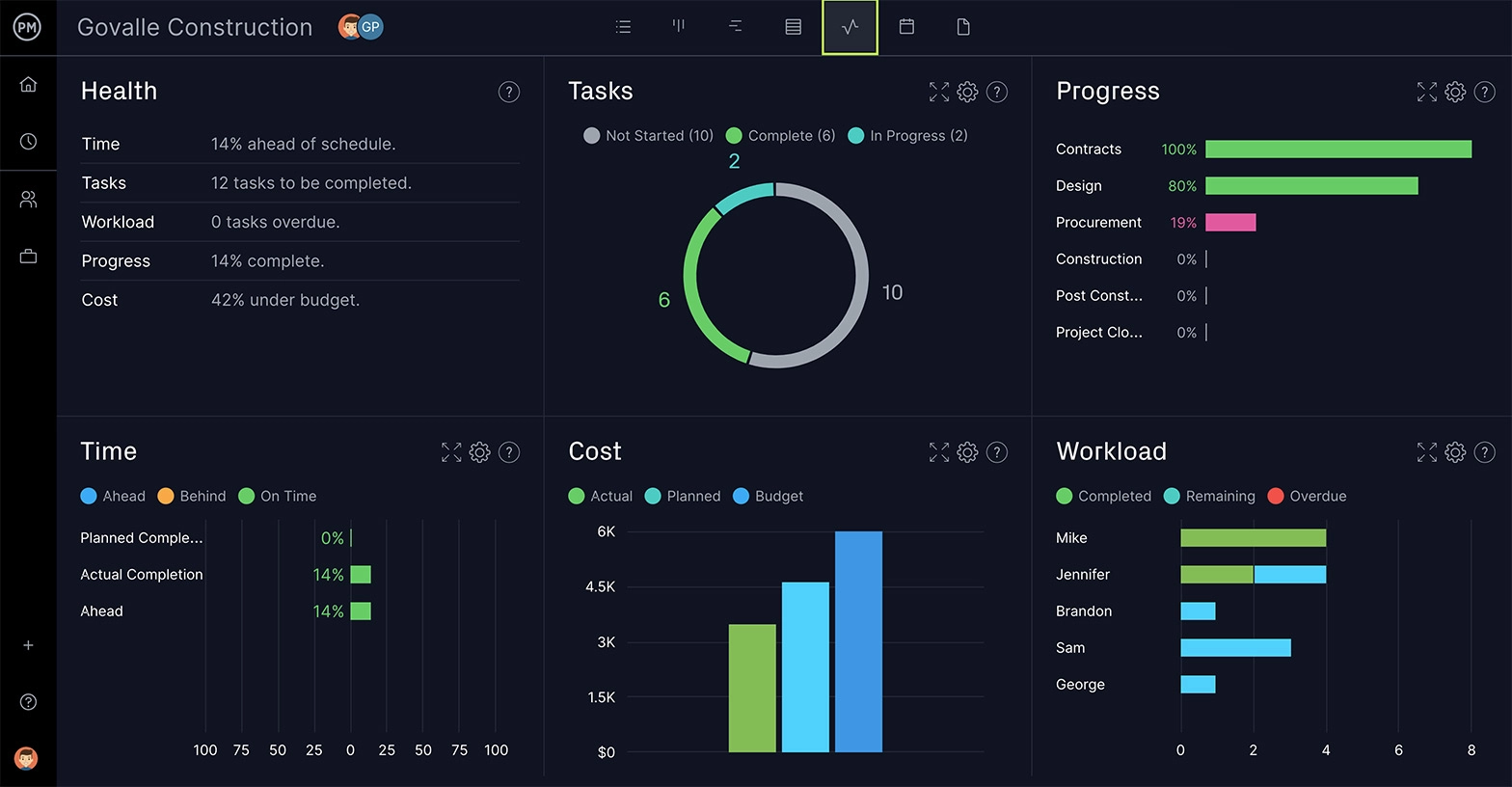 Resource & Team Management
Project managers need more detailed data to manage resources and their team's workload. ProjectManager has one-click reporting that can be filtered to give you just the information you need. These reports can be shared with stakeholders if they want to take a deeper dive into the project.
It's always important to make sure teams have a balanced workload. ProjectManager has a workload page that is color-coded making it easy to see who is overtasked and who needs more work. Resources can be reallocated on the workload page so production can continue to move forward. To get all these features and more for your project manager, try ProjectManager today!
No matter what type of project you're working on, project managers need tools to help them manage all the moving parts of their project. ProjectManager was developed by project managers for project managers. It's a cloud-based tool that gives you real-time data to better monitor your projects but also has features to help you plan, manage teams and report with ease. Try our award-winning software today with this free 30-day trial.