Planning a project only gets you so far. You also have to monitor your progress and performance to track if you're on schedule and within budget. Then there are your stakeholders whose expectations must be managed. That's where Excel report templates come in.
Project reports are tools that project managers use to extract valuable project data. Excel report templates are a great tool to determine how you're doing and keep your stakeholders updated.
Using Excel Report Templates for Project Management
The great thing about Excel report templates is that they're free to download. Below are 10 essential Excel report templates that you can use now to get valuable data on your project. These Excel report templates cover everything from status reports to risk registers for a clear view of how your project is doing.
Microsoft Excel is a great tool as these Excel report templates show, but they only go so far. Excel report templates must be imputed manually and are labor-intensive. They also don't reflect real-time data so they're always slightly behind. Project management software is the next step to gaining greater efficiency in managing your project, but if you're not ready for that, Excel report templates will help.
Excel Report Templates for Project Management
Below are Excel report templates for project management, but they're only a small sampling of the free project management templates we have to download on our template page. There are dozens of Word and Excel templates to help you through every stage of your project's lifecycle.
We've culled through that pack of templates to highlight our free Excel report templates. Download one or all of them now and use them to extract the information you need to deliver a successful project. When you're ready to take your project templates one step further, read to the end and see how project management software leaves Excel project templates in the dust.
Just as the dashboard on your car helps you track speed, mileage, gas consumption and more, our free project dashboard template is a window into the progress and performance of your project. It's made up of a variety of graphs, such as a pie graph that shows how your team is progressing on their tasks to bar charts on workload, task lengths and project costs.
The free project dashboard template is a high-level view of your project. It gives project managers a glimpse into what's going on in the project so they can make better decisions. This Excel report template makes for a great communicative tool. Numbers can end up floating around on the page if math isn't your strong suit, but the visual elements of the free project dashboard template create a quick and easily digestible way to deliver project data to stakeholders.
ProjectManager software delivers more than any template. ProjectManager is online software that isn't static like a template but instead connects to your project plan, schedule, resources and more. Our real-time dashboard receives live data as teams update their status so you're always seeing current and accurate project information. There's no data to input and it's all done automatically. Get started with ProjectManager today for free.
Being able to get a snapshot of your project that shows its current state is critical for proper management. Our free project status report template lets you see the health of your project and how it's progressing against your project plan. It can be used to communicate with stakeholders who prefer a more general synopsis of how the project is doing.
This Excel report template is still a wealth of important information, from a summary to project health to risks and recommendations. That includes key accomplishments, what work is completed, what's still ahead, milestones that have been reached and deliverables. There's also a place for action items, overviews of the budget, schedule, quality and scope, and even roadblocks that need to be addressed.
Knowing the progress of your project is one of the best ways to make sure you're meeting scheduled milestones. Our free progress report template is a way to record the movement of your project over a specific period of time. That timeframe can be a week, a month or whatever is appropriate for your project Our free Excel report template captures the data.
The Excel report template provides a summary of the project status, scope, schedule, cost and risk and then goes into more detail about all the tasks executed over the timeframe. It also looks at any issues that came up over this time period and how they impacted the budget. It then notes any existing or expected accomplishments.
After you've delivered a project, it's important to learn from it. What worked? What didn't work? You can then take that knowledge and apply it to future projects to manage them better. One of the most important Excel report templates you can use is this free lessons learned template.
The lessons learned template creates a space in which you can capture all the information you need from what is a win or a loss, describing what happened, the impact, how to change things to improve and then a list of action items to implement those changes. Use this Excel report template when doing a post-mortem with the project team. Get their feedback as they were on the front lines of the project and can offer a unique perspective.
This Excel report template is a bit different. You use a cost-benefit analysis template to see if the project is viable and worth funding. There are always questions to answer before initiating a project, such as whether will meet a need, provide a service and whether you can deliver on deadline and for a reasonable cost.
The cost-benefit analysis is a way to answer those questions before investing and risking the financial solvency of the organization. It lets you examine the numbers and make a knowledgeable decision about whether to go through with the project or not. This might be one of the most important Excel report templates you'll use and it should always be part of your research.
Whether you're managing a project or an organization, you're always on the lookout for ways to innovate and be more efficient and effective in meeting your long-term goals. A gap analysis template is a tool that helps conduct a strategic analysis of when you are, where you want to be and, most importantly, how to get there.
Using this Excel report template is the first step to making an action plan that can help you close the gap you've found in your analysis. It helps you see the path to achieving those strategic long-term goals that help you grow and stay competitive. Like many Excel report templates, it also acts as a communication tool for stakeholders and employees, providing a lodestar to follow.
Keeping a project on schedule is one of the main responsibilities of a project manager. One way to accomplish this goal is with our free project task tracking template. It's a tool that allows you to create a task list and use that to make sure each task in your project is on track to make its deadline. If not, you can reallocate resources to get it back on schedule.
The Excel report template is set up to capture the task and a brief description. It outlines if it's a dependent task and who it's assigned to. There are also pulldown menus to note the priority, start date, planned end date and actual end date for each task. There's a status column to note if the tasks are opened or closed and a space to add other details not collected already.
Another Excel report template is our free timesheet template. It's a tool that not only helps with payroll but allows project managers to track the time each team member is spending on their tasks. You can track cost per hour, vacation and overtime to help stay on schedule.
This free Excel report template captures the personal data of each team member, including the department in which they work, their supervisor and their hourly rate. Their weekly hours are then collected and totaled to show you how much time they put in and what tasks they've completed or are still working on. Finally, there's a signature line for the employee and supervisor.
All projects have risks associated with them. We think of risks as bad, but some risks are good in that they open up an unforeseen opportunity. Our free risk register template helps you plan for risks, set priorities and outline who on the team is responsible for following through.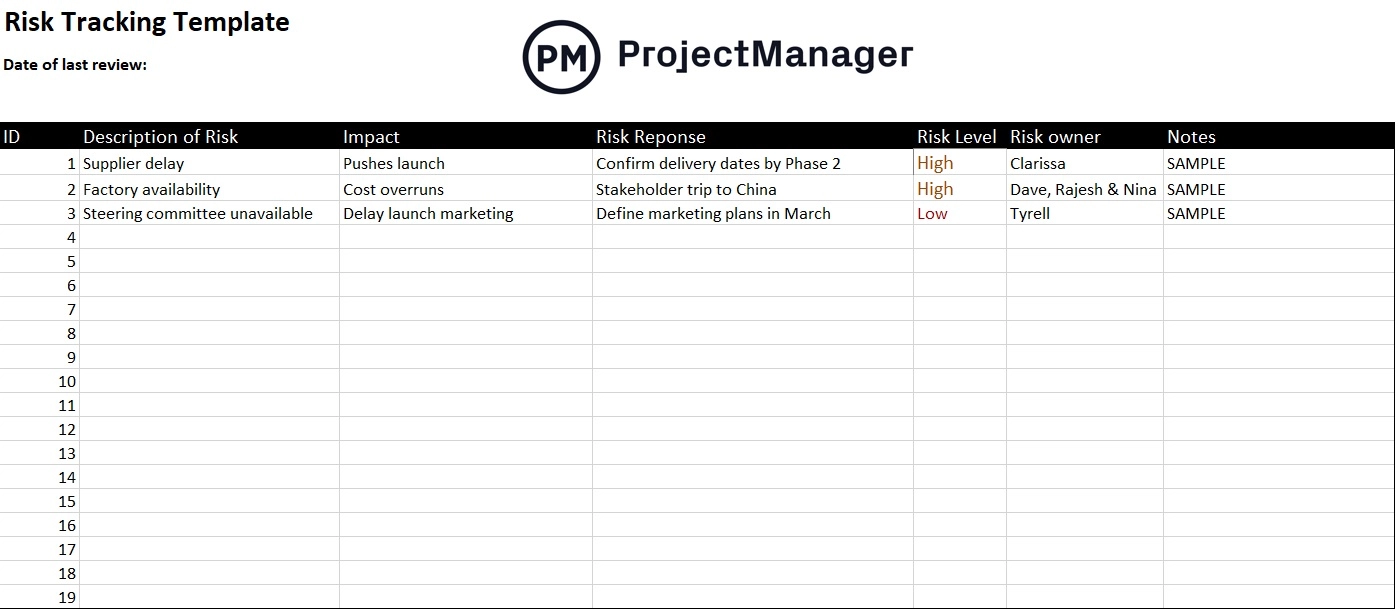 This free Excel report template is important in helping you identify and respond quickly to any issues that show up in the project. You can't know every risk that might show up, but with the help of your team's experience, you can outline a majority of the likely risks and have a plan in place to effectively mitigate risks or take advantage of them.
Having a change log template is key to any change management process. Project plans are important but they're not etched in stone. When changes occur in your project, whether external or internal, you need to have this free Excel report template to capture that change and track it throughout the project or until it's resolved.
The free change log template has a place for everything you need to identify and track changes in your project, such as when it was first discovered and who discovered it. The more data around the change, the more you can control it and make sure it doesn't derail your project.
How ProjectManager Makes Reporting More Robust
These Excel report templates are a good start, but if you want to cross that project finish line on time and without accruing extra costs, then you need project management software. ProjectManager is online project management software that automates reporting and delivers real-time data for more accuracy and better decision-making.
Use Real-Time Dashboards
The dashboard template only gives you a taste of what a dashboard can do. Our real-time dashboard automatically captures live data. You don't have to manually input it. It also does the calculations for you and then displays the results in easy-to-read graphs and charts. This high-level view is constantly updating so it's like a high-level status report that's always at your fingertips. While other project management tools have dashboards, often you have to set them up. That wastes time. Our dashboard is ready to go when you are.

Get Customizable Reports
All of the Excel report templates we've featured for free download are static documents. Our reports can be generated quickly and each can be filtered to show only the data you want to see or share with stakeholders. There are reports on portfolio status, project status, project plan, task, timesheets, availability, workload and various others to help you see in real time how the project is progressing and performing. Excel report templates don't take the complex data from your project and turn it into helpful and digestible information, but our software does.
The dashboard and reports are all collecting data from the many features that make our software unique in the project management space. We have robust Gantt charts that schedule tasks, resources and costs. Our kanban boards help to visualize your workflow while the sheet, list and calendar views are all designed to help you work how you want. Our collaborative platform connects everyone on your team, different departments and even outside enterprises so your reports can be shared with those who need to see them.
ProjectManager is award-winning project management software that creates efficiencies by connecting everyone in real time. With features to plan, monitor and report on projects, and manage resources and risks, we have the one tool for all your project management needs. Join teams from NASA, Siemens and Nestle, among other organizations, delivering success. Get started with ProjectManager today for free.