Launching a marketing campaign is nothing other than a project. Like all projects, it involves planning activities which is a task accomplished with a marketing calendar. But marketing is a unique discipline and a marketing calendar isn't exactly like a traditional project that's organized on a Gantt chart.
To better understand what a marketing calendar is, we'll first define the term and then go into the purpose of using one. Just as there are various marketing pushes, there are also many marketing calendar types. We'll discuss those and provide a free marketing calendar template to help you get started.
What Is a Marketing Calendar?
A marketing calendar is a way to plan your advertising or other marketing pushes throughout the month, quarter or year. It's a way to map out and coordinate activities that execute a marketing strategy that was decided upon earlier.
Think of it as a visual representation of your marketing activities. It can also act as a centralized hub where everyone involved in the marketing campaign can see what they need to do and track those responsibilities across the life cycle of the project.
The marketing calendar can be a physical calendar that you tack to your wall or one that you make with scrap paper. The alternative is to use a digital version which comes with the advantage of being accessible wherever and whenever you need to see updates or add comments.
If you're looking for a guide to strategically direct your marketing for the next few months, quarters or the year ahead, you'll want to choose a powerful online version that can be easily shared and edited. ProjectManager is online project management software with a calendar view that can be updated in real time. See your current workload and projects, including due dates and duration, task and assignee. The calendar works seamlessly with all our project views, such as Gantt charts, sheet and list views as well as kanban boards to allow everyone across departments to work how they want. Get started with ProjectManager today for free.
What's the Purpose of a Marketing Calendar?
The main goal of any marketing calendar is to keep the project's budget, ideas and processes front and center. Like any project plan, the marketing calendar lays out dates and durations of activities in your marketing push and allows those in the project to share it and stay in the know.
The purpose of a marketing calendar is to help managers delegate work, but it's also a tool for everyone in the project to plan their day and work more productively. The marketing calendar keeps everyone on the marketing team aware of not only what they're doing but what everyone else is doing. It demonstrates how those various activities are working together toward a larger goal.
Besides ensuring important activities don't fall through the cracks and helping with scheduling, the marketing calendar is also a living document. The marketing calendar should be updated regularly as things change in the project. Managers need to constantly reevaluate the process and proactively plan in advance.
A marketing plan provides visibility into the marketplace where it'll live and what channel will deliver it. In terms of its bottom line, a marketing calendar is useful for tracking the marketing budget. While the marketing calendar isn't a budget spreadsheet, it's helpful as it lists the costs and resources allocated for marketing activities. That means you can track the budget versus expenses.
The marketing calendar takes piecemeal activities and combines them into a cohesive whole. This is key to running a successful marketing campaign that will attract, convert and retain customers. The marketing calendar defines deadlines and expectations, making it one of the most important tools that marketers have to reach the goals and objectives of their company's marketing strategy and marketing plan.
Free Marketing Calendar Template
If you're looking to put your marketing plan on a marketing calendar, as we noted, there are lots of ways to do so. You can make a grid on a loose leaf of paper and fill in the blanks. While we'd recommend using software that can connect your marketing calendar to teams, tracking and more, which we'll highlight later if you're not ready for that commitment there are templates that you can download. Our free marketing calendar template for Excel is fully customizable and reusable. Use our free downloadable marketing calendar for Excel and successfully drive your marketing campaign. 
Types of Marketing Calendars
Just as there are different marketing campaigns, there are different marketing calendars. While they're similar in format and serve the same function, there are differences. We've chosen three popular types of marketing calendars and defined them below.
Social Media Calendar
Social media has grown into a valuable marketing channel and one that deserves its own marketing calendar. You can divide social calendars into the channels or platforms to which you'll be posting such as LinkedIn, Twitter, Instagram, Facebook, YouTube, etc. It helps to color-code these platforms to make it easy to distinguish one from another. Now you have to plan your posts and organize the tasks ahead of time, determining when and how frequently you'll post to each channel. It can help you manage your social campaigns and keep to the deadlines outlined in your marketing campaign.
Email Marketing Calendar
The email marketing calendar helps you plan which emails to send and when. This can be to specific individuals but usually targets subscribers. It helps you implement your email strategy and tracks your metrics, which is a great way to retain your customers. The email marketing calendar is a way for you to create emails that help you improve your subscribers' experience through the proper planning and execution of your marketing plan. You don't want to inundate your subscribers and emails must provide value. The email marketing calendar gives you more control over your messaging and frequency as well as provides visibility for the entire marketing team who can help exploit visible opportunities.
Content Marketing Calendar
If you're publishing content, whether online or in print, you need a content marketing calendar to help you plan and schedule that content. Content distribution is driven by a strategy but executed over time by several members of a time. A content marketing calendar is a tool that coordinates those actions to make sure they occur before the publishing deadline. Like all marketing calendars, the content marketing calendar is a living document that must be updated regularly as issues arise and change the schedule. Plus, it serves as a document to update stakeholders.
Editorial Calendar
If you're publishing in print or online, you need an editorial calendar. It helps you manage the frequency of your publishing and is key to advertising. If your printed material or blog has advertising, the advertisers want to know what you're publishing and when to decide on what's the best fit. In terms of your blog, the editorial calendar helps you focus on search engine optimization (SEO) content that's more likely to draw people searching online for those keywords to your site. But an editorial calendar doesn't have to be used for only a blog or print. It's helpful if you publish infographics, convention reports, news and opinion, white papers and more. Whatever content you're publishing, the turnaround time is different. An editorial calendar helps you manage the different timeframes and skills involved in each.
As you can see, a marketing calendar is a flexible tool that can be used for a variety of marketing campaigns. All marketing campaigns share a strategy and a set of activities and metrics to reach and measure those goals. You'll find it looks a lot like a marketing plan. That's because it is. While a marketing calendar doesn't have the same features as planning on a Gantt chart, it does include the basics. Let's take a closer look.
How to Create a Marketing Calendar with ProjectManager
ProjectManager is online project management software that can help you build a marketing calendar, assign work to your marketing team and track marketing metrics in real time. With our software, you can create a marketing calendar but also view the marketing plan on multiple project views, such as our Gantt chart, kanban board, sheet and list view. Best of all, you can track progress and performance in real time.
1. Map Out Your Marketing Plan, Identify Milestones and Due Dates
To map your marketing plan on the calendar view, start by hovering over the due date on the calendar. You'll see a popup window asking you to name the task. Don't worry, this can be changed and the task dragged and dropped to a new date if things change.
Switch to the Gantt view to add milestones, which are signified by a diamond shape, to indicate a major phase in the project. These can help you track progress. Also, add the due date to each of your tasks. These will show up on the calendar.
2. Assign Tasks to Team Members
Now you'll want to assign those tasks to members of your marketing team. Once team members are onboarded, just use the pulldown menu to select the team member you want to assign. You can assign more than one person and add descriptions, tags and relevant files.
3. Define Marketing Metrics
Once you have your marketing calendar set and have begun your marketing campaign, you can use our software to track your metrics. Our dashboard automatically collects real-time data and displays it in easy-to-read charts and graphs that show time, cost and more. You can get a high-level view of your marketing plan whenever you want. Unlike inferior software products, no setup is required. It's plug-and-play.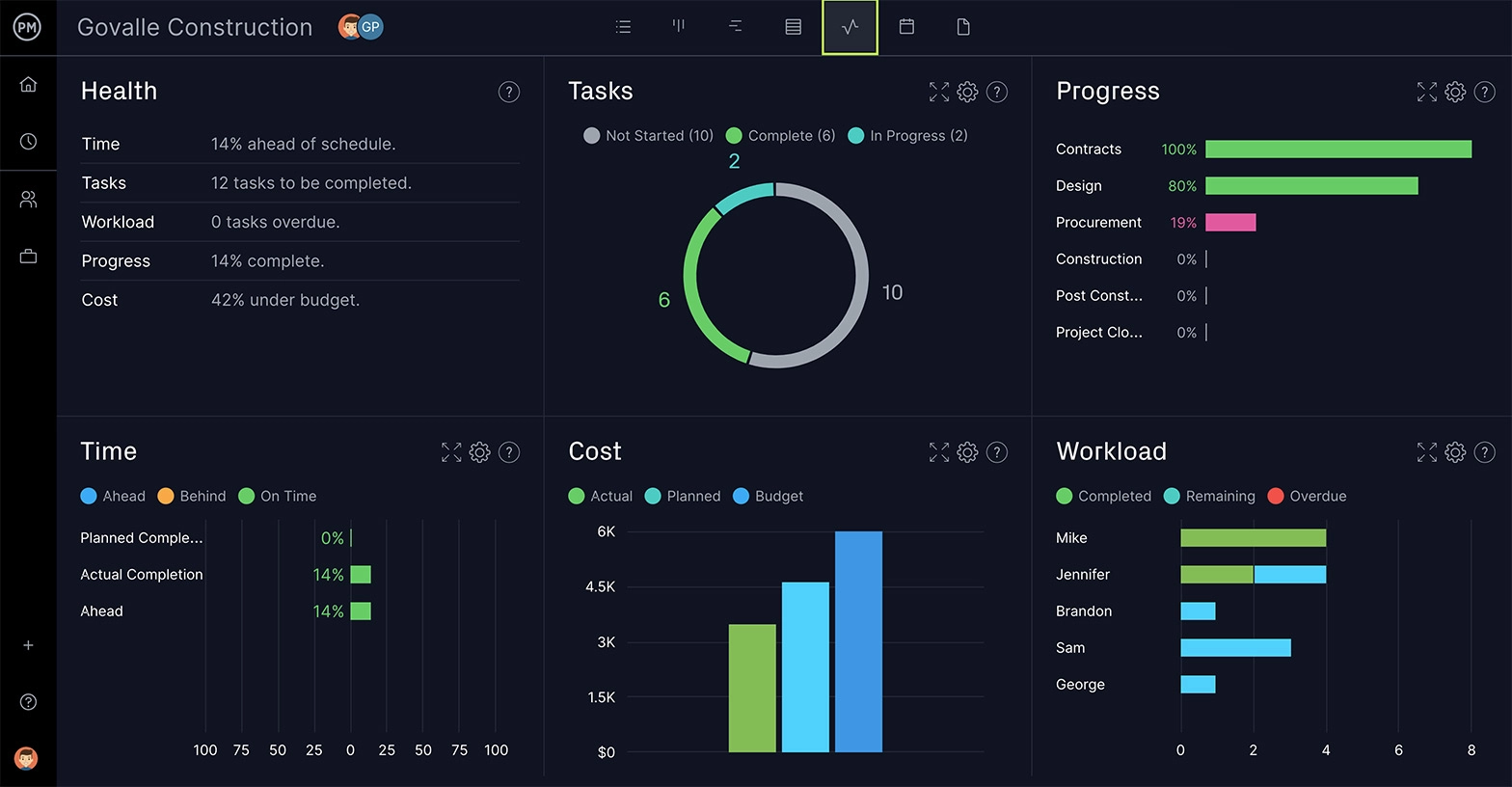 ProjectManager is award-winning software that helps you plan, schedule and track marketing campaigns. You can create your own marketing calendar or use our Gantt charts to make a visual timeline of your marketing project. Track progress and performance in real time, whether managing one or many marketing campaigns. Get started with ProjectManager for free.