(This post contains affiliate links. Read my full disclosure.)
I've long used products from Cornelius Fichtner of The Project Management PrepCast fame for my own professional development. But I also know the team behind Brain Sensei.
So how does Brain Sensei compare to the PM PrepCast? That's what we're covering in this article. I've used them both, I've had conversations with both teams, and over the year's I've come to appreciate what they are both good at. Let's do the comparison of their PMP training!
Packages
For a start, both companies offer Project Management Professional (PMP)® training.
Brain Sensei offers:
A self-paced PMP prep course that includes video-based training and an exam simulator
Virtual, instructor-led training
The exam simulator which you can buy as a separate option.
The PM PrepCast has a lot of different options:
Basic is just the video-based training
Elite offers the training plus the exam simulator
Elite Plus is the training, the exam simulator, plus an ebook on formulas and the PM StudyCoach Guidebook which is a done-for-you study plan
You can also buy the exam simulator separately.
For the purposes of this review, we'll compare the self-paced Brain Sensei course with the PM PrepCast Elite package, as those both have the videos and exam simulator included.
Training method
The main difference between Brain Sensei and the PM PrepCast is the teaching approach.
Brain Sensei videos are animated and interactive. There are exercises and it's engaging. For example, you are invited to click on elements to reveal definitions. You keep clicking to work through the material and advance the slides.

The content is presented by cartoon characters in Brain Sensei and a slightly robotic voice.
However, there are also slides that look like the text on them has been taken direct from the PMBOK® Guide, that don't have any narration on them at all.
The PM PrepCast videos are not interactive – they are totally different. You get Cornelius as your instructor talking you through the concepts with a slide presentation that looks like a PowerPoint deck. In my view, the slide design is not super modern either.
The video modules are broken up into short lessons but you don't have to engage with them. Just watch and take notes. Each module ends with a review question, but you have to pause the video to answer it in your own time (or not, as you choose), before the answer is revealed on the next slide.
If you think cartoon characters are going to annoy you after a while, and you want to know there's a 'real' instructor behind your training, then The PM PrepCast would be a better choice.
If you need to click the screen to stay engaged with your learning, then the interactive elements of Brain Sensei might be better for you.
Personally, I think I prefer the video learning style as I don't like so much clicking on the screen and I can take my own notes.
User interface
There is not much to choose between the different learning management systems that the courses use. Brain Sensei is built on Articulate, which is fine but doesn't seem to work on my computer using Firefox.
The PrepCast uses a different LMS (I don't know which one) and it feels a little more old-fashioned.
They both have a lot of material inside, so there are nested lessons and lots to scroll through in the menus.
Personally, I found both systems a little clunky, but I don't think I've yet found an LMS I particularly like to use at all! Neither of them feel as clean as a course set up on Teachable, but then the courses I've done on that platform have a lot less content.
You'll get used to either, regardless of which one you choose, it's honestly not worth worrying about.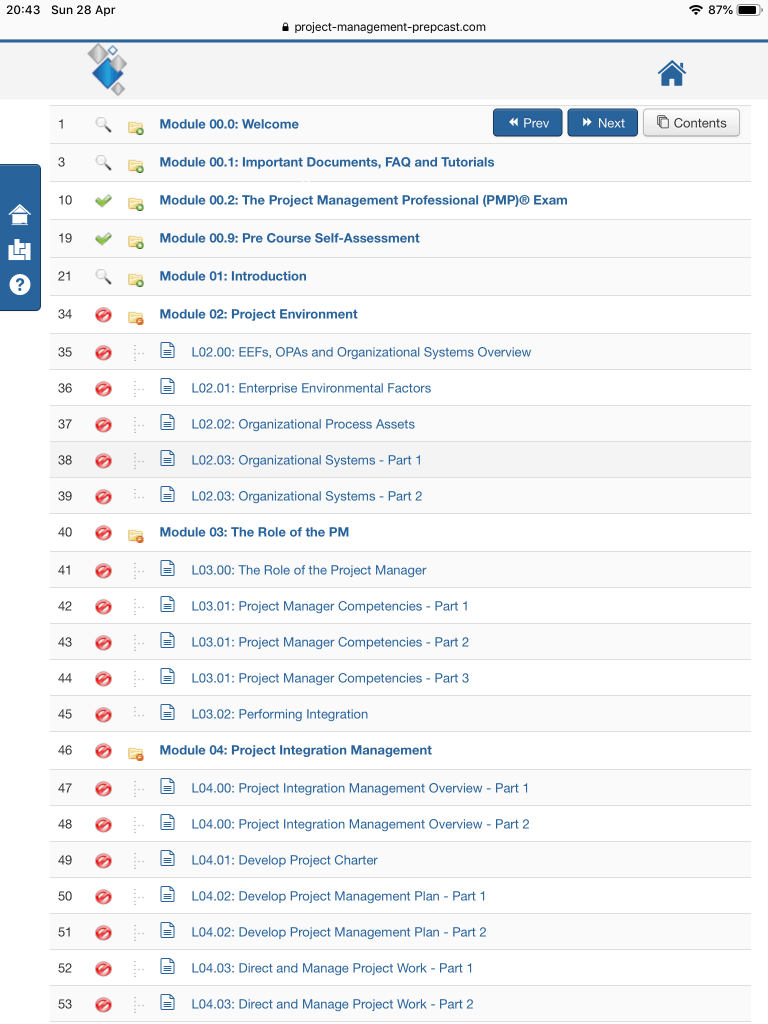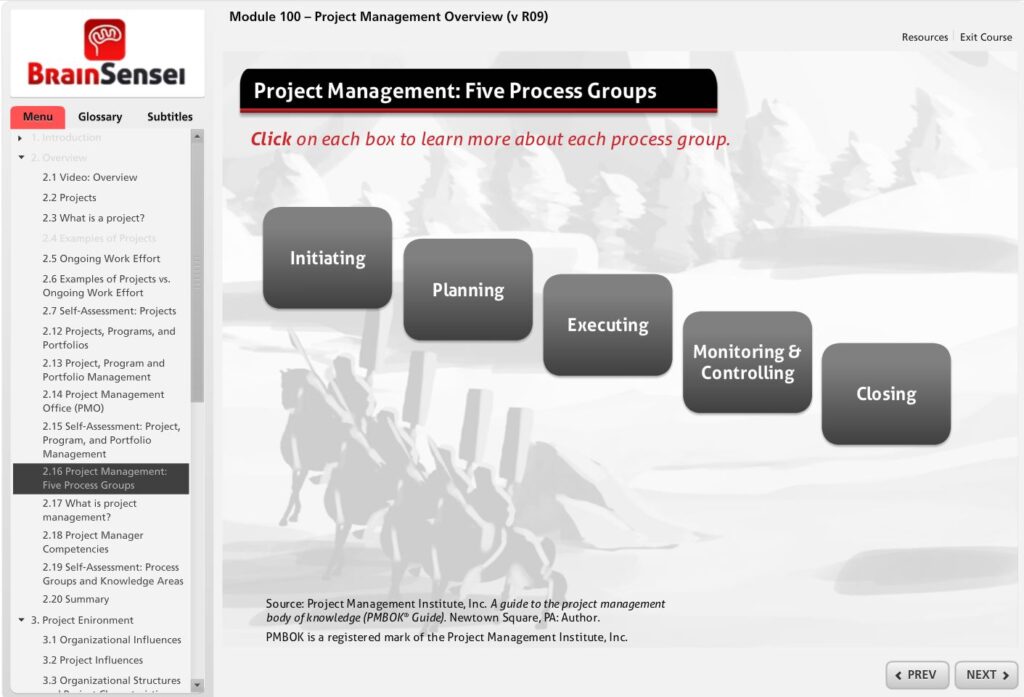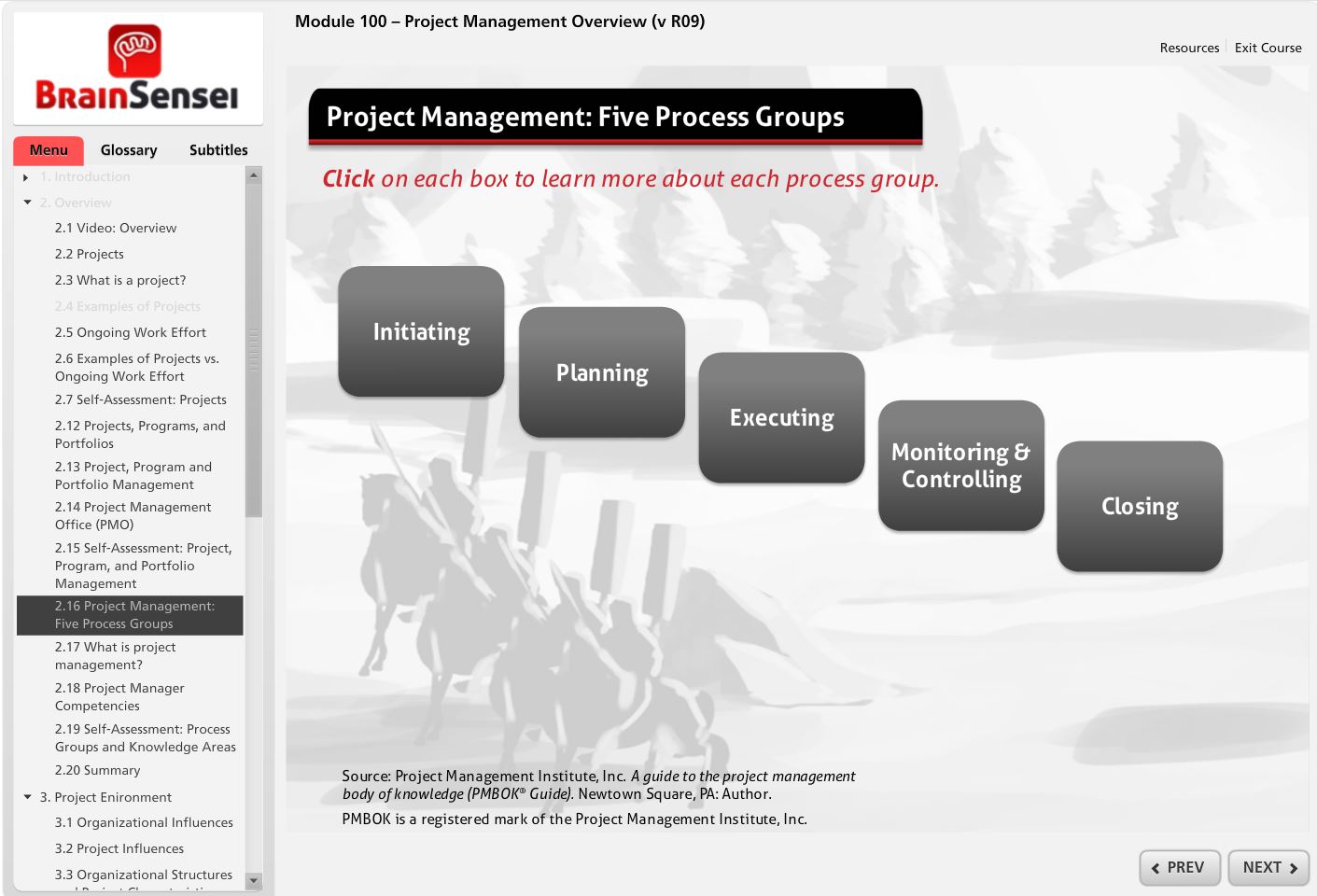 Support and community
The PM PrepCast has a huge community behind it and active forums with community moderators (including me, for full disclosure), so you can always ask a question. Their support team is responsive and there is extensive online help as well as active social media profiles.
Brain Sensei also has online help but I don't feel there are as many articles. It doesn't have a student forum but it does have a Facebook community. There are the normal social media profiles too and the team always get back to you if you get in touch via the help button.
Military scholarship
Brain Sensei are one of the few training courses for project managers that I am aware of that offer a scholarship for military personnel. There is an application process that requires you to prove you are in service (or have retired from active duty).
The scholarship is worth either 10% of the course fees or 100% of the course fees and is awarded in the form of a discount code that you use when you buy the course.
The PM PrepCast used to offer scholarships (to anyone meeting the eligibility criteria) via PMIEF but they no longer do that due to a change in PMIEF's policy.
Refund period
Brain Sensei has a 30-day refund period, assuming you haven't taken more than one practice exam (for both the CAPM® and the PMP® courses).
The PM PrepCast also has a 30-day refund period, with similar conditions. You can't have started or completed the final exam, printed your contact hours certificate or intend to claim any contact hours, or taking one or more quizzes or exams.
There's no real difference here. You have a month to make your choice about whether your learning style matches the way the instructors teach, and if you don't feel you can pass with the resources, you can request a refund.
Guarantee
Brain Sensei has a 100% pass guarantee, which means if you fail the PMP exam within a year of buying the course, they will give you another 90-days of access to go through the material again. If you fail a second time, they'll give you another 90-days. The third time you fail, you get your money back, assuming both second and third attempts happen within 6 months of your first attempt. Three failures in 18 months is going some, but I suppose they are confident in their product and willing to refund if it is not a good fit for you.
This is broadly the same guarantee as they have for their CAPM training, except for that one, all 3 attempts at the exam must happen within a year of your purchase date, so you have less time to cash in on the guarantee.
The PM PrepCast does not have a pass guarantee, but it will offer you an extension to the PM Exam Simulator product if you failed your test one or two times to help you prepare for the retake.
In summary
To wrap up:
Both provide 35 contact hours.
Both cover the full range of things you need to know for the exam.
Neither are part of the Authorized Training Partner program with PMI although both used to be in the Registered Education Provider program before it changed.
Both offer a huge amount of study material and practice questions.
The one you choose is a personal preference and I honestly think it comes down to which pedagogical method you think you are going to get the most out of.
Which one will you choose?