Stakeholders are anyone who has a vested interest in the project. They can be internal, such as project managers, teams, owners or investors, or external, such as clients, customers or suppliers. There can be a lot of stakeholders in any project and managing them requires stakeholder management templates.
ProjectManager is project management software that helps you manage projects and stakeholders. If you're not ready for a free trial of the software, we also offer dozens of free project management templates for Excel and Word that can help with every phase of your project. Here are some free stakeholder management templates.
1. Stakeholder Analysis Template
There may be many stakeholders in any project, but your job as a project manager is to identify them. Each stakeholder can have a different interest or those interests can evolve over the course of the project. Using our free stakeholder analysis template for Excel helps you devise an effective stakeholder communication plan to keep them properly informed.
There are fields to capture basic stakeholder information, including their title, contact information and influence or power over the project. Then you can place each stakeholder as they stand in relation to the project, noting their priority, if they have subject matter expertise and whether they're decision-makers. Then you can assess each stakeholder's commitment to the project and better manage them.
2. Project Status Report Template
Stakeholders need to stay informed throughout the project. Depending on the stakeholder, however, that level of information and the frequency in which they're updated can change. Whether they need details or just an overview, project managers still must report regularly. Using our free project status report template for Excel is a great tool to capture a period of time in the project.
The trouble with a static template is that it has to be manually updated and the information can't be customized to reflect each stakeholder's concerns. Unlike static tools, ProjectManager is an online tool that delivers real-time data that can be filtered to show only the information relevant to each stakeholder. Not only can you generate a status report in mere keystrokes, but you can also generate reports on variance, portfolio and more. All reports capture real-time data so they're accurate and can be easily shared in a variety of formats. Get started with ProjectManager today for free.
3. Stakeholder Map Template
If you're looking for a visual tool that can help you identify and chart your stakeholders, then you need to download our free stakeholder map template for Excel. You can use the stakeholder map to inform your decision-making when dealing with stakeholders. It's essential to establishing a viable stakeholder communication plan.
The stakeholder map template helps you to determine who wants to know what, when they need to know it and how they prefer to get their updates. This stakeholder map has four categories for managing your stakeholders: manage closely, keep satisfied, keep informed and monitor. Place each stakeholder you identify in the correct box and use color coding to show if they're supportive, neutral or critical to the project.
4. Business Case Template
Since stakeholders have a vested interest in the project, one of the things they're most concerned about is the costs related to executing the project. They want to know if the investment costs are worth it. You can show them this with our free business case template for Word, which summarizes project objectives, costs and benefits.
The business case is important due diligence for stakeholders by proving that their investment in the project is beneficial. They can read an executive summary, the mission statement for the project and the final deliverable that'll be produced. There's a place to show the project objectives and how they'll be achieved, the financial appraisal and market assessment plus more. It'll help get buy-in from stakeholders.
5. Cost-Benefit Analysis Template
Another free template that can help prove to stakeholders that the project is worth their investment is our free cost-benefit analysis template for Excel. It helps you look at the numbers and determine if the money you're putting into the project is worth the deliverables.
A cost-benefit analysis template does this by adding a dollar amount to the project's costs and benefits. By subtracting the benefits from the costs you can see what the profit if any, is for the project. This can be financial gains, but it can also determine if the business objectives and goals are worth the costs. This information can help get stakeholders on board with the project.
6. RACI Matrix
It's clearly important to identify and define the roles and responsibilities of your project team, but often project managers will neglect the same exercise when dealing with project stakeholders. After that, your project team is just one of likely many stakeholders in the project. Using our free RACI matrix template for Excel allows you to categorize everyone involved in the project, including stakeholders.
RACI stands for responsible, accountable, consulted and informed. On our free template, you list all the stakeholders (or the entire project team) on the left side, while atop the chart is their title. In the corresponding box, you note if they're responsible, accountable, consulted or informed. Now you have a document to guide everyone on the team, including stakeholders, who have different levels of involvement and impact on the project.
7. Requirements Gathering Template
Stakeholders want to know the problems being solved by the project, how it plans to achieve its objective, what condition or capacity must be met and more. That's all addressed in our free requirements gathering template for Word. This is a key document for stakeholders and captures vital information about the project in one place.
There's a lot covered in the free template. It lists the project requirements, from user, functional and system to software, interface, workflow, change and risks. This is more of a high-level view, which is appropriate for most stakeholders and avoids getting into the weeds. There's even a section for everyone to sign off on the document to ensure they're informed and in agreement.
8. Team Charter Template
Team members are stakeholders, though not the only ones in a project. The free team charter template for Word is mostly focused on them, but it's another essential stakeholder management template. It explains how the team fits into the larger context of the project, such as the project stakeholders.
Besides that, the free charter lists everyone involved in the project and provides contact information. There's a section to outline the background of the project, its mission and objective, budget and resources and the decision-making process used by the team. There's information on scope, performance assessments, activities and milestones and much more. It's a great tool to communicate and get everyone on board with the project.
9. Communication Plan Template
Speaking of communication, you need a communication plan to get information to your project team. Using our free communication plan template for Word will help you define objectives and schedule communication updates with stakeholders. It's one of the more important stakeholder management templates in that a well-informed stakeholder is easier to manage and less likely to interfere in the project.
Besides objectives, the communication plan template helps you define how you'll achieve those objectives, in what timeframe and with what metrics to measure your success. You'll figure out the staffing and tools associated with disseminating information as well as reviewing its effectiveness. Once you have a plan, it's apt to change in order to remain relevant and effective.
10. Organizational Chart Template
While it might not seem like a key stakeholder management template, knowing the organizational makeup of a company or project is how everyone in the organization or project team knows to who they report. Use our free organizational chart template for Excel. It's a flowchart that shows the hierarchical internal structure of an organization or project.
This document is an easy-to-digest visual of the chain of command. While smaller organizations, such as startups, or projects might not need the tool, the larger and more complex the organization or project is, the more essential this stakeholder management template becomes. It's imperative that everyone knows who they report to and who has authority, which is exactly what this template illustrates.
ProjectManager Helps With Stakeholder Management
Once you've downloaded and used our free stakeholder management templates, you'll quickly find that they can take you only so far. Templates, after all, much be manually inputted and updated, they're not collaborative and are isolated from the rest of your project management tools. ProjectManager is project management software that helps you plan, manage and track your stakeholder management in real time.
Share Project Plans With Stakeholders
Projects need plans, but plans don't work without your stakeholders. Creating a schedule on our robust Gantt charts allows you to manage the stakeholders on your project team, organize their tasks, link dependencies to avoid costly delays and assign them to work that you can track in real time. The project plan can be easily shared with the project team and stakeholders to keep everyone on the same page.

Monitor Progress and Performance in Real Time
Once you set a baseline on the Gantt, you can track your planned effort against your actual effort. Not only does this help you keep to your schedule and budget, but stakeholders want to be updated on that valuable data as well. The real-time dashboard requires no setup, as with lightweight tools, and tracks everything from workload to cost and time in easy-to-read graphs and charts. It's a great way to get a high-level view of the project whenever you want.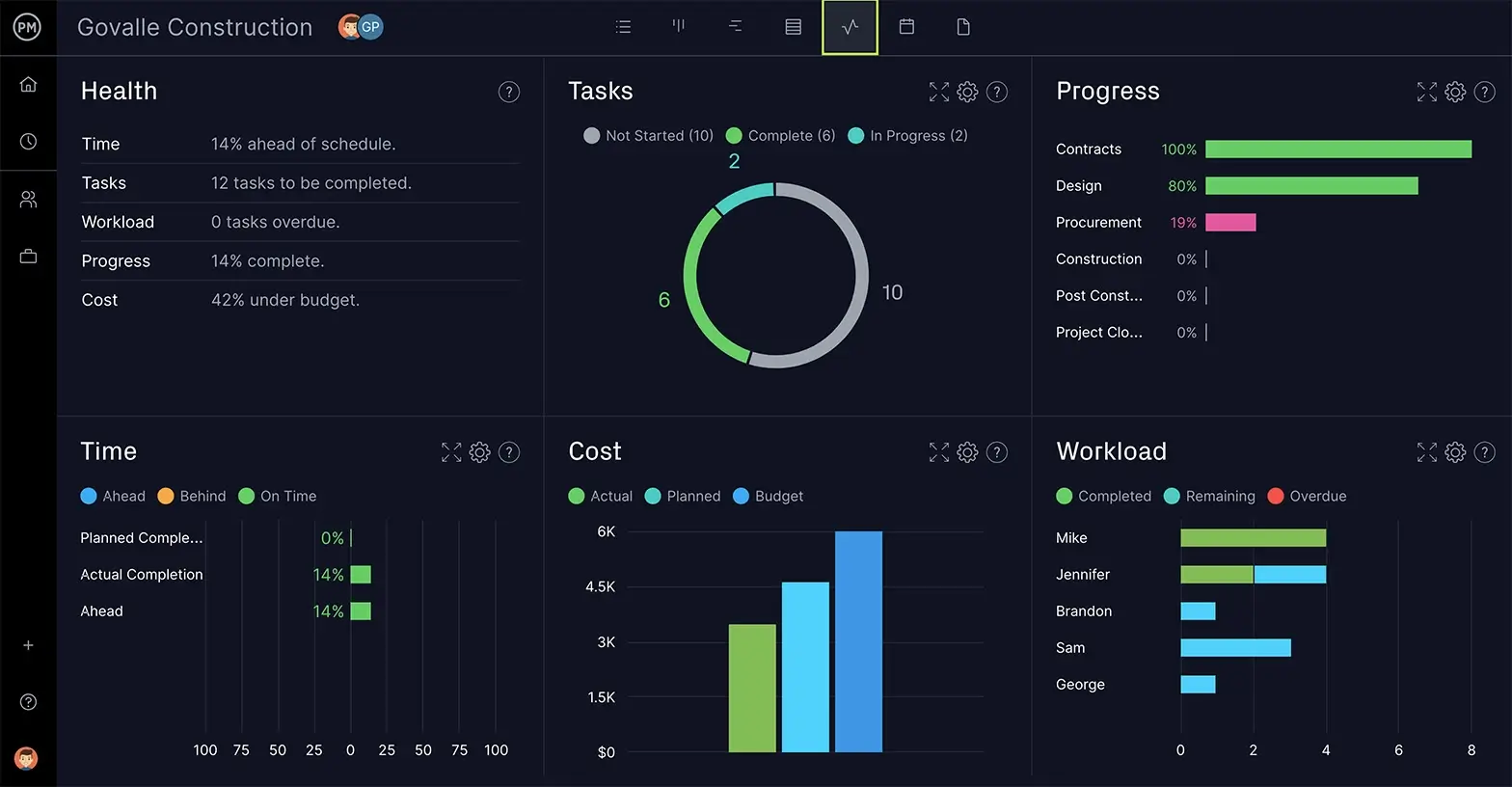 Project managers can use resource management features to keep their teams productive. Availability can be set in advance to make scheduling simpler and our color-coded workload chart helps you see your team's allocation. You can then balance their workload from the chart to keep them working at capacity. They're not overallocated and stakeholders are happy to see productivity.
Related Content
If that's not enough stakeholder management for you, our site is loaded with free content. There are weekly blogs, guides, videos, and, of course, more free project management templates for Excel and Word. Here are some resources to learn more about stakeholder management.
ProjectManager is award-winning project management software that empowers teams to work better together. Task management tools add to productive and risk management features to help you identify, track and mitigate risk. Join teams at Avis, Nestle and Siemens who are delivering success with our software. Get started with ProjectManager today for free.