Project meetings often feel as if they're in the way of your work. If you're not working from an agenda or you don't manage those meetings, that can be true. But meetings are critical for project planning and team collaboration. That's why there are so many project meetings and each has its own focus and importance. Let's take a look at 10 different types of project management meetings and define them, and we'll start with the definition of what a project meeting is.
What Are Project Meetings?
A project meeting is a regularly occurring event where some or all of the project team and stakeholders gather to discuss the project. There are many types of project meetings throughout the project management cycle. Some project management meetings happen daily while others are spread further apart. It all depends on the urgency and type of meeting being held. That doesn't mean a meeting is solely to share updates, except when it comes to stakeholders. Project meetings for teams bring together the group to solve a problem or improve progress to meet certain goals and expectations. A meeting could also be used to build better teamwork, which leads to greater productivity and morale.
Types of Project Meetings
In terms of project management meetings, there are several different types. Some common ones include a progress report, discussing the purpose of the project or generating ideas, talking about issues that have arisen over the course of the project and approving or rejecting ideas. There are also meetings that revolve around the people who attend. These can include regular team meetings and stakeholder meetings, which are more general and only keep stakeholders updated on milestones.
Whatever type of meeting it is, the project manager will lead them, which is why communication skills are so important for that position. Meetings are more productive with real-time data driving them. ProjectManager is online project management software that generates reports with live data. You can quickly create a status report for an overview, a progress report to see how you're doing, a variance report to make sure you're on track and many more. All reports are customizable so you can filter them to show only the data you want to see. You can then share them with stakeholders to keep them updated.
10 Key Project Meetings
Project management meetings are communication events and clear communication is what keeps projects on track. Therefore, there are many different types of project meetings that are held repeatedly over the life cycle of a project. Here are 10 of the more important ones.
1. Project Kickoff Meeting
The kickoff meeting might not be the very first meeting of the project, but it's the first significant meeting. This is where the project manager, client and the project team are introduced and the project's goals are expressed. The project kickoff meeting begins with introductions, reviewing the client's background and talking about the scope of the project. The roles and responsibilities of the project team are also discussed as well as the next steps.
2. Project Status Meeting
The project status report meeting is when team members provide data that the project manager uses to review where the project is over a specific period of time. This isn't only to keep the project manager informed but also serves to hold the project team accountable. You'll want to talk about what was accomplished and what's still pending, as well as upcoming milestones. You'll also want to review the budget, assess risk and schedule upcoming meetings to make sure everything discussed has been resolved.
3. Project Review Meeting
A project review meeting is also called a post-mortem meeting and is held once the project has been completed. Whether it was a success or a failure, a review meeting is helpful in that it lists what worked and what didn't work. The post-mortem is especially helpful as it gives project managers a chance to ensure that those same mistakes don't occur again. The meeting starts by repeating the project objectives and opening up the discussion to the team, who should be allowed to honestly critique the work, roadblocks and risks. You'll also want to talk about the budget, what was and wasn't used, and why. At the same time, there should be a celebration for a successful project.
4. All Hands Meeting
The all-hands meeting or town hall assembles everything in the company. All employees are involved, including team leaders, the executive team, stakeholders, et al. These meetings are to discuss matters that'll involve the entire organization, such as revenue, strategy, etc. For a project, this includes the entire project team, from the project manager to the stakeholders and everyone in between. They can be held to share updates, drive alignment, celebrate milestones or open the floor to questions.
5. Sprint Planning Meeting
Scrum is an agile way of working in which projects are broken into blocks, which are called sprints. These are usually only 2-4 weeks. The sprint planning meeting involves the scrum master, scrum product manager and the scrum team. They meet to look at backlog items and decide which of these will be handled in the upcoming spring. This is a collaborative effort called a scrum ceremony. Before the meeting, the scrum master and the product manager review the team's capacity, the timeline and use insights from previous sprints to define the new one.
6. Steering Committee Meeting
Steering committees are a type of governance that involves stakeholders who are responsible for overseeing the project and providing it with support. Another term for a group that works to help the project achieve its goals is a stakeholder board, senior leadership, project working group or project oversight committee. The frequency of steering committing meetings varies depending on the project, though it will usually occur after a milestone has been achieved.
7. Stakeholders Meeting
The stakeholder meeting is used to introduce stakeholders in a project to one another. It's used to get buy-in and also defines the project's objectives. It is also a time in which stakeholder interviews can take place to get insights into their goals and perspectives, how they want to get updates and more. Project managers will also meet with stakeholders throughout the life cycle of the project in order to keep them updated on progress.
8. Contingency Planning Meeting
A contingency plan is a what-if scenario for if the project has issues or problems that require changing its scope, schedule or budget. These issues can be environmental, technical, etc. This means that a contingency planning meeting is an opportunity to brainstorm with the project team and relevant stakeholders to identify risks and, if they offer, how to respond to them. Next, you'd want to determine the severity and likelihood of those risks occurring and how they might impact the project. This will lead to the project manager creating a contingency plan.
9. Change Control Board Meeting
The change control board is set up to review change requests that happen in a project. They're then evaluated and given approval, deferred or denied. This process occurs during a change control board meeting. However, if the project team and sponsor have already noted the importance of the change, it's unlikely that the change control board will go against their suggestion in their meeting.
10. Daily Scrum Meeting
A daily scrum meeting is held each day of the sprint. These meetings usually take place in the same location and time, though ideally, that time would be the start of the day to set up the work to follow. Daily scrum meetings are short, lasting no longer than 15 minutes, to keep the conversation relevant. The meeting also called a daily standup meeting, includes the committed members of the team who are doing the spring, the scrum master, and, in most cases, the product owner. These aren't problem-solving meetings, but answer three questions: what was done yesterday? What is to be done today? Are there any impediments?
What Project Management Templates Can Help With Project Meetings?
Project meetings are important and all serve a purpose in project management. In order to make sure your meeting is done properly, we have a few free templates that you can download. ProjectManager is project management software, of course, but also has a full suite of free project management templates for every phase of your project, including these project management meeting templates.
Meeting minutes capture the pertinent points in print and make sure those takeaways are executed after the project management meeting has concluded. Our free meeting minutes template for Word makes it easy to collect and distribute this information as well as the agenda, action items and details about the next meeting.
When you're planning a project status meeting, use our free project status report template to gather the data you need. It helps you communicate with your stakeholders with information such as the summary of the project over that reporting period, the project's health and even a look at risks and roadblocks that have occurred.
Whatever project meeting you're having, a dashboard provides vital data. Dashboards offer a high-level view of the project. Using our free project dashboard template for Excel allows you to input data on tasks, workload, task lengths and costs that are then automatically rendered as colorful graphs which are easily digestible in project management meetings.
ProjectManager Helps You Manage Project Meetings
Templates are helpful but limited. They must be manually imputed, for one, while ProjectManager is online software that updates data in real time. You can even schedule project meetings and invite your team for a specific time and date. Add files and other information, and even set the meetings as recurring if they repeat throughout the project. But that's only the tip of the iceberg in terms of our feature-rich software.
Turn Action Items Into Tasks
Project management meetings are important, but even more important is acting on the takeaways. Our software has multiple project views that allow teams across departments to use the tools with which they're comfortable. They can capture the action items on task lists, kanban boards or calendar views. While managers probably prefer to update their online Gantt charts. Whichever project view you use, all data is shared across the software and updated in real time to keep everyone working on the most current information.
Use Real-Time Dashboards
Instead of a dashboard template, our real-time dashboards are constantly updated. They automatically crunch the numbers and display the results in easy-to-read graphs and charts that track time, cost and much more. Use the real-time dashboard in project meetings as a visual aid that is always giving you live data. Unlike other software tools, there's no timely configuration required. Our dashboards are up and running so you can use them immediately.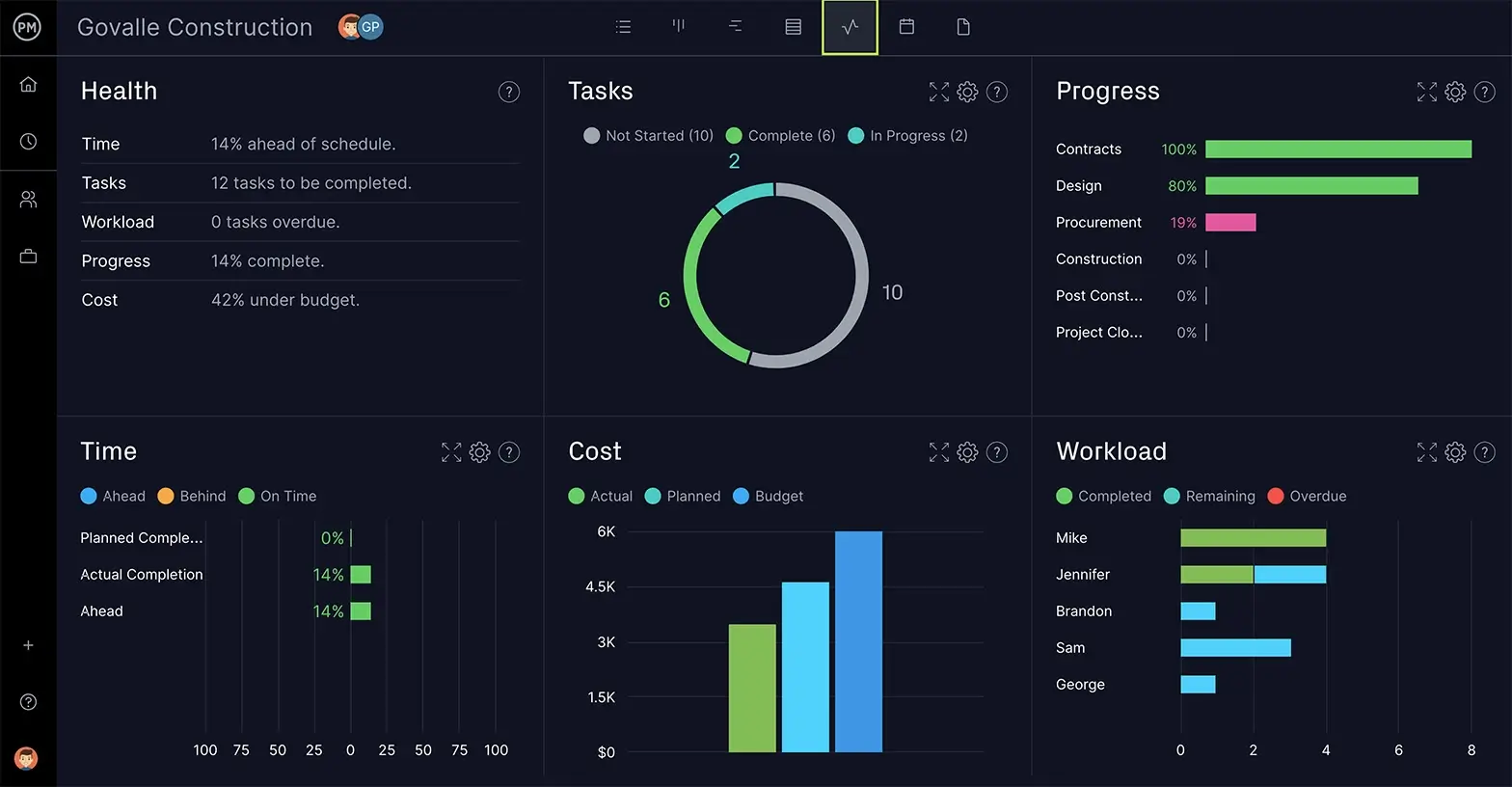 The real work starts once you leave the project meeting. Our software has risk, task and resource management features that can keep you on track and productive no matter what the project throws at you. Our collaborative platform means everyone is connected, whether in another department or timezone. They can always comment at the task level and share files to work better together.
Related Project Meeting Content
If you're still looking to learn more about project management meetings, here are some links that can take you there. We publish weekly blogs, guides, videos and, of course, templates for every phase of the project management life cycle. This is only a taste of the free content you'll find on our site.
ProjectManager is award-winning software that empowers managers and their teams to better plan, manage and track their projects. Get the most from project meetings and apply that to execute your work more efficiently. Boost productivity as teams from Avis, Nestle and Siemens have by using our software. Get started with ProjectManager today for free.