There's a lot of work involved in getting a project approved. You need to convince stakeholders or clients that the project is worthwhile. This should be done upfront and is usually accomplished via the project summary.
That's a lot of responsibility for a project summary, which by definition is a short overview of the project. Therefore, nothing can be wasted. Every word must count towards proving that the project is viable and will deliver a return on investment.
What Is a Project Summary?
To start, let's define the term. A project summary is a document or part of a larger document that's comprehensive but concise in providing an overview of the proposed project, including key details. It also outlines the project's objectives, background information to place it in context, requirements, problems, analysis and ends with a conclusion.
While the project summary can be a standalone document or a preface to other types of project documentation, it is most commonly used as the introduction for the project proposal. As noted, a project summary has to hook the reader. Like an opening sentence in a book that keeps you reading, the project summary must capture your attention and pull you through the project proposal.
If done right, the project summary will lead the client through the project proposal and once they're done, they'll approve the work. It's good to have all that documentation in project management software so you can easily turn the project summary into a project plan. ProjectManager is online project management software with unlimited file storage to act as the hub for your project documentation. If you collect the project proposal in our list view, it's easy to toggle to the Gantt chart where you can create a visual schedule on a timeline. Get started with ProjectManager today for free.
When Should You Use a Project Summary?
The project summary is created during the project pitch. It provides a big-picture view of the project, including a brief description and the essential parts. This is where you'll start to define the project's goals, the schedule of tasks that must be executed to deliver the project, an estimation of its budget, etc. to ensure everyone understands the basic plan.
The project summary might be the most important part of your project proposal as it's the first time the reader will be exposed to the project and why you believe it's worth executing. Make sure to conduct thorough research to create a well-rounded project summary. This can help convince a client or stakeholder of the value of the project.
Even though a project proposal opens with the project summary, it's not uncommon for this to be the last section that's written. If you're thoroughly researching the topic, you'll be addressing issues that come up in other sections of the project proposal. Therefore, when you complete the proposal, you'll have all the information you need to properly create an executive summary.
What Should Be Included In a Project Summary?
A project summary should be short, but you don't want to shortchange the project and not give the summary enough room to sell the project to the stakeholder or client. You'll want to avoid jargon and proprietary or confidential information, such as trade secrets. Write in plain, easy-to-understand sentences. The project summary shouldn't be difficult to comprehend.
Project Information
You'll begin by outlining high-level information about the project, including:
Project name
Project manager
Project sponsor
Date
You can add the project team if they've been assembled at this point. It's also a good idea to provide a brief overview of the project, goals and objectives, benefits, etc. Note what it is you're going to accomplish and how. Plus, when dealing with projects outside of your organization, a background is advisable.
Project Schedule
The project schedule is a chronological timeline that charts the project from beginning to end. On that timeline are the activities and tasks that must be executed to achieve the final project deliverable. This includes dates, duration, milestones and all deliverables. You don't have to be as thorough as when planning your project plan, but a brief outline is necessary.
Project Budget
The budget is often included in the project schedule and isn't a detailed forecast of costs, but it's still an important component and should be included. You'll want to have some financial projections to show how much the project will cost and what sort of return is expected. A budget baseline is also helpful.
Resource Plan
To further help stakeholders understand the project you want to include a list of resources. Resources are anything you need to complete the project. This includes the project team, materials, equipment, etc.
Risk Management Overview
Every project has inherent risks. Stakeholders want to know what risks you identify as potentially occurring in the project, their impact and how you'll mitigate them. This includes roadblocks and challenges—anything that will impact the scope, cost and time of the project. Briefly outline your risk management plan. You can go into detail if the project is approved.
How to Write a Project Summary
We've gone over the basic components of a project summary. Now let's look at how to write one. While the project summary is brief by definition, the research is extensive. Follow these steps to make sure you do a thorough job.
1. Talk to Your Team
No single person is equipped to tackle the challenges of a project summary. You need to bring together your project team. They're the ones who will be executing the project on the front lines, so to speak. They have the expertise and knowledge. Use them as a resource as you research the project.
2. Know Your Audience
The research is one part of convincing stakeholders of the value of the project. How you present it is the other. You need to speak the language of the stakeholders. The tone, word choices and more are all going to change whether you're speaking to a client or a stakeholder. This is especially true in terms of industry. You'll address construction differently than manufacturing or IT.
3. Define Your Objectives
You'll want to make it clear what the objective of the project is and what indicates that the project has been successfully completed. That requires sharing the metrics you'll use to measure the project. You also need to know the project intent, similar to its mission statement.
4. Write Your Project Summary
Work with your team to write a clear and concise project summary. Make sure you've included all the components we've mentioned above. Don't forget to proofread the project summary as nothing looks more unprofessional than bad grammar or misspellings.
Project Summary Template
Writing a project summary takes a lot of preparation. One thing you shouldn't have to worry about is the format. Use our free project summary template for Word and you'll simply have to fill in the blank fields. Everything you need is there and the project summary template is customizable so you can add your logo and edit the document to suit the specific needs of the project you're proposing.
Other Project Management Templates to Help Create a Project Summary
The project summary is one of the dozens of free project management templates we have for both Excel and Word. There are templates for every phase of a project. Here are a few that relate to the project summary.
You can estimate the cost of a project with our free budget proposal template for Excel. It shows potential stakeholders how much the project will cost, from salaries to materials and equipment. There's also space to add travel, communications and other direct and indirect costs.
A project summary needs to include a brief project timeline. The free project timeline template for Excel can help. It has a column on the left-hand side where you can add tasks, start and end dates, as well as duration, which then automatically populates a visual timeline to the right.
The project summary is part of the larger project proposal. You need to have one to get a project approved and funded. Our free project proposal template for Word includes everything from a summary to the solution, implementation to deliverables.
ProjectManager Is Ideal for Keeping Track of Your Project
Templates can help you organize your ideas and deliver a great project summary and proposal, but once it's approved you'll need project management software to plan, manage and track the work. ProjectManager is online software that empowers teams to work more efficiently while giving managers tools to monitor their work in real time.
Track Progress With Real-Time Dashboards
Once you have your project schedule on our robust Gantt chart, you can set a baseline, which makes it possible for you to track the planned effort against the actual effort in real time. This data also feeds into our real-time dashboard and is displayed in easy-to-read graphs and charts. You get a high-level view of the progress and performance of your project whenever you want. Unlike competing software products, there's no time-consuming configuration. It's ready when you are.

Get Deeper Into the Data With Customizable Reports
When you want to get more detail than a dashboard can provide, generate a report. You can do it with a couple of keystrokes and then customize each to show only the data you want to see. Get status and portfolio reports as well as variance, workload and more. All reports can be easily shared in a variety of formats with stakeholders to keep them updated.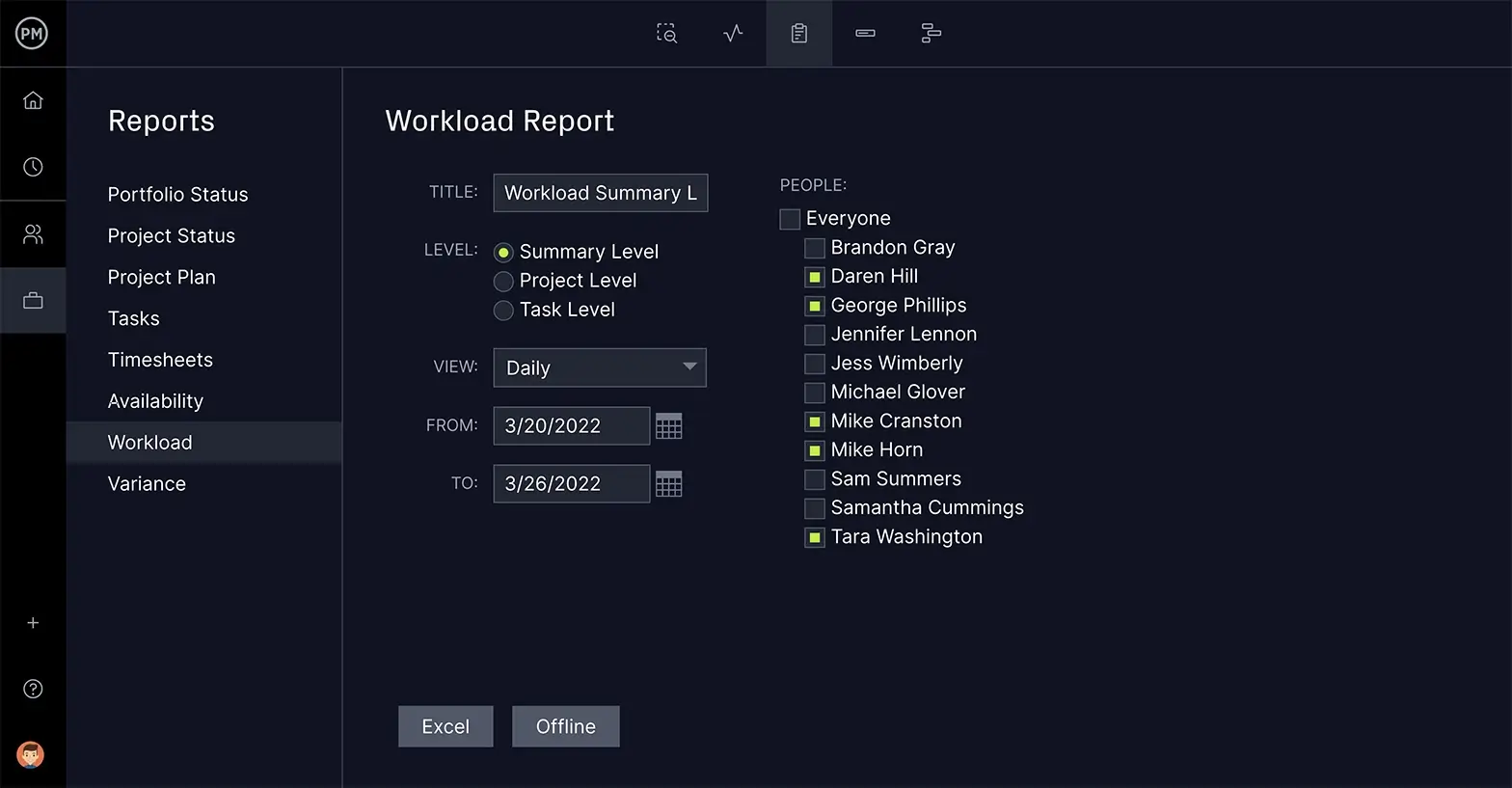 Of course, you need to do more than monitor and track your project in real time to deliver your project on time and within budget. That's why we have features to help you manage risk, tasks and resources. Our tool makes it fast and easy to onboard your team and helps them collaborate, add comments to tasks and share files. We help you turn a project summary into project success.
ProjectManager is award-winning software that gives you the tools to achieve your project goals and objectives. Get real-time data to help you make more insightful decisions and give your teams a collaborative platform that lets them work better together. Join the teams at Avis, Nestle and Siemens who use our tool. Get started with ProjectManager today for free.