As a business grows, it needs to look at new processes or ways to improve the processes it has in place. Maybe the company wants to scale and sustain its growth or increase productivity and efficiency. Whatever the objectives, process implementation is how they achieve these goals.
If you're looking to improve your business processes, you need to know what process implementation is and why it's so important. In addition, we'll explain what a process implementation plan is and the steps to create an implementation process. Then, you'll find out how project management software can help you reduce waste and save time.
What Is Process Implementation?
Process implementation is a strategic approach to adopting new procedures or business processes in an organization. A business implements change when it wants to streamline tasks, become more efficient, reduce the number of errors or drive business growth. There are just some examples, but any change to business processes requires process implementation.
As you can imagine, this isn't done on a whim. Business goals are achieved through a structured plan with clear guidelines for how the strategy will be executed. This means listing tasks that'll be done throughout the day-to-day operation of the business. It involves change management and touches on every department, which is why human resources are involved.
Business units are understandably fearful of stagnation. Complacency is the first sign that a company is in trouble as competitors are always looking for an advantage to exploit. Process implementation is how a business is able to stay competitive by having a framework to manage change.
What Is a Process Implementation Plan?
In order to achieve the strategic goals of a business, there must be a process implementation plan. It's the document that defines the steps that'll take the project team from where they are to how they can achieve their shared goal. It's also called a strategic plan.
The process implementation plan includes the strategy, process and actions necessary to achieve the strategic goal. These plans are thorough and cover everything from the scope of the implementation plan to the costs that'll fund it, such as the budget. All necessary steps are detailed including start and end dates and the project duration. This is similar to change management, which controls changes and manages them through their life cycle.
Having a process implementation plan communicates the effort to the team so everyone knows what's to be done, when it will be done and who will be doing what. Having a plan is essential to a smooth process implementation. Without a plan to turn the strategy into actionable steps, there's no roadmap to guide the project team from start to finish.
When taking on such a large endeavor with major business implications, it's wise to use project management software to facilitate the work. ProjectManager is award-winning software that empowers teams to plan, manage and track their process implementation plan in real time. Gantt charts organize the steps on a visual timeline to show the project in one place. Teams can be assigned and a baseline set to track the planned effort against the actual effort in real time. Now you can make sure you're staying on schedule and not going over budget. Get ProjectManager today for free.
Why Is Process Implementation Important?
Process implementation is important for many reasons. We sketched out a few above, but it deserves a closer look. For one, it's a great way to help you transform your project resources into a higher-quality deliverable. If you're a manufacturer, this can help you reduce employee mistakes on their jobs. It can also ensure a more consistent and reliable output. Even if you're just talking about documentation, process implementation can help make sure that everyone in fact signs off on the documents.
You can also improve process efficiency, whether by repeatable processes or automation for recurring tasks, which and streamline workflows. This can reduce waste, allow teams to focus on more complex jobs and help allocate resources more efficiently. Employees who are freed from doing simple tasks that can be automated can take on more jobs.
If you're looking to encourage compliance with industry standards, process implementation can help with the documentation to keep you abiding by whatever laws govern your business. It can help you stick to the quality guidelines if documentation is guiding your work. Employees can better understand those organizational processes and their roles in them, leading to better performance.
We've mentioned that process implementation makes it easier for a company to scale, especially when tasks require coordination from many people or departments. New processes can help create a more effective work system. This leads to other improvements when processes are continuously evaluated and developed. Finally, these improvements include better monitoring and measuring of performance when you use key performance indicators (KPIs) to key the success of your process implementation.
The Implementation Process in 7 Steps
In order to reap the benefits of new processes in your business, you have to know how to implement them. The following are seven steps that'll help you take advantage of process implementation.
1. Form a Project Team
Process implementation is the execution of a plan. Most plans involve multiple people, so the first step is to assemble your team based on the experience and skills of those involved. Having the right people means you can use them to brainstorm better approaches. Most likely, you'll also be working across departments, which means you need to have teams that are adept at working cross-functionally.
2. Define Your Business Process
With the right team on board, the next step is to define the goals. You can apply techniques such as business process mapping, which helps implement or improve the processes you're targeting. You'll also have to look at all the tasks in your process implementation plan and figure out the resources the team will need to accomplish and deliver the project successfully. The team can help managers work collaboratively as they develop a plan of action.
3. Set Goals and Objectives for Process Implementation
As you define the business process, you'll have goals and objectives to meet. Once those have been decided upon, it's important to use a gap analysis in order to chart the path to achieving your goals. The gap analysis defines where your business is and where it wants to be. It's crucial to set goals and objectives so your business understands how to get where it wants to be.
3. Make an Implementation Plan
After brainstorming with your team, defining business processes and setting your goals and objectives for the implementation of new processes, it's time to write the plan. You should have everything you need, such as the resources necessary to execute the project. Now, you have to define the tasks that'll take you from start to finish. Include the stages of the project, duration and timeline and the roles and responsibilities of all those involved.
5. Onboard Your Team
In order for the process implementation to be a success, the team must understand the new business processes. This likely includes training, workshops, seminars, presentations or tutoring and team mentoring.
6. Implement Your Improved Business Process
Now you're ready to implement the processes with clear objectives and a specific goal for improvement. During this step, you'll want to monitor the process to ensure you're hitting your milestones. Having measurable KPIs ensures you achieve your targeted implementation strategy.
7. Conduct a Post-Implementation Review
Once you've executed the process implementation plan, you'll want to review it to see what went right and where you went wrong. This helps inform new process implementation plans but can also be useful in refining the steps to ensure you're meeting the objectives you defined.
ProjectManager Helps with Process Implementation
Managing a process implementation requires many different tools. You have to manage teams, resources, costs and monitor your progress and performance to ensure that you're meeting the timetable of your implementation plan. ProjectManager is award-winning software that has the features you need to plan, manage and track your project in real time.
Use Multiple Project Views
Cross-functional teams require a suite of powerful tools that are in sync with one another. Managers make an implementation plan on a Gantt chart, which organizes tasks, links all four types of dependencies and can even filter for the critical path. Teams will use different tools to execute those jobs. If they're working in an agile environment, they'll want to map our their sprints using the kanban board view to manage their backlog and plan sprints. If they're manufacturers, they might prefer our robust task lists. Whatever tool you use, all data is updated simultaneously in real time so everyone is collaborating on the same up-to-date information.
Track Progress in Real Time
When you have an implementation plan on the Gantt chart you can set a baseline. This captures the plan and allows you to compare it to your actual progress. Get a high-level view of the whole project with our real-time dashboard. It collects live data and displays it in easy-to-read graphs and charts that show time, cost, workload and more. There's no time-consuming configurated required as with lightweight software. It's ready when you are. And if you want more details, use our customizable reporting tools that can also be shared to update stakeholders.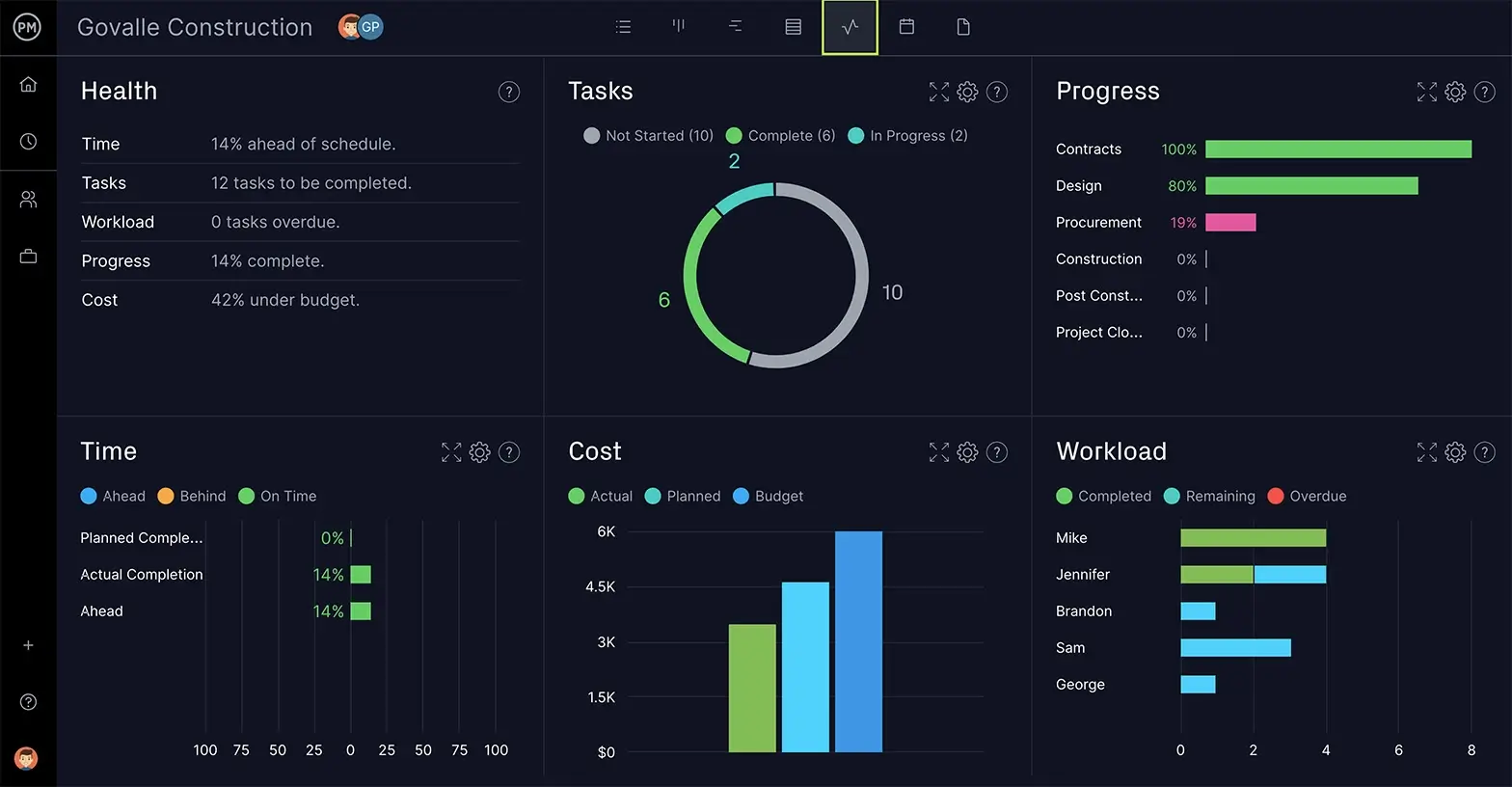 In order to make sure that your process implementation works with your available resources to meet the business goals you need to manage every step of the process implementation plan. Our software has task management, risk management and resource management features that help you meet your goals, whether they're for a project, process implementation or change management plan.
ProjectManager is online project management software that empowers teams to plan, manage and track their implementation process. Our collaborative platform allows teams to share files, comments and more whether they're in different departments or different timezones. Join teams at Avis, Nestle and Siemens who are using our software to deliver success. Get started with ProjectManager today for free.