(This post contains affiliate links. Read my full disclosure.)
Are you ready to dive into my Google Project Management: Professional Certificate review? I've done a lot of project management training in my 20+ years as a project manager, and those courses helped me understand the skills, tools and techniques required to succeed leading projects.
Luckily, many of those training programs have been paid for by my company over the years, or provided as internal courses. However, these days companies seem to be paying for less and less corporate training, and I speak to many project managers who are using their own funds to buy training.
But… it's really important to choose a good course. If you are going to take a professional certificate, you need to be sure that you are spending time (and money) on something that is worth it. And many of the professional bodies offer certificates and credentials that require pre-requisites.
In this Google Project Management: Professional Certificate review for beginners, I'll share:
Why the Google Project Management certificate doesn't require pre-requisites (and what you do need to pass)
Why it's especially good for early career project managers
How long you'll need to spend going through the course materials before you pass, and what that process looks like.
This course is one of the most popular project management certifications out there, with thousands of students from around the world. I've spent many hours reviewing the materials and going through the lessons so you can save time in your own course evaluation.
Who is the Google Project Management Certificate for?
The Coursera Google Project Management Certificate is aimed at complete beginners, but it quickly starts to dive into a range of topics that provide a good refresher for early and mid-career project managers.
You don't need any prior knowledge or pre-requisite study, or any particular education requirements in order to take the certificate. That's because everything is very clearly explained, starting from the assumption that you know nothing. If you do know that particular topic, you can skip through the videos on fast speed or move directly to the quizzes.
The first module of the first course really sets the expectation that this is a course aimed at people wanting to get into project management. There is also a lot of material that talks about careers, how you might need to evidence certain skills in a job interview, and the first module closes with a look at uncovering job opportunities.
This course is great for:
People who have had no project management training and want to demonstrate they understand project management so they can break into the job.
People who are leading projects for their company but have had no formal training and would like to learn what they should be doing!
Project managers who are yet to take a professional certificate but don't meet the requirements for the course they are looking at, for example, not meeting the eligibility criteria for the Project Management Professional (PMP)® exam.
As a result of spending time creating this review, I think it's great for early-career project managers because:
It covers pretty much everything you need to know to be ready for an entry-level job
It's from Google. What's not to like about that? It's a brand that potential employers will recognize
It's not expensive if you work through the course quickly and dedicate yourself to getting on with it
It's fully online so you can study around your day job or university requirements.
If you are considering taking a project management role, and want a lower cost, low-barrier-to-entry course to get started with, this is great.
About the course and structure
The certificate is made up of 6 courses. These are:
Foundations of project management
Project initiation: starting a successful project
Project planning: putting it all together
Project execution: running the project
Agile project management
Capstone: Applying project management in the real world
You don't have to take them in order, but it makes sense to do so as they build as you go through.
You do have to take them all (and pass them all) to be awarded the certificate.
Each course is made up of several modules that take you into the various topics. The courses are wide-ranging and cover everything from project management methods including agile methods, risk management, the project life cycle, project management tools, project implementation and change management.
Set up of the course
Basically, if you do the work in the certificate program, you'll pass. There is a lot of work to do. It's not a quick-win course to get the certificate, and even if you breeze through the Foundations module like I did, it will still require you to do a lot of learning to earn the certificate.
I'm not sure if the course is available in other languages, but I signed up to it in English. The course materials include:
Training videos – you can control the playback speed, hurrah!
'What it's like to be a PM' videos – these are quick chats from project and program managers working at Google talking about their role and career journey
Transcripts – these sit under the videos and the relevant text is highlighted as the speaker talks
Reading materials – sometimes these are a PDF to download, other times it's content to read on the screen
Discussion forums – if you want to take part in the discussion forums and connect with other students, you can.
The video lectures aren't really lectures at all. They are short, interesting, very high quality and well-structured. The presenters are clear and obviously experienced.
I liked that the examples used are real-world scenarios and reflective of the kind of projects that you would be managing in an actual entry-level project management role.
I have used a few different learning management systems for online training courses and the Coursera platform that this certificate uses is really slick. The video pops out when you scroll down the page. The notes capture tool is great – little touches like that make it easy to use and minimizes the effort you have to expend on training.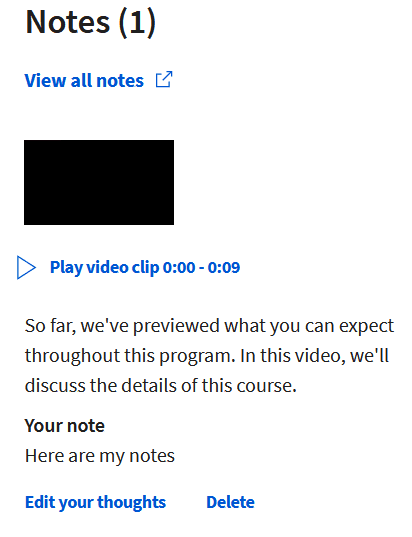 How long does the Google Project Management Certificate take?
The recommendation is 10 hours of study per week, and that will mean you complete all the content in 6 months.
I took the first course in a lot less than 10 hours, but it is the Foundations course, and I consider myself to be a bit beyond Foundations level in my career. If you are new to the content, it could take you that long.
Assessments and passing
Each module includes in-video check point quizzes, which I quite liked because they help you recap the important points in the training.
As well as those, there are also practice quizzes that help you prepare for the end of module graded quiz. There are other exercises to do as well, such as reflection exercises. You have to score 100% on those but I reckon as long as you enter text in the boxes you would pass – they are not graded and they are designed to support your personal learning.
The assumption is that you will take about 1 month per course, which is 1 week per module. Overall, that's 6 months to work through the materials.
I think you can do it much faster if you dedicate time to it, but it is going to depend on how much project management experience you have. If you are completely new to the topics, you will want to spend more time digesting the course content.
As I have worked in project management for quite a few years now, I found some of the Foundations module, for example, very straightforward, and I was able to get through that course quickly.
The exact amount of time you'll have to spend is going to depend on how much time you can dedicate to studying, and how quickly you pick up the concepts.
Taking the graded quizzes
Each module ends with a timed, graded quiz. Coursera is clear that it has to be your own work, so there are pop ups that require you to commit to the honor code and promise that it's all your own work.
However, you can have other windows open on your computer as you do the quiz, and there is more than enough time to go through the quiz, answer the questions that you can do from memory, and then review the relevant course materials and go back and answer the questions.
In essence, each quiz is an open book exam.

Peer-graded assessments
Much of the certificate relies on graded quizzes, but some of the courses and the Capstone project include peer-graded assignments.
This is where you submit your work and your peers review it. You also have to review other people's work, and if you don't, that could affect your overall grade. It's (in theory) a great way to encourage participation and it helps you learn how to write effective project documentation.
There are thousands of students doing the course so don't worry that no one will be available to review your work.
I'll be honest: I haven't finished the Capstone yet, but I looked at the process and I have to create a project charter as a Google doc amongst other things, based on a scenario they provide (so I can't simply upload one I've already created for another project). At least with everyone working on the same scenario, the person who reviews will have some idea of what it is supposed to say.
What you need to pass the course
To pass the course, you need time. Beyond that, you just need a decent internet connection and a notebook to jot down your notes, although the platform does have a note feature built in.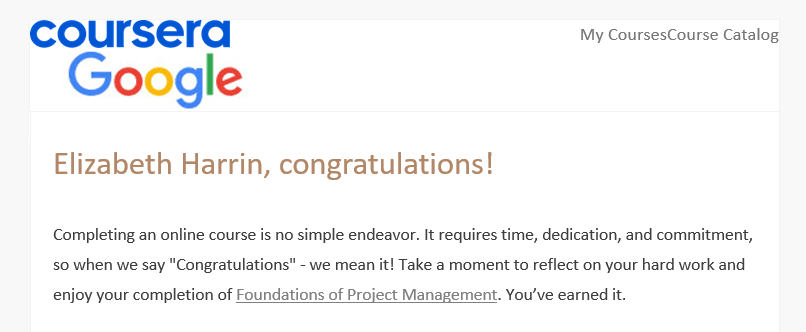 Pros
The advantages of the Google Project Management certificate are:
It's good value. There is a lot of content covered.
You don't need any prior experience.
You work through scenarios and case studies in the course, including in the Capstone, so you get to put your skills into practice (even though it's not a 'real' project).
The course is definitely good quality.
The videos remember the speed settings you have set so you can keep watching the next videos at the pace you've chosen.
To earn the certificate, all you have to do is complete all the work.
That final point sounds easy, but trust me, there is a lot of content to get through for the certificate, so don't underestimate the amount of work and learning involved, especially if you are coming to the topics completely new.
There is no certification exam, but there are peer-reviewed assignments. So if you are nervous about taking exams, that's another reason to take this course. As long as you put the time and effort in, you can get through it!
The discussion forums are active and the materials are engaging so you can keep yourself motivated. I didn't use the discussion forums but I like knowing that they are there.
Cons
The disadvantages that I found are as follows.
It's very hard to find out how much the Google Project Management certification course costs. You have to sign up for an account first, and then Coursera pushes you into a free 7-day trial. After that it's £32 per month, or the equivalent in your country.
There is no price per course, it is a subscription model (Coursera Plus) based on how long it takes you to work through the materials.
Tip: Before you sign up, make sure you have enough time to spend on the training, as the faster you complete it, the less you end up paying on the monthly subscription.
Peer-graded assignments. You have to wait 7-10 days for someone to assess your submitted assignments, so if you are hoping to get through all the materials super-fast, you are unable to get your final certificate awarded until all your peer assignments are graded.
I thought this would be a big problem as I had allocated time to work on the course, but in hindsight I don't think it will cause too many issues. However, I wonder if it would be better to have an instructor review. I understand that with the volume of people doing the courses that would be hard.
It's also a little Google-y and maybe a little US-centric (I couldn't find any UK universities in the drop down list when setting up my profile). But whatever, it's a very solid course overall.
Recommendation: Should you buy this course?
If you are seriously considering a career in project management and want a certificate to put on your job applications from a training firm that people will recognize, then the Google project management certificate is a fantastic entry-level certificate.
Get a subscription, book a week off work and just do it all, as much as you can in that time.
Or, pace yourself more sensibly than I did and commit to working on the study materials over the 6 months that Google recommends it takes you to work through the materials.
I should let you know that I am impressed with the course and that I'm now an affiliate for the Coursera platform so I can recommend it, but I only recommend products I have tested out and am confident in.