Writing resumes is an essential process for anyone who's looking for a job, and that's especially true in project management. Don't get overlooked for an ideal job because your project manager resume isn't tailored to your strengths or fails to align with the job description.
This quick guide will help you gain a better understanding of what should be included in your project manager resume and includes some of the best tips for starting your career in project management on the right foot.
Then, once you're ready, you can try ProjectManager. ProjectManager is a robust project management software that has all the tools you need to successfully lead any project. You can use Gantt charts, kanban boards, real-time dashboards, timesheets and many other features to plan, schedule and track projects, programs and portfolios in real time. Get started today for free.
What Should You Include in Your Project Manager Resume?
While your project manager resume should be unique, there are some key components that you'll need to include to show your employers you're the right person for the job. Here's an overview of what's typically included in a project management resume.
Cover Letter
The cover letter is a one-page document that's usually submitted along with the project manager's resume. It allows applicants to add details to their resumes and explain to employers why they're a good fit for a particular position. Some companies use them during the hiring process while others don't. However, submitting a cover letter with your resume can be a great way to stand out from the crowd and show the hiring manager you're truly interested in the position.
Profile or Summary
Your professional profile also referred to as the summary section, is located at the beginning of your project manager resume, and it works as a brief introduction to who you are as a professional. This section is usually two to three paragraphs long and it should serve as a summary of your skills, experience and education.
Work Experience
The work experience section is one of the most important components of a project manager resume. This section isn't about just listing the places where you've worked before, but it also provides a general overview of your previous roles, responsibilities and achievements.
Make sure you use action verbs to describe what your responsibilities were and don't be shy about your achievements. Highlight everything you did before and how that relates to the project management position for which you're applying.
Skills
There are two types of skills when it comes to writing your project manager resume: soft skills and hard skills. Soft skills are those skills that a person is "born with" or organically acquires throughout his life, such as social skills, communication skills as well as personal traits such as leadership or empathy.
Hard skills, on the other hand, are more specific skills that can be formally taught by educational institutions, such as project management or business administration. This will certainly be a topic of conversation during your project manager interview.
Education & Certifications
List your education and certifications. You can include any courses you're actively participating in even if you haven't obtained a certification or diploma yet. This shows employers that you're interested in improving your skills, which can differentiate you from other applicants.
5 Tips to Write a Project Manager Resume
In this tutorial video, Jennifer Bridges, certified project management professional (PMP), shows you how to make a great resume and advance your career in project management.
1. Be Short, Clear and Concise
A resume isn't a novel. You're not looking for plot development. Just state the facts.
2. Align Your Project Manager Resume With the Job Description
She said that a job notice will usually include a detailed description of the project management job they're trying to fill, or at least the role and its responsibilities. Therefore, the first thing you must do is to map your resume to directly respond to the how, when and where you've done what they're seeking. This includes having a targeted LinkedIn profile, as recruiters are always trolling the site for leads.
3. Use Project Management Keywords
That's the language of the recruiter, and maybe even the software they're using to locate candidates, so use the industry-specific keywords that they're seeking. If you're a project manager, but in your previous job you held a different title, write your title as a project manager in your resume to match the desired language.
4. Highlight Your Project Management Skills and Professional Achievements
Make it clear that what the employer needs for the position is also evident in your resume; don't bury it. Are you versed in agile? Let them know. Are you an expert with certain project management software?
Let them know about your previous work, such as the size and scale of it, so they can see the kinds of projects that you're able to manage as a project leader.
If you were recognized for being outstanding and achieved something noteworthy, you need to let people know. If there's something quirky, yet valuable, that sets you apart, mention that, too.
5. Keep Your Resume Updated
You should be reviewing your project manager resume more than just when you're looking for a new job. Always update it with new skills and experiences, and this goes for your LinkedIn page as well. If you're regularly earning PDUs, be sure to mention that you're PMP-certified.
ProjectManager Is Ideal for Project Managers
When you land that project manager position, you're going to need project management software to get the job done. ProjectManager is robust project management software that helps project managers map out project plans, manage their resources and keep track of the different moving parts of a project. Our software is collaborative, making it easy to share files, comment and more, plus has task management, risk management and resource management features that help you keep your team productive and working at capacity while identifying any issues that can get in the way.
Manage Projects With Multiple Project Management Tools
Not everyone works the same way, which is why our tool has multiple project views. Project managers are going to use our powerful Gantt charts to organize tasks, link dependencies to avoid delays and filter for the critical path to identify the essential tasks needed to complete the project successfully. When the plan is done, teams can use the kanban board's visual workflow to collaborate and plan, which gives managers transparency into their work to resolve any roadblocks that might slow them down. There are also robust tasks lists, sheet views and even a calendar, which stakeholders can use to track milestones.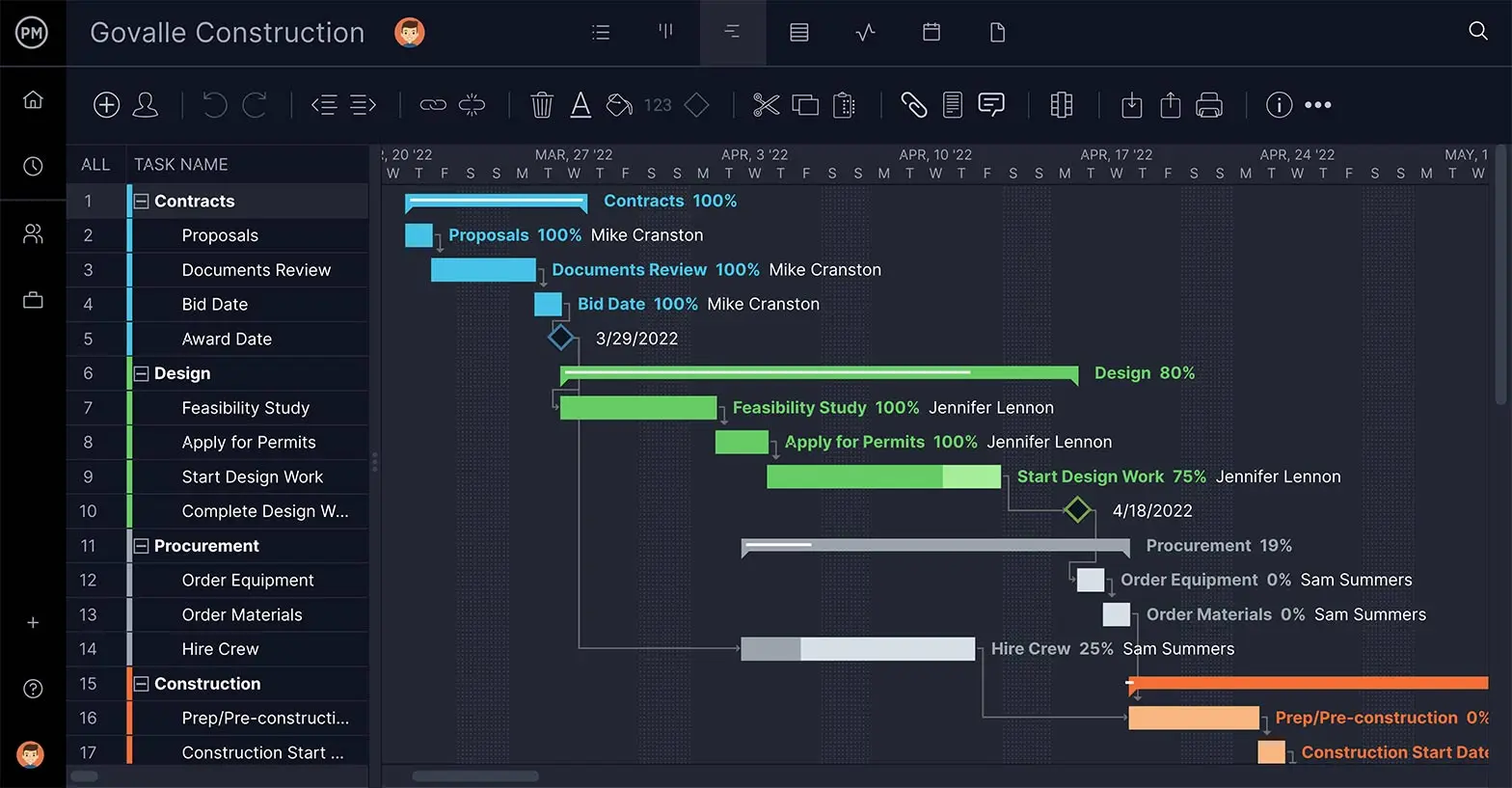 Track Costs, Resources and Progress
Project managers need to monitor progress and performance to make sure the schedule and the budget are being met. When you set a baseline on the Gantt chart, you're then able to track the planned effort against your actual effort in real time. This reflects in reporting features and our live project dashboard, which gives you a high-level view of metrics such as time, cost and more. There are also secure timesheets, which allow project managers to see what percentage complete the tasks assigned to team members. Timesheets can be logged anywhere and at any time, whether you're in the office, on a job site or anywhere else.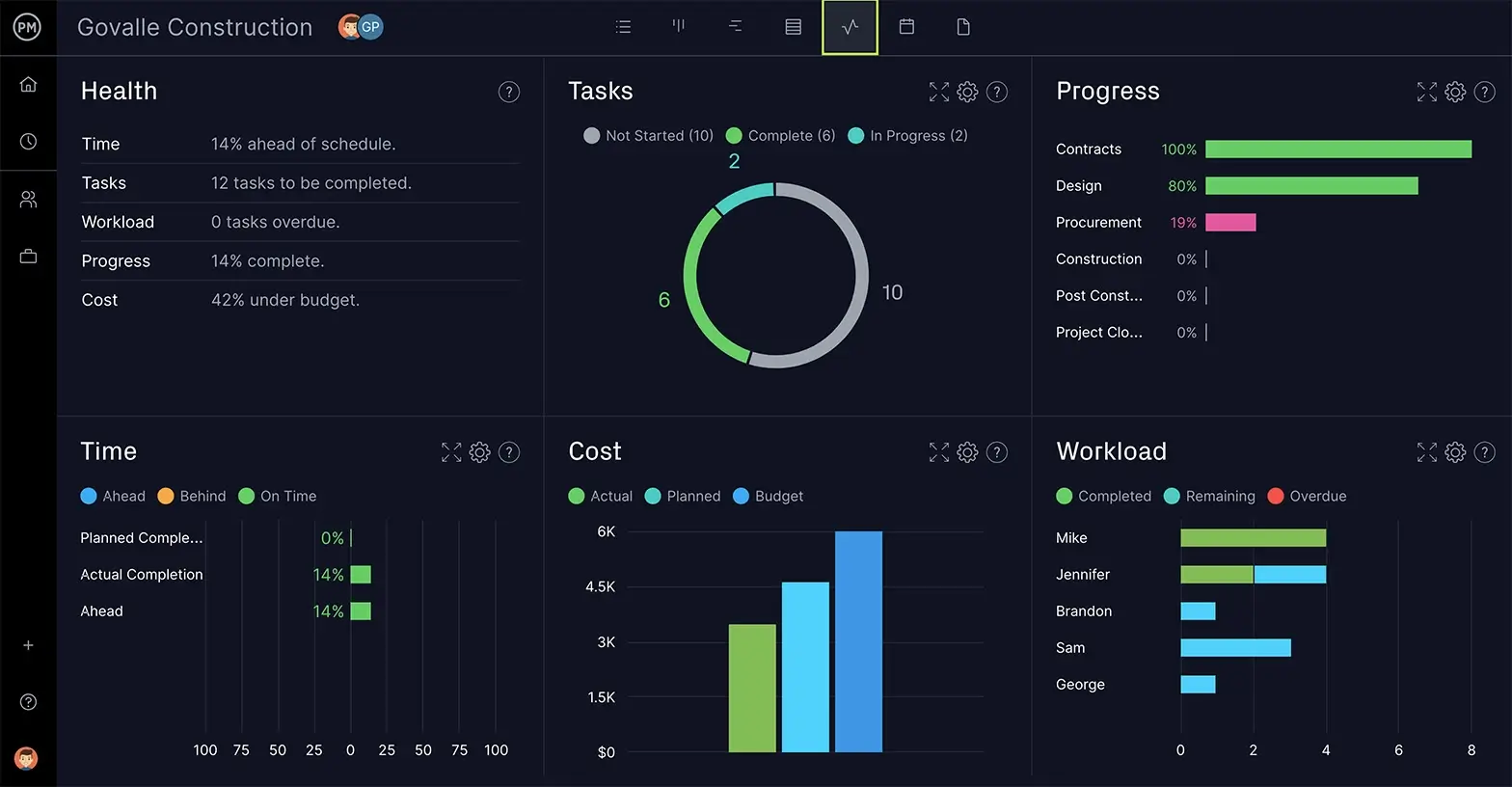 Related Content
Besides our project management software, we offer dozens of project management templates, blogs and software pages for you and your team. Here are some of them related to the topic of careers and project management.
ProjectManager is award-winning project management software that allows project managers to better plan, manage and track their projects in real time. Project managers get the tools they need to monitor costs, time and resources. Join the project managers at Avis, Nestle and Siemens who are using our software to deliver successful projects. Get started with ProjectManager today for free.