There's more than one way to manage a construction project. From the world of manufacturing comes an approach called lean construction. But lean manufacturing and lean construction are two different things.
Let's explore lean construction, defining what it is and its key principles. Along the way, we'll explain why lean construction can benefit your project and how the right project management software can help you take advantage of lean construction.
What Is Lean Construction?
Lean construction adopts the principles and practices of lean manufacturing and applies them to building processes. It uses operational research and practical development when designing the project, focusing on continuous improvement throughout construction. That includes everything from environmental design, maintenance, salvaging, etc.
The goal is to improve construction while keeping costs down and improving value for the customer depending on their needs. The term lean construction has been around since about 1993 when it may have been used in the first meeting of the International Group for Lean Construction. However, the idea of lean methods dates back centuries and became part of modern production with Henry Ford.
Lean construction is constantly evolving, which is why there's no straightforward definition of the term. However, it's different from construction project management in that it designs production systems that reduce wasting materials, time and effort while still getting the most value possible. This involves a great deal of collaboration from all involved including the owner, architectural engineer, contractors, facility managers and end-users.
Reliable work on a construction site requires aligning the supply chain to always have what you need. ProjectManager is award-winning software with powerful Gantt charts that can manage your resources, costs and schedule to make sure everything falls into place without waste. Every job on the Gantt chart aligns with the resources needed to execute it. All four dependencies can be linked to avoid costly delays and a baseline can be set to track planned progress against actual progress to keep production on schedule. Get started with ProjectManager today for free.
Key Lean Construction Principles
The main difference between lean construction and construction project management is that in the latter, everyone has their own role to play, while in the former they work together as a team. Lean construction considers the whole life cycle of the project when determining what to build and how to build it. That's an overriding principle. Here are some of the key lean construction principles.
Define Value
When you're talking about value in terms of lean, whether that's lean manufacturing or lean construction, this refers to the worth of the project as judged by the customer. This includes the price and market demand, but also the timeline for delivery and any other requirements or expectations that must be met.
Value Stream Mapping
When you've defined the value, you can next map the value stream. The value stream is meant to contribute value to the customer across all activities. Mapping this value stream means defining the steps and processes from raw materials to delivering the final product. Value streaming occurs in design, production, procurement, HR, administration, delivery and customer service. It's literally a map through these processes and, in so doing, identifies wasteful steps that don't create value for the customer and removes them.
Create Workflow
Removing waste from the value stream is only the first part. Now, the remaining steps must flow smoothly. That means there should be no delays or bottlenecks. The steps should be in tight sequence to keep the delivery to the customer smooth. To succeed, silos must be broken down and cross-functional teams have to collaborate. This, of course, is easier said than done in the very regimented world of construction but is crucial to making lean construction work. Clearing these hurdles, however, will boost productivity.
Pull Planning & Scheduling
Collaboration is a foundational part of lean construction and it's also key to what is called pull planning. Pull planning is collaborative scheduling that starts with team members and asks them to identify project milestones. When this is done, work backward and add the details and requirements to the scheduling, like reverse engineering. This improves the time it takes to deliver to the customer as they can pull the final product faster.
Continuous Improvement
Lean construction isn't about complacency. Everyone involved in the project is encouraged to speak up and offer suggestions about how processes can be improved. That's what continuous improvement means, always thinking of ways to make the process better, which is the responsibility of everyone from the owner down to subcontractors. Lean construction, like lean methodology at large, is about constant effort and vigilance. That can mean value-stream mapping a dozen times.
Lean Construction Benefits
Why should construction professionals care about lean construction? It's a methodology that comes from the manufacturing world, which is a different animal than construction. Also, as noted above in detailing its principles, lean construction is about changing business as usual. Is it worth it?
Yes, it is, if you're concerned with working more efficiently. That means lean construction saves time and money. It has the potential to get work done sooner, with less waste of materials, time and labor. That makes for a happy owner and a more competitive construction company. Few will find fault in that. Here are some more benefits of lean construction.
Enhances team collaboration: Lean construction asks different departments to collaborate throughout the design, planning and execution of the project. This helps avoid costly mistakes and supports a just-in-time availability of materials and workers.
Optimizes resource utilization efficiency: This is done by focusing on tasks that add value to customers. This cuts down on costs because companies don't have to waste money on items that aren't critical to the project. Also, by having workers focus on activities in the value stream, they are working on billable hours and companies get more back for their buck.
Facilitates cost control: Managers can keep expenses down because labor, material and overhead costs only apply to what's in the value stream. Anything unnecessary is removed as waste.
Better customer satisfaction levels: Being able to deliver a construction project to the owner faster and for less money will reflect in their satisfaction and will likely send them back to your company when they have another job to contract.
Construction Project Management Templates
There are many ways to run a lean construction project. One is to use project management templates. We have dozens of free project management templates for Word and Excel that cover every phase of a construction project. Here are a few that you can download right now and get started running a lean construction project.
The way you build a lean construction schedule might be different, but you'll still need to manage deliverables, resources and set milestones. Our free construction schedule template does all that and even can filter for the critical path.
Lean construction projects still have to report daily. Our free construction daily report template for Excel captures all the information that is critical to running a successful project, from work performed to weather conditions.
All projects cost money. Being able to forecast those costs more accurately will help you keep to your budget. That's true in lean construction, too. Our free construction estimate template for Excel helps you figure out labor costs, material costs and your profit margin.
How ProjectManager Helps With Lean Construction
ProjectManager is online software that connects teams across departments and gives them the tools they need to collaborate, which is mandatory for working in a lean construction environment. Whether you're on the job site, in the office or even at home, you have access to our software on your laptop, desktop or mobile device. Everyone can comment, share files and more, including logging work hours anywhere and at any time.
Use the Tool You Want With Multiple Project Views
To make it easier for architects to collaborate with construction managers, who need to connect with subcontractors and vendors, we have multiple project views. That means the plan designed on the Gantt chart reflects across all project views. Managers can use kanban boards to visualize the workflow and reallocate resources as needed to avoid costly bottlenecks. Subcontractors can knock off jobs on a task list and stakeholders can track milestones on the calendar view. All views update in real time so everyone is always working on the same page.

Get a High-Level View of Work With Real-Time Dashboards
One way to stay on top of schedules and budgets while working towards continuous improvements is by monitoring your progress and performance as you execute your lean construction project. Our dashboards are always at work, automatically capturing live data and displaying metrics, such as time, costs and more, in easy-to-read graphs and charts. Unlike lightweight tools, there's no time-consuming setup required with our real-time dashboard. Just toggle over and it's ready to go.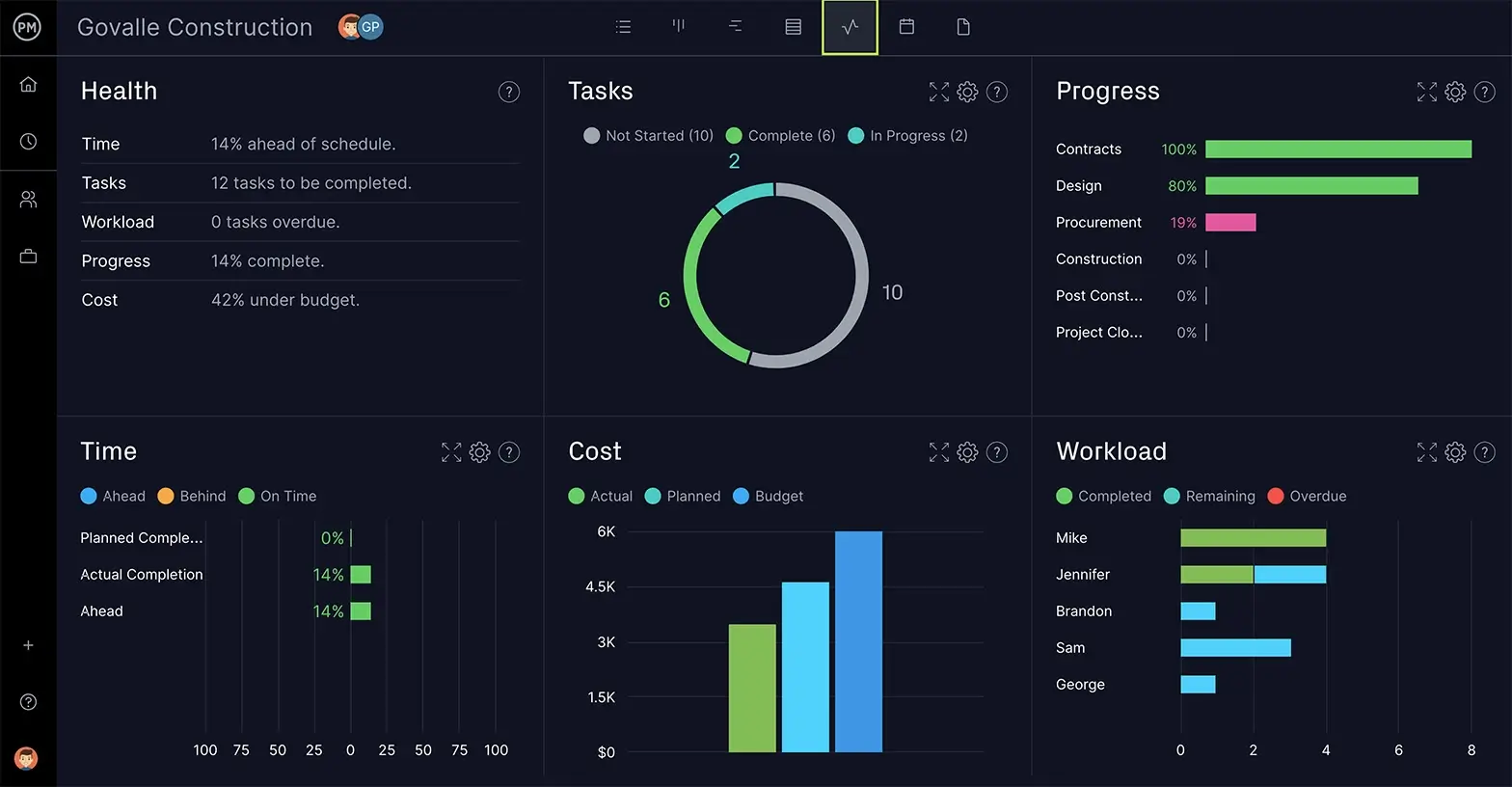 Those are just a few of the features we offer. There are plenty more, such as task management, risk management and resource management features to keep your teams working productively from initiation to close.
Related Construction Content
ProjectManager isn't just powerful construction software, it's also an online hub for all things project management. Besides the free templates you can download, there are weekly blogs, guides and tutorial videos that cover everything related to project management. Here are just a few construction-related pieces.
ProjectManager is award-winning software that empowers teams to plan, manage and track work in real time. Whether working at a desktop in the office, a laptop in the field or your mobile app anywhere in between, our software is always on and ready whenever you are. Get started with ProjectManager today for free.