What Is Project Reporting?
Project reporting is one of the key responsibilities of any project manager. Project reporting consists in creating different types of reports to track project schedules, project budgets and project progress in order to keep project stakeholders informed.
No matter if you're a journeyman or an apprentice in the project management field, it's very likely that you've made a project report, either by hand or with reporting tools. However, you may not know that there are several different types of project management reports, or how to specifically address those reports to particular audiences. In this blog, we'll provide an overview of the most commonly used project reports, including examples and sample project reports you can download.
What Is a Project Report?
A project report is a document that provides detail on the overall status of the project or specific aspects of the project's progress or performance. Regardless of the type of report, it is made up of project data based on economic, technical, financial, managerial or production aspects.
Because of their level of detail, creating a project report takes time. Project management software, like ProjectManager, can expedite your reporting process. Create project management reports or simply look at our real-time dashboard for a snapshot of your current project's status. Get started with ProjectManager for free today.
Benefits of a Project Report
Project management reports are important tools of communication to stakeholders to keep them updated on the project and its progress. But they're also helpful for project managers and assists them when allocating resources and other means of managing the project to a successful conclusion. Most project reports will compare actual effort against the planned effort in order to keep the project on financial track and aligned to its schedule.
Not only do project reports help managers and stakeholders monitor progress, they can predict threats, and in so doing, work towards developing a response to avoid them. They help to control cost and keep to your budget, monitor team performance and increase visibility into the project for greater insights in managing them.
Project Report Examples
To learn more about project reports and how they can benefit you and your daily workload, watch the short video below. It shows you how to make different types of project reports in just a few clicks by using ProjectManager. With easy-to-use reporting software, you're able to track projects with confidence, offer more effective presentations and deliver better results. Create project status reports, project progress reports, resource availability reports and other project management reports.
Common Project Report Types
Here is an outline of twelve of the more common types of project reports, but are nonetheless crucial to the successful running of a project.
1. Project Status Reports
"Can I have that status report in an hour?" It's the kind of question project managers hear a lot. Maybe it's from the project sponsor, or your project office manager, or a colleague. This is the most common type of project report and the one that you probably find yourself working on most regularly.
You can produce status reports weekly or monthly–and on one project recently I ended up producing daily status reports during the implementation phase. The frequency depends on where you are in the project and how much there is to say. There's not much point in reporting daily if your tasks all take over a week, as you won't have any progress to report from day to day.
As you will spend a fair amount of time producing project management reports, it is worth considering ways to make it faster to write them. Better yet, automate as much project reporting as possible.
Create a standard status report template or use the one that comes with your project management software, and use the data in your scheduling tool to populate the project progress. Even if you have to amend it afterward, having some of the fields completed for you will still save you a lot of time.
2. Project Progress Report
One of the most important project reports you'll generate over the course of executing a project is the progress report. It is a report that updates the information about your project, specifically if it's meeting the baseline set by the schedule and budget. It's another way to inform your stakeholders on where the project is at that time.
You want to be specific when making a progress report. Note the data, and then write a brief introduction that includes the title of the project, contact info, a summary of the status of the project and general information about the schedule, cost and expected completion of the project.
Progress reports can be generated with project management software, but there are templates that can be helpful. ProjectManager has a free progress report template for Word that has everything you need to make a thorough progress report, including a summary section that looks at the project status, schedule, cost and risk. You can see at a glance whether you're on time or delayed and why. There's also a section that digs into the status of each task.
3. Risk Reports
Many PMs report on risks at least monthly, and the report is normally the output that comes after a risk review meeting. Of course, you can update your risk register at any time, and you should be encouraging all your project team members to contribute risks to the log whenever they feel something needs recording.
The risk report should include a summary of the risk profile of the project, but how you present this is up to you. A good approach would be to only include the details for the risks that have the potential to create the most problems for your project. Then, include a statement on the lower-level risks, perhaps summarizing how you are managing all of these.
Related: Free Project Report Templates
You will also want the possibility of producing a report about all your risks, regardless of how significant they are. It's probably easiest to do this as an automated download from your project management software, or if you keep your risk log in another format like a spreadsheet, by issuing a complete copy of that document.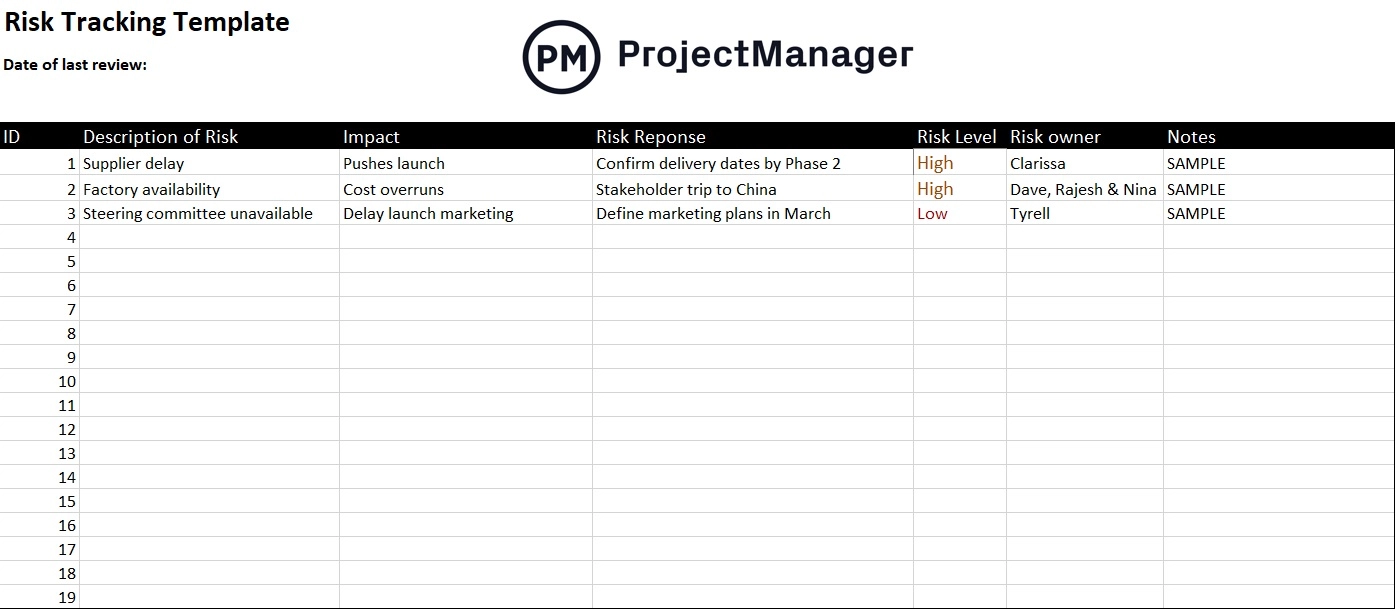 4. Board/Executive Reports
Project reports need to be tailored to the people who are going to read them. So the report you produce for the project board will have a different level of detail in it compared to the weekly status update that goes to your project team and key business stakeholders.
For the project board reports, think at a high level. They will want to read about things that are important to them, like issues they can help resolve, a summary of the budget position, and whether or not you're on track to hit key milestones.
Make sure that your board report is in a format that they can easily read. For example, if your executives are always on the road and use their smartphones to check emails, don't produce your report in the form of a complicated spreadsheet that won't display correctly, or include loads of large graphics that will take ages to download. A pdf will render across devices if you're emailing a static report. Or you can grant licenses for board members or senior leadership so they can see real-time dashboard reports on the go. ProjectManager features live dashboards that always have up-to-date information.
5. Cost Benefit Analysis Report
When deciding if a project is viable, one of the reports you'll want to run is a cost-benefit analysis report. It's a way to compare how much of a benefit or opportunity the project offers to your organization in comparison to the investment. It's a key step in deciding if the project makes sense from a business perspective.
This is a critical process to determine if the initiative you're exploring has value. It will allow your company to better use its resources if it moves forward with the project as well as provide documents that support moving forward with the project. You can use cost analysis to track your expenses and spending to make sure funds are properly appropriated.
The cost-benefit analysis shows what you expect to pay for a project and compares that to the benefits or opportunities you'll get after completing the project. Using the free cost-benefit analysis template for Excel from ProjectManager collects your quantitative costs, types of costs and compares them to quantitative benefits and types of benefits. This cost-benefit analysis will help with your decision-making when deciding on whether to move ahead with a project or not.
6. Resource Reports
How do you know who is doing what and when? You could go through the entire project plan and work out the resource allocations by hand. That would take a lot of time, and be mind-numbingly dull as well. Or you could use your project management planning software to work it all out for you. Most software tools, whether they are standalone Gantt chart software or fully-featured project tools with integrated timesheets, will have the option to create a resource report.
The resource report will show you the breakdown of which project team member is allocated to which task on which day. They can also be used to pinpoint over-allocation problems – where a team member is allocated to more than one task. Obviously, they can't work on two things at once, so if you don't pick up these problems you'll find that your project plan slips behind schedule. Use the resource report to ensure that you haven't got clashes for individuals and reschedule those tasks as necessary.
Overall, resource reports are one of the most useful types of project reports to be had as a project manager, although they can be a bit difficult to interpret at first. It really is worth spending the time getting to know how to read the reports so that you can make changes to your project schedule as appropriate.
7. Project Variance Reports
How can you tell if the project is in fact progressing as planned? That's the beauty of a variance report: it compares the planned against the actual outcome, giving you a metric to measure if you're on track, ahead of schedule or running behind. The variance report will collect and organize the data on what you're comparing, whether it be the budget, schedule or scope of the project variable you're measuring. The variance report gives you the tool to do a variance analysis or a measurable change from the baseline.
There are several variance reports, such as cost variance, variance at completion (budget surplus or deficit), scheduled variance and others. Mostly, variance reporting is used in the budgetary analysis, trend reporting and spending analysis.
The variance report is a great tool for the project manager, who needs a lens into the project's progress so as to make intelligent decisions on allocating resources. But not only project managers benefit from project management reports. Stakeholders are interested in high-level project reporting, and variance reports give them a thumbs up or a thumb's down as to the progress of the project and whether it meets its schedule and budget.
8. Gap Analysis Report
Whether you're managing a project or in the process of taking your business to the next level, you need a project management report that can show you how to get from Point A to Point B. That's called a gap analysis report. It allows you to see if you're meeting expectations and whether you're using resources effectively.
The gap analysis report will measure the current state of the project or business in terms of time, money and labor and then compare that to the target state it plans to reach. Then by defining and analyzing the gap between those two points an action plan can be developed to organize the task necessary to get there.
ProjectManager has a free gap analysis template for Excel. It has space for your current item state and your future item state. Then you can note the gap percentage you have to close to reach your goal and list the actions necessary to achieve this. Identify who will lead this initiative and even capture the action status.
9. Workload Report
Your team is your most valuable resource. Therefore, you want to pay close attention to their actions to make sure they are working at capacity, but not over-allocated to cause burn out. This means having a reporting window into your over- and under-utilized resources via a workload report.
Workload management reports monitor the amount of tasks assigned to each team member. With the workload report you can see if the team has their tasks evenly distributed. If not, you can re-allocate the work to balance their workload. This will not only lead to a more productive team, but a happier one.
Being able to better delegate tasks will help managers to avoid missed deadlines and poor quality work being delivered. ProjectManager has workload reports and a workload chart that is color-coded making it easier to see who is overallocated. Then you can reallocate resources right from that chart.
10. Timesheet Report
Another important project report for managing your team is the timesheet report. A timesheet is a document that tracks the hours a team member has spent working on their tasks. A timesheet report is a tool to track each team member's work for a period of time during a project.
Timesheet reports are a time management tool that help you track the hours worked and also task progress. They empower team members, foster collaboration and give project managers a high-level overview of costs. ProjectManager has a free timesheet template for Excel that you can download to help you get started.
11. Project Budget Report
The project budget is the amount of money you can spend to complete your project. When you're making a budget, you try to make the most accurate estimate possible. The last thing you want is to have to request more funds from the project sponsor. At best, you'll have to adjust the scope and schedule of your project.
In order to make sure you're meeting your budget, you need to use a project budget report. The budget report will capture your spending over a specific time period of time so you can compare what you planned to spend against what you actually spent. It's a powerful tool to track your budget and keep to it.
To help you get started with your budget tracking, use our free project budget template for Excel to collect all your project tasks, their labor and material costs. There's even a column to track your budget against your actual spending.
12. Project Closure Report
Projects don't end with the delivery of your product or service, on time, within budget and meeting the quality standards of your stakeholders. There are documents that need signing off, teams to be released and more. That's called project closure. To make sure all these administrative tasks are completed, you need a project closure report.
Project closure is the final project deliverable, and senior management will use it to judge the success of the project. It records the final sign off from the project sponsor and launches activities such as best practices for future projects. This process is required for all projects, regardless of their size.
To help you manage this process, we have a free project closure template for Word that you can download. The template is broken up into different sections. There's a place for document information, document history and then document approval. Use the free template with a plan to get all your sign offs and gather the lessons learned from what went right and what didn't in the project.
How to Write a Project Report
Here are four basic steps to get started with the project reporting process.
1. Define Your Objective
You can create project reports to track all areas of project management such as scope, time, cost, quality or risk management. These are the main areas project stakeholders want to monitor and therefore should be the priority of project managers when creating project reports.
2. Think About Your Audience
A project has many internal and external project stakeholders, such as investors, executives, clients or even the project management team. As a project manager, you can create a project report for any of these audiences. Some of them will need just a high-level view of the project's progress, while others might want to zoom into all the details they can get about the project.
3. Collect Project Data
The most important input when creating project reports will be the data you use. You'll need some sort of project management software or at least spreadsheets to track your project expenses or project timeline. For example, ProjectManager will help you generate reports based on the project data you enter, such as tasks due dates, labor costs, resource expenses and other aspects of your project.
4. Format Your Report
Once you've established what is your project reporting audience and the data that's available to you, you can choose the project report that's the best fit for your project management needs. Usually project status reports are a standard choice for most project managers, as they provide a quick overview of the project's health in a concise format.
Create Automated Project Reports with ProjectManager
ProjectManager can create several types of project reports with just one click. Our award-winning project management software lets managers create status reports, task reports, availability reports, variance reports and more. It's easy to share them online or print them out as PDFs for your next stakeholder meeting. We give project managers everything they need to track and report on their projects in one cloud-based software.
The right software is going to help you as a project manager. We developed the project reporting and dashboard features of ProjectManager to help project managers simplify this fundamental task. The template reports of our software will provide a needed head-start on monitoring your projects. If you need resources to see them, no problem—you can grant team members direct access, saving time by issuing them to the right people on a regular basis. Start your free 30-day trial now and start reporting smarter.