(This post contains affiliate links. Read my full disclosure.)
Are you considering the LearnQuest Scrum Master Certification?
I've done a lot of project management training in my 20+ years as a project manager. Continuous development is so important, and learning new skills helps you stay current in the job market.
However, I'm not and never have been, an agile expert. I've worked with Scrum teams and Agile development teams, I used Kanban during lockdown to help plan our days and the homeschooling, but I can't say that I'm experienced in Agile ways.
I have a lot of theoretical knowledge picked up over the years, but I've never facilitated a Scrum ceremony, for example.
That's why I was excited to take this course. I felt like it would give me the missing pieces.
If you're like me, you'll want to dive into the LearnQuest Scrum Master Certification review below and see if the training is a good fit for your needs.
In the review, I'll share:
What the course covers
The biggest drawback of the Scrum Master certification
How long you'll need to spend going through the course materials before you pass, and what that process looks like.

Scrum Master Specialization
The Learnquest Scrum Master Certificate is aimed at complete beginners who want to become proficient with Scrum and move on to become a Scrum Master.
We earn a commission if you click this link and make a purchase, at no additional cost to you #ad
How I did this review
I created an account on Coursera so that I could work through the course materials. I joined the class as a student so I had access to the courses that make up the certificate. I completed the quizzes and worked through the training videos. And I passed!
Who is the Scrum Master Certification?
The Learnquest Scrum Master Certificate is aimed at complete beginners who want to become proficient with Scrum and move on to become a Scrum Master.
You don't need any prior knowledge or pre-requisite study, or any particular education requirements in order to take the certificate.
The trainer, Jim Sullivan, is an agile expert who takes you through everything you need to know. Quizzes test your understanding.
You'll certainly find it easier (and faster) to work through the material if you have some experience in project management or agile generally.
As a result of taking and passing the course and spending time creating this review, I think it's a fit for:
People who want to better understand Scrum as an agile method.
Project managers who are working with Scrum teams and want to understand ways of working.
People who are considering becoming Scrum Masters and want an accessible, introductory course to check out this career path.
If you are considering a career in technical, digital, or IT project management, this is a low-cost, low-barrier-to-entry course to check out what working in an agile environment is going to be like.

About the course and structure
The certificate is made up of 4 courses. These are:
Introduction to Scrum Master Training
Scrum Methodologies
Scaling Agile and the Team-of-Teams
Combining Scrum with Other Agile Methodologies
You don't have to take the courses in order, and you can work on them all at the same time. However, the content builds so it is worth pacing yourself in that order.
You do have to take them all (and pass them all) to be awarded the certificate.
Each course is made up of several modules that cover the various topics. They include readings and video training.
Set up of the course
The good news is that if you do the work in the certificate program, you'll pass. Watch the videos, take the quizzes, and plod through the content and you can easily earn the certificate.
The Learnquest course is offered on the Coursera platform, and it's a fantastic experience for learners. The video pops out when you scroll down the page. The notes capture tool is helpful. There are plenty of little touches like email reminders and course deadlines set for you that help keep you engaged and make the learning feel easy.
I'm not sure if the course is available in other languages, but I signed up for it in English. The course materials include:
Training videos – you can control the playback speed, hurrah!
Transcripts – these sit under the videos
Reading materials
Discussion prompts.
How long does the Scrum Master Certification Specialization take?
The recommendation is 2 months at 4 hours of study per week.
That's really not a lot, given that you can play the videos through your headphones. I found I didn't have to focus on watching them, although some of the slides are useful to see. You'll be able to tell which slides are worth looking at from the narration.
I found it easy to play the content while I was doing other things, like cooking dinner, and that helped me get through the materials faster.
How the assessment works
Each module ends with a graded quiz. These are effectively open-book exams, and you have plenty of time to do them and review your notes.
There are no peer-reviewed assignments.
What you need to pass the course
You need to put time aside to pass the course because if you don't have agile experience, there is a lot of new terminology and content to cover.
Do the quizzes. You might find it useful to read a library book on agile methods to round out your knowledge or do some more research around the edges of the topics. You don't need to do that, but you will find your job easier the more knowledge you have if you go on to work as a Scrum Master.
Coursera is good at sending you reminders, and they pace your learning by creating dates for assignment submission so you can plan your study time. But it is up to you.
What certificate do you get?
You get a downloadable PDF certificate per course, and when you complete all the courses, a PDF specialization certificate.
However, you don't get to call yourself a Scrum Master. More on that later.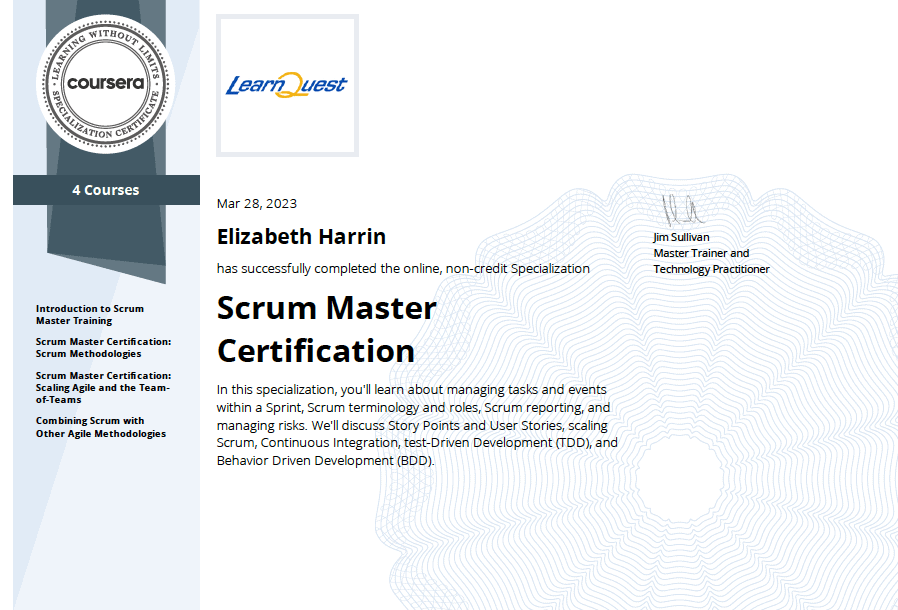 Pros
The advantages of the LearnQuest Scrum Master Certification are:
It covers the basics of agile and will help you understand the theory of Scrum.
It's quick to do and cost-effective.
You don't need any prior experience.
There is no final, timed exam. If you are nervous about taking invigilated exams, that's another reason to take this course over one that makes you sit a final exam!
Cons
The disadvantages that I found are as follows.
You can't call yourself a Scrum Master after this course. There is a 'real' Scrum Master exam which is what employers will expect and value. Of course, you don't need to pass the Scrum Master exam to work as a Scrum Master, if that's OK with your employer.
However, I thought I'd walk away from this training feeling confident about working in a Scrum Master role, and I don't. With 20+ years project management experience, I don't feel this course is enough to walk into a Scrum team tomorrow and lead a sprint. I just couldn't.
There is no practical experience. The Google Project Management Certificate and the IBM IT Project Management Certificate both offer hands-on, capstone, peer-reviewed, real-world exercises and experience.
This course does not. It is very much about watching the videos, reading the readings, and then taking the quizzes.
Those are the two main disadvantages.
My takeaways and final thoughts
I thought from the title, the LearnQuest Scrum Master Specialization course would end up with me being a Scrum Master, but having completed this course, you can't walk away from it saying that.
Once you are in the specialization, the trainer, Jim Sullivan, explains how it fits with the other two courses required to prepare you for the exam. Then you have to take the exam, which is not offered through Coursera.
However, I did learn a lot about working as a Scrum Master and the skills involved. I do not have a background of Agile, so it was helpful to get a real deep dive into the different tools and techniques as well as Scrum ceremonies.
The training is aimed at beginners and covers the foundational knowledge required to operate in a Scrum environment. If you want to find out if being a Scrum Master is for you, this specialization will give you all the basics.
Recommendation: Should you buy this course?
If you already have, or are prepared to get a Coursera subscription, then you may as well do this course as an intro to Scrum.
It's cheap, it's relatively easy to work through, it covers all the basics. It's the perfect way of finding out if you want to be a Scrum Master and what the job involves.
If you already know that you want to be a Scrum Master, I wouldn't take this course. Take the Certified Scrum Master course from the Scrum Alliance as your entry point into the career.
If you want a more general project management overview of different agile methods and how they work in practice, then the Google Project Management Certificate covers the material adequately and provides a more rounded overview of agile approaches.
FAQ
Is the Coursera LearnQuest Scrum Master Certificate worth it?
It's a reasonable course for learning about the basics of Scrum but it does not include practical exercises so you might struggle to put your theoretical knowledge into practice in your job.
Is the Coursera LearnQuest Scrum Master Certificate free?
No, it's not free. You can audit many of the courses on Coursera, so you might have the option to audit it. Otherwise, take advantage of the Coursera free trial to check out the material before you commit.
Is the LearnQuest Scrum Master Certification equivalent to a CSM?
No, it's not, in my opinion anyway. CSM from the Scrum Alliance is the gold standard of Scrum Master training, and I think employers would rate that more highly because of the depth of content and the assessment method.
Does the LearnQuest Scrum Master certificate count towards PDUs?
Yes, you can use the training course as hours towards your continuing professional development. If you have, or are prepared to get, a Coursera subscription, then it's a great way to earn PDUs and new skills at the same time.
How much does the LearnQuest Scrum Master certificate cost?
The certificate is made up of 4 courses that are all available on a Coursera Plus subscription, which is £39 a month, or the equivalent in your country. You will need a subscription to take the graded quizzes and to earn the certificate. The faster you work through the materials, the fewer months of training subscription you have to pay for.
Learnquest Scrum Master: Course Review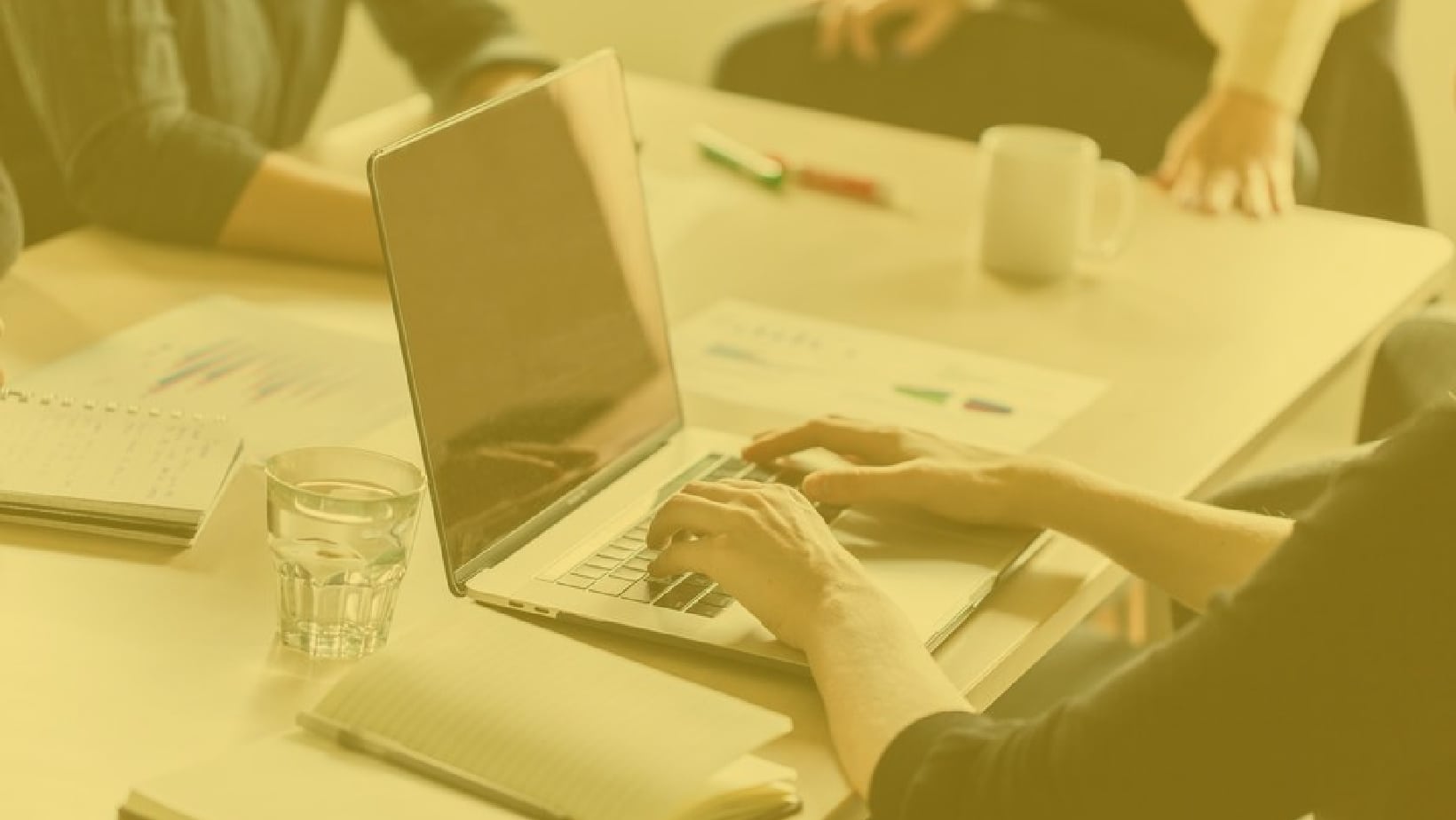 Read on for my LearnQuest Scrum Master Certification review below and see if the training is a good fit for your needs.
Course Provider:
Organization
Course Provider Name:
Learnquest
Course Provider URL:
https://rebelsguidetopm.com/learnquest-scrum-master/