There are many project management software products available on the market. Many of them are good and only some are great. It's a matter of finding the right fit for your business needs. Let's take a look at one of them, Oracle Primavera Cloud.
Does Oracle Primavera Cloud have the features and price point you're looking for, does it address the work you need to do and are there Oracle Primavera Cloud alternatives that do the job better and less expensively? We've answered these questions and then some below.
What Is Oracle Primavera Cloud?
Oracle Primavera Cloud (OPC) is a project, program and portfolio management software. It was created to get Oracle's Primavera P6 into the cloud to compete with other cloud-based platforms. The software integrates project and portfolio planning with teams, resourcing and risk management as well as scheduling.
This cloud-based software can be accessed through Wi-Fi and allows users to share projects and progress across the project team. Cloud-based software facilitates better collaboration, communication and consistency across multiple projects or when managing one project.
There are four service modules that make up the larger Oracle Primavera Cloud. They are Primavera schedule, task scheduling, Primavera portfolio and risk management. All of these features can be found in ProjectManager, an award-winning project and portfolio management software that empowers teams to plan, manage and track projects in real time. Just like OPC, our software is cloud-based, has multiple project views and can track projects, programs and portfolios in real time, but at a more affordable price. Get started with ProjectManager today for free.
Oracle Primavera Cloud Features
Like Primavera P6 Professional and Primavera P6 EPPM, Oracle Primavera Cloud focuses on project, program and portfolio management, but has a different feature set. OPC has the added benefits of faster delivery and fosters collaboration to improve efficiency and quality. Here are some of its key features:
Project planning: OPC lets users do a variety of project planning actions such as creating a project breakdown structure (PBS), mapping out work packages and milestones and tracking their percent completion.
Project scheduling: Oracle Primavera cloud integrates CPM scheduling with lean scheduling tools and the schedule comparison tool lets users compare schedule baselines and analyze project variance.
Resource management: OPC offers customizable spreadsheets and histograms for resource allocation and resource utilization analysis.
Risk management: Oracle Primavera Cloud has a risk register equipped with risk analysis and risk management features which aren't available in P6. In addition, OPC lets users perform Monte Carlo analysis for quantitative risk analysis.
Budget management: OPC can be used for budget tracking, creating cost breakdown structures (CBS) and managing cash flows.
Task scheduling: Oracle Primavera Cloud has collaborative task planning, which manages activities from the schedule and breaks them down into tasks.
Portfolio management: OPC offers a portfolio view of all projects and programs to help users manage multiple projects' pipelines, estimated budgets and capital spend requirements.
What Is Oracle Primavera Cloud Used For?
Oracle Primavera Cloud is only for planning, managing and executing projects. It's made for large and small projects alike and has been used in industries ranging from construction to manufacturing, energy and IT.
However, unlike Oracle Primavera P6, it's cloud-based and allows users to monitor the health of their projects, update activities and collaborate with others on the project team. It's easy for team members to access project documentation, wherever they're working, regardless of the time.
For example, in construction, Oracle Primavera Cloud connects people working in the office with those on the job site. Because the tool is on the cloud, work can be synchronized across the supply chain and owners can work with delivery teams and other project resources to plan, deliver and manage operations better.
Oracle Primavera Cloud is also used to schedule using the critical path method, which is a technique that identifies the tasks that must be completed in order to deliver a quality product or service. It also employs lean scheduling methods. Combined, these features can be used to schedule projects more efficiently
In summary, the Oracle Primavera Cloud is for users who want a 100-percent cloud-based solution, one that provides multiple workflows and improves communication and collaboration. Users who aren't tied to a desktop will appreciate the fact that the software can be accessed from any device that can log onto the internet. Its simple interface is a nice change from the complexity and necessary training of Oracle Primavera P6.
Oracle Primavera Cloud Plans & Pricing
However, the features that you'll get with Oracle Primavera Cloud depend on the license plan you choose, which is even more expensive than the desktop version of Primavera P6. OPC has the following license plans:
Oracle Primavera scheduling cloud service
Oracle Primavera task management cloud service
Oracle Primavera progress cloud service
Oracle Primavera portfolio planning cloud service
These prices may vary depending on the Oracle reseller that sells you the membership. In general, you can start with a pricing plan that's about $100 a month with a minimum of five users. This makes OPC about a third of the price of a new Primavera P6 license.
Pros and Cons of Oracle Primavera Cloud
Now that you have a better understanding of what Oracle Primavera Cloud is, don't forget to consider its advantages and disadvantages. Let's take a more critical look at the pros and cons of Oracle Primavera Cloud to help potential customers know if this project management software is right for them.
Pros of Oracle Primavera Cloud
Certainly, one advantage of OPC is that it's an online project management software. There's an Oracle Primavera P6 already on the market, but without the features that only an online tool can provide. The development of this tool speaks to a shortcoming of Oracle's other product offerings. Using project management software that's not in the cloud is a hurdle most users choose not to clear.
As mentioned, the tool is more user-friendly than Primavera P6. Not only does it connect teams wherever and whenever they work, but it has a full suite of features that anyone managing a project will want to better plan and monitor their work.
The software is specially designed for managers responsible for multiple projects. It has features to help identify, prioritize and select projects that'll align with the overall strategy of your organization. It adjusts to changing requirements to track funding, reallocate budgets and report on performance across the entire program or portfolio.
Cons of Oracle Primavera Cloud
While OPC might be easier to use than Oracle Primavera P6, that doesn't mean it's user-friendly. The interface takes a lot of getting used to, even when compared to the notoriously complicated Microsoft Project. That's saying something.
That might be one of the reasons that users say the tool is handy when working on a large, complex project. However, if you're tasked with managing a smaller, simpler project it can prove overly cumbersome. If you don't understand how the software and critical path method work you're going to make mistakes.
There have also been complaints about integrations, such as with Microsoft Office and MS Project. In fact, you'll have to employ an IT professional to migrate the database from one computer to another.
But one of the biggest issues isn't with the software, but the pricing. It's a very expensive product and all tiers of subscriptions are going to cost you. It's always worrisome when a product doesn't list its prices, like a fancy restaurant with no prices on its menu. You know you're going to be paying through the nose.
Oddly, though Oracle Primavera Cloud sells itself as a collaborative tool, some of its collaborative features are lacking. For example, its real-time document editing is limited. Another limitation is that there's little customization and what there is can feel bothersome.
ProjectManager Is the Best Oracle Primavera Cloud Alternative
Oracle Primavera Cloud is a powerful project and portfolio tool, but it's complicated to use and expensive. The more licenses, the less viable it is for managing a project. It's also built for larger projects, but if you're working on a mid-to-small project, you'll probably find the tool frustrating. ProjectManager is award-winning project and portfolio management software that's flexible enough to work in projects of any size, across industries as varied as construction, manufacturing, professional services, IT, education, government and much more—all at an affordable price.
Use Multiple Project Views for Planning and Executing
Our Gantt chart is a powerful scheduling tool that can link all four types of task dependencies, filter for the critical path and set a baseline to compare planned effort against actual effort in real time. There's also a roadmap if you're managing a program or portfolio. These are great features for project managers, but teams have to execute those plans and they need other tools, such as a task list, kanban board, sheet and calendar views. Construction crews can knock off their punch list on task lists, and manufacturers or developers can visualize workflow with kanban boards, manage their backlog and plan sprints collaboratively. Calendar views keep stakeholders informed that milestones are being met. All views update together in real time and can be easily shared, commented on and more.

Monitor and Control Progress and Performance
Teams can't execute tasks in a vacuum and expect projects to run smoothly. Project managers can get a high-level view of the project with our real-time dashboard. It collects live data automatically and displays them in easy-to-read graphs and charts. Just toggle over to the dashboard whenever you need to see metrics on cost, time, workload and more. Unlike Oracle Primavera Cloud, you don't have to create a dashboard. It's already there waiting for you to use it. There's also a portfolio dashboard to give you a view of the performance and progress of your program or portfolio of projects so you can make more insightful decisions about allocating resources. For more detail, use our customizable reports, which can be filtered to show only what you want to see. Then easily share them to keep stakeholders updated.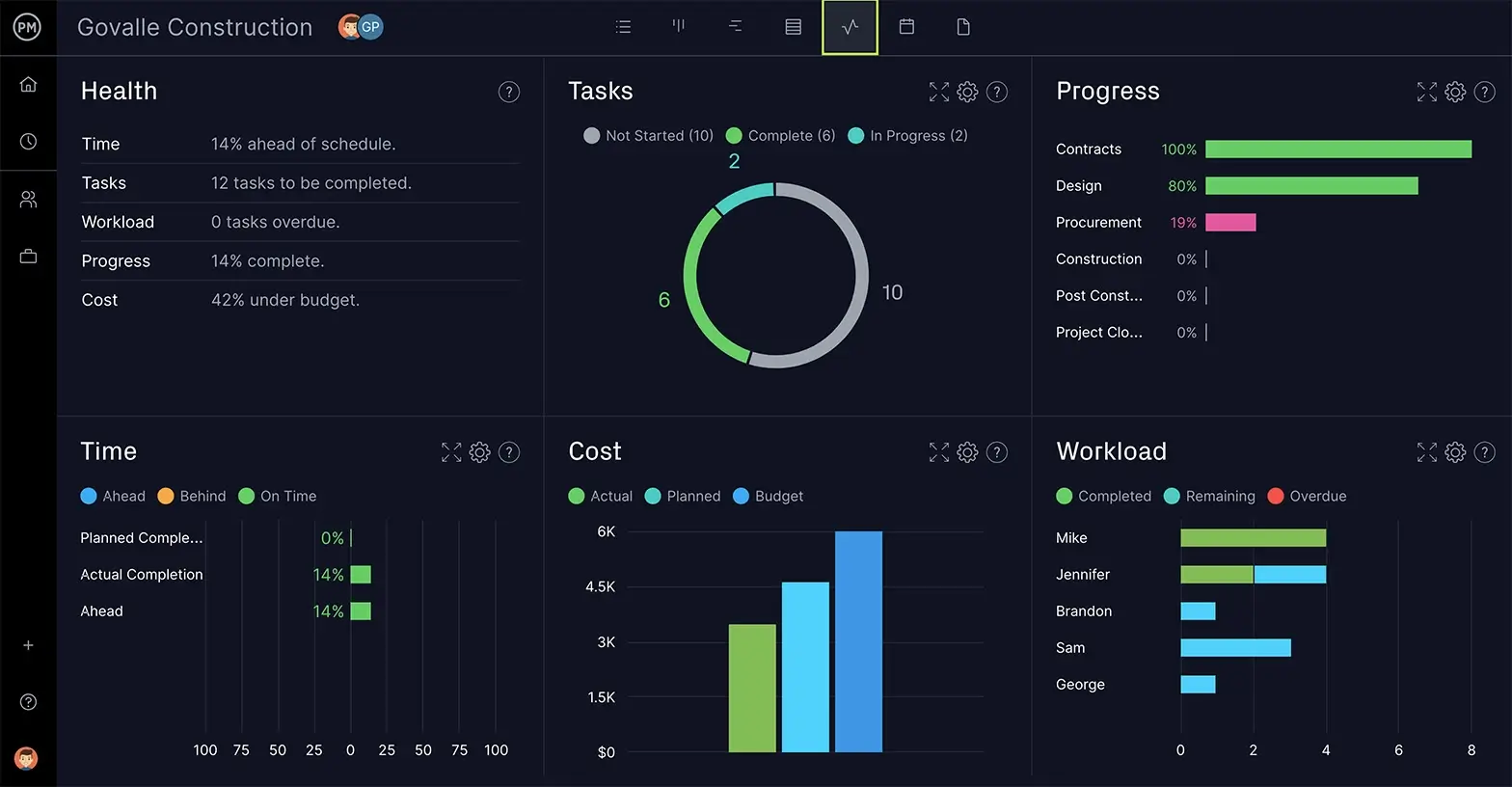 There are more features that can help you manage your project, program or portfolio. We have risk management tools to identify and track issues until they're resolved, task and resource management tools balance workload to keep teams working at capacity and productive. Plus, there are automated workflows to add efficiency with task approval settings to maintain quality throughout execution to delivery. Flexibility, a wide range of powerful features and an affordable price point make ProjectManager the best Oracle Primavera Cloud alternative.
ProjectManager is an online project and portfolio management software that connects teams in the office, on the job site and everywhere else. Our collaborative platform lets you share, comment and more to keep work moving forward. Empower your team to plan, manage and track their work in real time. Join teams at Avis, Nestle and Siemens who are using our software to succeed. Get started with ProjectManager today for free.