A Project managers can't do it alone. When the project is larger and more complex, the organization often employs someone called a project officer. This person is tasked with helping ensure the project is delivered successfully.
To better understand what a project officer is, let's define the profession and explain what it is they do in relation to the overall project. We'll also compare and contrast the roles of a project officer with a project manager and help you put together a job description if you're in the market for one.
What Is a Project Officer?
A project officer assists the project manager. The position is sometimes referred to as an assistant project manager, project coordinator or project assistant. Whatever the name, the responsibilities include helping the project manager plan and execute strategic projects.
In terms of the industries in which a project officer might find work, they vary. Any project manager that needs assistance to fulfill their job will hire a project officer, whether that's in healthcare, technology, manufacturing or logistics. You'll even find project officers working in not-for-profit organizations and government agencies.
Project officers don't exclusively work for one project manager on one project. Depending on the size of the organization, they can be responsible for many projects, a program or a portfolio. Whatever the case, they're best served when using project management software.
ProjectManager is award-winning project management software that gives project officers the tools they need to help project managers plan, manage and track their projects in real time. Our real-time dashboard gives project officers an overview of progress and performance whenever they need to check on how the team is doing. They can toggle over to the dashboard, which automatically captures live data and displays it in easy-to-read graphs and charts that show time, cost, workload and much more. Unlike lightweight tools, there's no time-consuming setup. It's plug-and-play. Get started with ProjectManager today for free.
What Does a Project Officer Do?
In general, project officers handle the busy work and take that off the plate of the project manager. This allows the project manager to focus on more important tasks, but that doesn't mean a project officer's responsibilities are trivial. In fact, they're crucial to the success of the project.
Helps With Research
Critical work such as research falls on the lap of the project manager. That research could be on the best technology to execute and track the project or it might be focused on the resource requirements for the project. This, again, frees the project manager to review what the project officer has found and make an executive decision.
Project managers have many duties and the project officer is there to assist as needed. This can mean that they help the project manager create a project proposal to ensure that it's thorough and convince sponsors that they should approve the project.
Assembles the Project Plan
Once a project has been approved, the project officer will help the project manager with the project plan. The project plan is an important document, one that covers everything from organizing tasks into a viable schedule to determining which resources will be needed and creating a budget.
After planning is done, the project officer coordinates the project schedule with team members. That could mean charting their availability, vacation, PTO and holidays to make it easier for a project manager to make assignments.
Executes Administrative Duties
There are basic administrative duties, such as taking notes during meetings to provide project documentation. They'll also upload project documentation to project management software and create resource lists and guidelines for the project team, according to the project plan.
Project officers also help the project manager by tracking the team's progress as they execute their tasks. This helps the project manager know if the project is moving forward as planned or if there needs to be some adjustments made to time, cost or scope to get back on track.
Oversees Reporting
Reporting is another responsibility for project officers. They'll gather data and generate reports on the project's progress and performance for the project manager. These reports help the project manager guide the project to successful completion and update stakeholders.
Other duties can include testing project results, taking part in a post-mortem to discuss what went right and what went wrong during the project to learn from their mistakes. Then there are other tasks that a project manager might ask for help on.
Project Officer Job Description
Now that we understand what a project officer is and what they do in a project, the question remains: Do you need a project officer? If the answer is yes, then you're going to want to post a job description that touches on all the bases in order to attract the best person for the job.
The job description for a project officer should begin with a summary overview of the position. Then you'll want to list all the duties and responsibilities associated with that position. There are likely requirements and qualifications that an employer would prefer and those should also be included. Then end with the education requirements.
To help you post a job description for a project officer, we've included a sample project officer job description below. Feel free to edit it to fit your organization where necessary and cut and paste it to the job board of your choice.
Summary
The project officer will report directly to the project manager and assist with all aspects of the project from initiation to closure. They'll be results-oriented and motivated, accustomed to working in a fast-paced environment. The ideal candidate will have a history of assisting project managers with delivering projects on time and within budget. Time management skills are a must, as well as paying close attention to detail, and being accurate and reliable.
Duties & Responsibilities
Develop project strategies
Analyze risks and opportunities
Organize and motivate the project team
Undertake project tasks as required
Manage deployment of deliverables
Ensure project deadlines are met
Execute project administration
Provide administrative support as needed
Evaluate project performance
Determine project changes
Manage project documentation and reporting
Track budget, activities, progress, etc.
Organize meetings
Take meeting notes
Help provide resources
Get your free
Meeting Minutes Template
Use this free Meeting Minutes Template for Word to manage your projects better.
Requirements & Qualifications
Proven leadership skills
Able to negotiate
Five years of related experience
Knowledge of project management
Strong decision-making skills
Pay attention to detail, accuracy
Time management skills
Organizational skills
Clear communication
Critical thinking
Database management skills
Interpersonal skills
Education
At least a BA in project management or a related field
Advanced degree preferred
Certification preferred
What Is the Average Salary for a Project Officer?
Project officers make a good living. Their salaries vary depending on experience and location. On average in the United States, a project officer can expect to earn $73,666. Their base salary can be a bit lower, in the high $60,000, but is often boosted by additional pay, such as bonuses, to meet the salary of low $70,000 per year.
The range of salary for a project officer can be anywhere from $43,000 all the way up to $122,000 annually. Again, this is based on a number of variables. Some of the top-paying companies for project officers include the armed forces of the United States and the US Department of Health and Human Services.
Project Officer vs. Project Manager
The project officer and the project manager work together, but their jobs are different. We've already discussed what a project officer is and the confusion is understandable. Many if not all of the tasks listed as the responsibility of a project officer are often the same as a project manager's.
The difference lies in the project. If the project is small, then the project manager is likely to do everything a project officer does. There's no need to hire a project officer. The project can't afford one or the project manager has the means to fulfill the duties of both positions as the project officer is really an assistant.
A project manager is responsible for the project, but the project officer, if one is employed, is more focused on the day-to-day operations of the project. The project manager is a leader and will delegate tasks to the project team, including the project officer. The project officer has some authority but usually must go through the project manager, certainly for any weighty matters.
ProjectManager Is Ideal for Project Officers
When you're hired as a project officer or when you land a position as a project officer, you're going to need project management tools. ProjectManager is award-winning project management software that has features that help project officers plan, manage and track their work. Our collaborative platform makes it easy to share files and comments at the task level. Plus, our unlimited file storage makes our tool a project hub for all documentation so they're always at your fingertips.
Use Multiple Project Views
While the project manager will do the planning, project officers are responsible for overseeing the project to mitigate issues. The project manager will schedule on our Gantt chart and then set a baseline, which allows our software to compare planned effort against actual effort. But the Gantt is only one of multiple project views that all share updated real-time data. The project officer can track risks on task lists or get visibility into the team's workload with kanban boards. There's also a calendar view to make sure milestones are being met.

Customize Reports for Stakeholder Updates
One of the many duties of a project officer is to track the progress of the project. Our real-time dashboard gives them a high-level view, but if they want to get more granular detail there are our easy-to-generate reporting features. Get reports on project or portfolio status, workload and much more. All reports can be filtered to show just the data you want to see, whether that's in the weeds for the project manager or a more general overview for stakeholder presentations.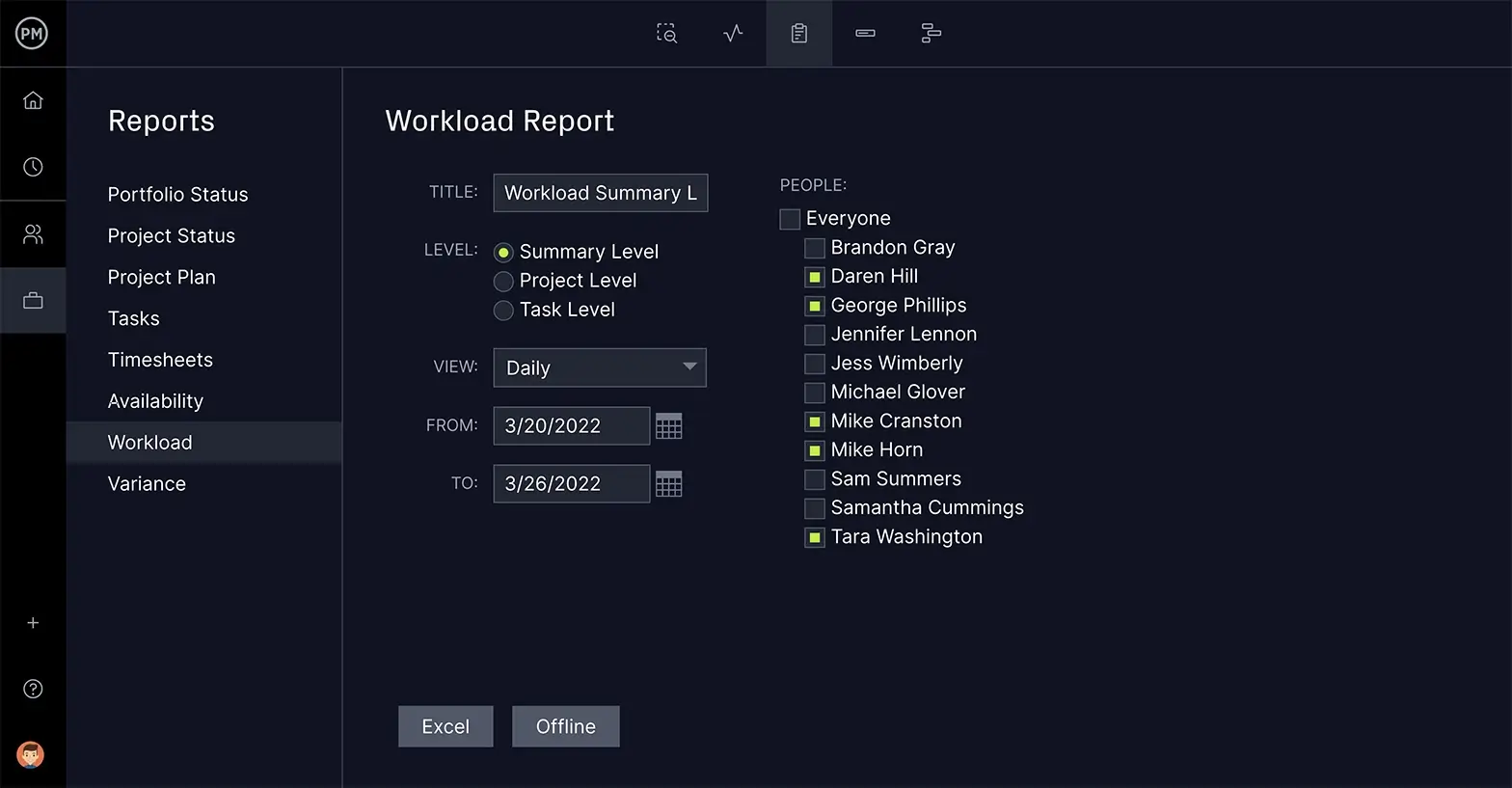 Those are just some of the features of our software. There's task management, risk management and resource management software, such as workload charts that are color-coded to make them easy to read and balance your team's task allocation. This keeps the team working at capacity and keeps them productive. Project offices get the tools they need to do their job and prove their value with our software.
ProjectManager is online project management software that connects teams whether they're working in the same office or in the field. Real-time data keeps everyone on the same page. Have access to your project whether you're home, en route to the job site or anywhere else. Join teams at Avis, Nestle and Siemens who use our software to deliver successful projects. Get started with ProjectManager today for free.