Organizations require resources to complete projects, manufacture products or deliver services. Most, if not all companies can't produce all of their raw materials, equipment or machinery, so they must procure them from vendors. Vendors are defined as external suppliers who provide essential goods and services. Depending on how many vendors you're working with, managing them can be highly complex. That's when vendor management comes in.
What Is Vendor Management?
Vendor management is the process of managing the relationship with vendors from which an organization gets its raw materials, equipment and other essential supplies for their operations. The main goal of vendor management is to select the right vendors and contract terms so that companies can ensure product quality, minimize costs, and keep their supply chain and logistic activities functioning normally.
Vendor management covers tasks such as researching and sourcing vendors and getting quotes for pricing, capabilities, quality and turnaround times. It also covers contract negotiations, relationship management, job assignments, performance evaluation and payment dissemination.
Managing the relationship with vendors is an important business process that you'll need to watch closely.  ProjectManager has planning, scheduling and tracking tools so you can assign work to your team and make sure nothing falls through the cracks during the process of purchasing, receiving and storing the goods your business needs to thrive. Use task lists, kanban boards, Gantt charts and other tools to make sure everything goes as planned. Get started for free today.
Vendor Management Process
The vendor management process can be broken down into four steps:
1. Establish Business Goals
Clearly define your business goals and be as specific as possible (consider making SMART goals). In order to successfully enlist the aid of a vendor, you need to know exactly what it is that you're trying to achieve. The management of vendors is also easier when you have defined performance parameters to compare.
2. Choose the Best Vendor
Who fits your needs and matches your performance characteristics? You'll have to weigh the pros and cons of all the vendors so this step needs to be taken after a thorough vetting. You should use a purchase order to document the price, quantity, delivery window and terms of payment of the goods/services you order. It's a legally binding document that ensures you and your vendor are on the same page.
3. Manage Vendors
This is the daily activity of monitoring performance and output. It's the best way to make sure that the terms of the contract are being fulfilled. This step involves lots of communication to offer approvals, disapprovals, changes, feedback and whatever else is necessary to deepen the relationship.
4. Consistently Meet Goals
You want to meet your goals not once or twice, but consistently over the course of your relationship with the vendor. This means managing the vendor regularly to better influence them to meet performance objectives on a regular basis.
Why Is Vendor Management Important?
Vendor management is a critical aspect of managing a business. Here are the key areas that are impacted by vendor management.
Supply chain management: The supply chain of a business is the process that goes from the purchasing of raw materials to the delivery of a final product to customers. Vendors management is a critical step in this process as vendors supply the necessary production inputs a company needs to operate and produce goods.
Production planning: To manufacture products, a company needs to plan how to coordinate the efforts of its employees and maximize the efficiency of a production line. This process is known as production planning, and vendor management plays a significant role in getting the right supplies at the right time.
Quality assurance & control: The supplies that are used by companies for the production of goods have a direct impact on the quality of the final product. Vendor management plays a significant role in getting quality supplies.
Cost management: Effective vendor management helps companies save production costs, which have a direct impact on their overall profitability. The right vendor will help companies save costs while offering quality supplies.
Logistics management: Logistics management is one of the most important aspects of managing a business. It involves the transportation, packaging and warehousing of products. In most cases, companies rely on vendors for those processes.
Customer satisfaction: Vendor management is important for maintaining high levels of customer satisfaction because supplies that are used for the production of goods have a direct impact on the final product.
Insourcing Versus Outsourcing
Establishing a relationship with an outside vendor is also called vendor management. But how do you know when it's preferable to outsource the work or keep it in-house? You must evaluate your organization's needs and what resources you must apply to the project.
This isn't necessarily an easy choice to make. Start by looking at your organization's core skills. Do they meet the needs of your project?  Do you have the resources to spare for the work? If so, then the task might be better served in-house as opposed to farming it out.
However, if the work revolves around a discipline that's not in your company's wheelhouse or represents a skill that might be present but isn't fully developed, the investment in contracting a vendor becomes more attractive.
Vendor Management Definitions
We've outlined that a vendor is a person or organization that sells a service, product or labor. They can be independent consultants, a consulting company or a staffing company, which is usually referred to as a supplier.
There is also something called a Vendor on Premises (VOP), which is a vendor who sets up their shop in the client's place of business. They might source labor themselves or from outside suppliers, but ultimately they manage and coordinate the work for the client.
A Managed Service Provider (MSP) manages vendors and measures their work in meeting the standards and requirements of their client. They don't usually recruit, but rather research and refer the best vendors according to the client's needs.
Another term used in vendor management is Employer of Record (EOR). This is a way to ease the management of independent contractors. This includes auditing, reviews and other management issues.
Vendor Management Tools
There are tools for managing vendors, such as a Vendor Management System (VMS), which is a computer program that distributes job requirements to staffing companies, recruiters, consulting companies and other vendors. It helps with hiring, the interview process and the payment process.
Another tool is called a Contracted Service Management (CSM) system, which works with the software of large manufacturing facilities to capture real-time data between vendors and clients. This collaborative effort helps simplify the timekeeping process and improves project cost visibility.
The Role of Vendor Managers
So, what does the person in charge of vendor management do? First, they work with the management and budgeting offices to manage and control the supplies and make sure that costs are at or below market value.
They also work with suppliers to negotiate prices that are within the scope of the company budget while maintaining quality. That means seeking bids from multiple suppliers to make sure that they're contracting with the right vendor. The right vendor is defined by more than just the product or service they provide, but their track record and financial history as well.
Once the contract is settled, then the manager must stay in communication with the vendor as well as their own finance department and management teams who will be interfacing with the vendors. They also keep track of stock levels and have detailed records to track the delivery of supplies and confirm their arrival.
How ProjectManager Helps With Vendor Management
ProjectManager is online project management software that makes it easy to stay in touch with your team and manage vendors, prioritizing quality along the way. Getting started is easy. Once you've done your research and selected the right vendor for the job, you can use our various project views to access key data and ensure the project is unfolding as it should be.
Track Materials In Real Time on the Dashboard
Quality assurance and cost management are integral to successful vendor management. The interactive dashboard provides a high-level overview of key project metrics including time, progress, costs, workload, tasks and overall project health. Regardless of the view that your team prefers to work in, all data automatically updates in real time. Spot bottlenecks before they become issues to ensure customer satisfaction.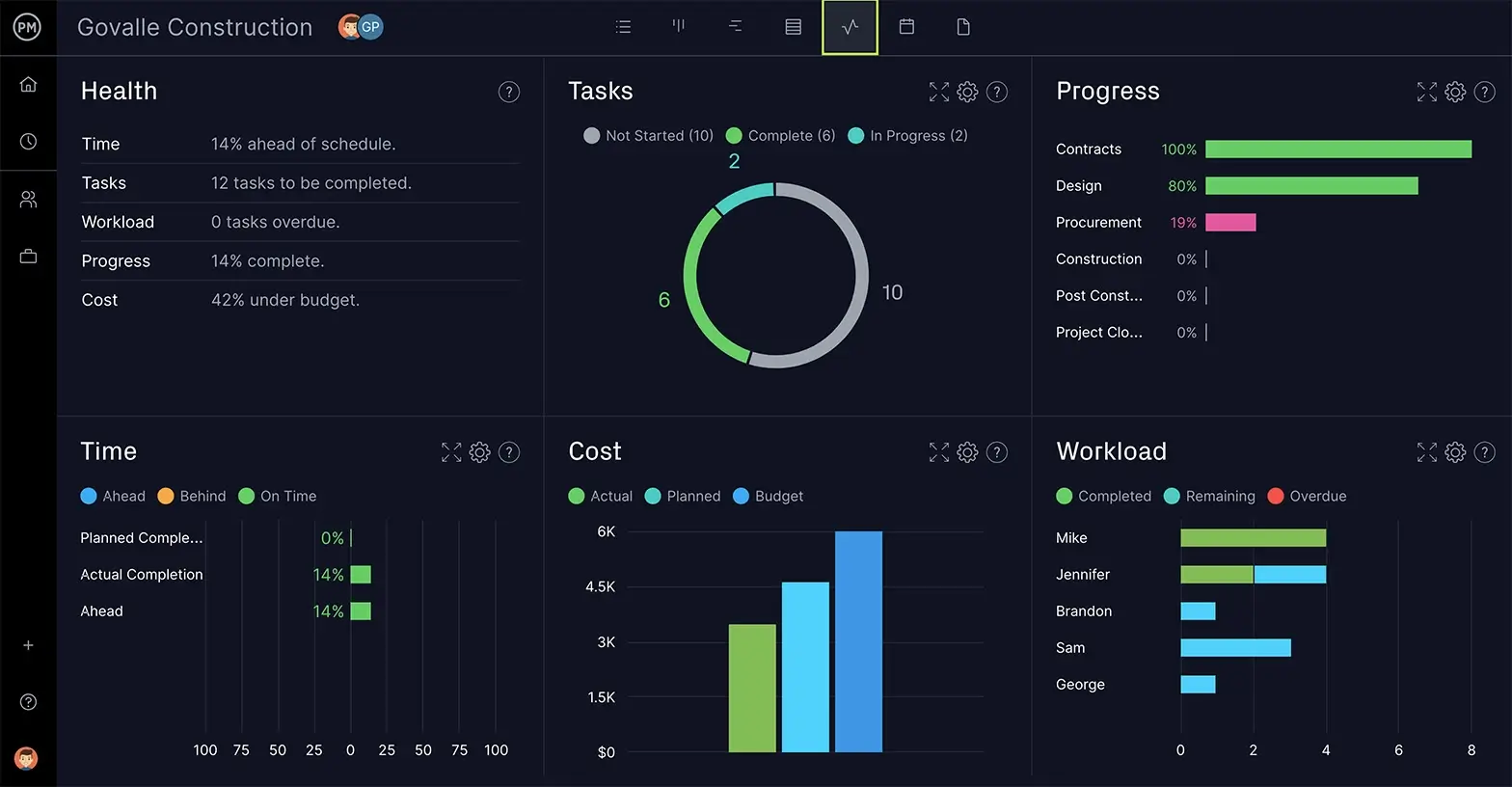 Collaborate to Meet Business Goals
Vendor management is all about staying connected with your team and evaluating the performance of your selected vendor. Team communication is easy with ProjectManager's suite of collaboration tools. Upload files as necessary to help you select the right vendor. Collaborate at the task level on contract terms and input your feedback as comments to stay connected with your team in real time.
Working with vendors might be necessary for the success of your project, but it also adds another layer of complexities to managing it. What you must have is project management software that can handle all this data. ProjectManager is an online tool that features a real-time dashboard for the most accurate information to make sure that you're always on top of your vendor's work as they're doing it. Try it for yourself and see how it can help with vendor management by taking this free 30-day trial.