One of the big challenges any organization faces is aligning its strategic planning and business goals with the projects it takes on. In small organizations, project prioritization isn't always critical. On the other hand, in larger organizations, there can be a huge divide between strategic goals and the project portfolio.
In any sized organization, there are some simple methods that allow you to effectively prioritize your projects so that you can apply the strategic vision of your organization, achieve business goals and level your resources.
What Is Project Prioritization?
Project prioritization is the process of determining which existing and new projects are the most urgent for an organization. This can be done through several project prioritization methods that allow portfolio managers to assess the feasibility, impact and potential value of a project.
Why Is Project Prioritization Important?
Project prioritization is especially important for larger organizations that have multiple projects and programs in their portfolio. These organizations, like any other, must execute multiple projects simultaneously but have limited resources, which makes it necessary to prioritize potential project ideas.
Program managers, portfolio managers and PMOs are responsible for prioritizing projects. They do so by establishing project prioritization criteria that weigh the pros and cons of existing projects and potential projects and then make a decision based on their analysis.
ProjectManager helps with project prioritization by allowing portfolio managers to track multiple projects in real time with Gantt charts, roadmaps, portfolio dashboards, project calendars and other tools. Get started for free.
There are different project prioritization methods you can use to prioritize your projects.
Project Prioritization Methods
There are many project prioritization methods you can use to manage your project portfolios. These are the three most commonly used project prioritization methods. Each of them has pros and cons depending on your portfolio management or PMO needs.
1. Scoring Model
The scoring model is a project prioritization method that relies on subject matter expert opinions. The scoring method simply consists in evaluating different aspects of a project and then assigning a numeric value scale to each criterion. For example, you can assign numeric values to a project's level of risk, potential benefits, feasibility and other variables. The scoring model is defined by the program, portfolio manager or PMO in collaboration with cross-functional teams.
2. Project Prioritization Matrix
A project prioritization matrix is a project management tool that allows program and portfolio managers to prioritize projects by comparing several project prioritization variables on a single comparison matrix. A project prioritization matrix is very similar to an Eisenhower matrix, a 2×2 table that's used to compare task urgency and importance. A project prioritization matrix works just like an Eisenhower matrix but generally involves more variables.
3. Payback Period
As its name suggests, the payback period project prioritization method focuses solely on the payback period, which is the time it takes for an organization to recover the investment made on a project. So based on this method, you'll prioritize projects depending on how quickly they can return the investment made.
Project Prioritization Process: How to Prioritize Projects in 4 Steps
1. Assess Your Existing Projects
As a team leader, it is essential that you spend a little time reflecting on where you and your organization are before you start taking on any new project. Unfortunately, that doesn't always happen.
As your company evolves, you are going to always be strapped with limited resources in the form of not enough time, not enough money or not enough people. This is true in almost every organization, big or small. So how do you quell the rush to take on any project at any time with the need to use your project management teams as tools for your strategic achievement?
You use your current portfolio of projects as a marker that illustrates how your resources are allocated at that moment and gives you a snapshot of whether your projects align with your strategy.
Here are a few steps to make sure you are doing this correctly:
Spend a few minutes mapping out all of your projects and initiatives.

Do all of these projects fit under your strategic vision?

Does the new project or projects fit into this strategic framework?

Do we have the necessary time, people, or other resources we need to make this successful?
If you're able to answer yes to all of these questions, you can push forward. If you're answering no to a lot of these questions, it's likely that you need to think about what you are doing and why you are doing it.
2. Define Your Project Prioritization Criteria
It won't be enough to identify your projects, their fit in the organization's strategy, and to ensure that they are all working in the right direction. It is essential that you and your team focus on setting clear project prioritization criteria for future projects.
Project prioritization needs vary from one organization to another and so do the variables that you can choose to build your prioritization criteria or scoring model. For example, one of the primary goals of project prioritization is to help with portfolio management by allowing you to use your existing resources in the most efficient way possible.
From that standpoint, you should prioritize similar projects that use the same resources which allows you to make the most out of your resource leveling and resource allocation efforts. This reduces costs and improves your organization's operational efficiency. Here are some examples of things that you could include in your project prioritization criteria.
Project feasibility
Potential risks
Cost-benefit analysis
Relative need to the organization
Business value
Project length
Resources needed
Strategic alignment
3. Prioritize New and Existing Projects
Once you've determined the project prioritization criteria that best fit the needs of your organization, you can prioritize both existing and potential projects. Now you can choose which project prioritization method works best for your organization and establish a project prioritization system.
4. Manage your projects aggressively
The final key to aligning business strategy and project management to achieve the highest priorities is to manage your projects aggressively. This allows you to constantly focus and refocus on your key areas of impact, the long-range strategy of the organization and your resource alignment. In many organizations, the project management muscles need to be built and the focus on a consistent project management culture is a consistent point of emphasis for PMOs.
Project Prioritization Matrix Template
This free project prioritization matrix template is a great place to start prioritizing tasks or projects. This means you can use it for project management or portfolio management. Once you've built your project prioritization matrix, you can upload your Excel file to ProjectManager to use its robust project, program and portfolio management features.
ProjectManager Helps with Project Prioritization
A project prioritization matrix will help you determine which projects should be managed first, but ProjectManager does so much more and does it in real time. Templates are static, our online PMO software delivers real-time data so portfolio managers can make more insightful decisions.
See All Your Projects in One Place
Knowing which projects require your attention is difficult. With our portfolio management roadmap, you can see all of them in a visual bar graph. That includes what resources they're using, timelines, dependencies and much more. This gives portfolio managers an overview that allows them to allocate resources and prioritize their projects.
Get a High-Level View of Progress and Performance
The more data, the better for project prioritization. Portfolio managers can get a glimpse of all their projects on one page whenever they want with our real-time portfolio management dashboards. There's no setup required, as with lightweight tools, and live data is automatically gathered and displayed in colorful charts that track six metrics, from time to cost and more.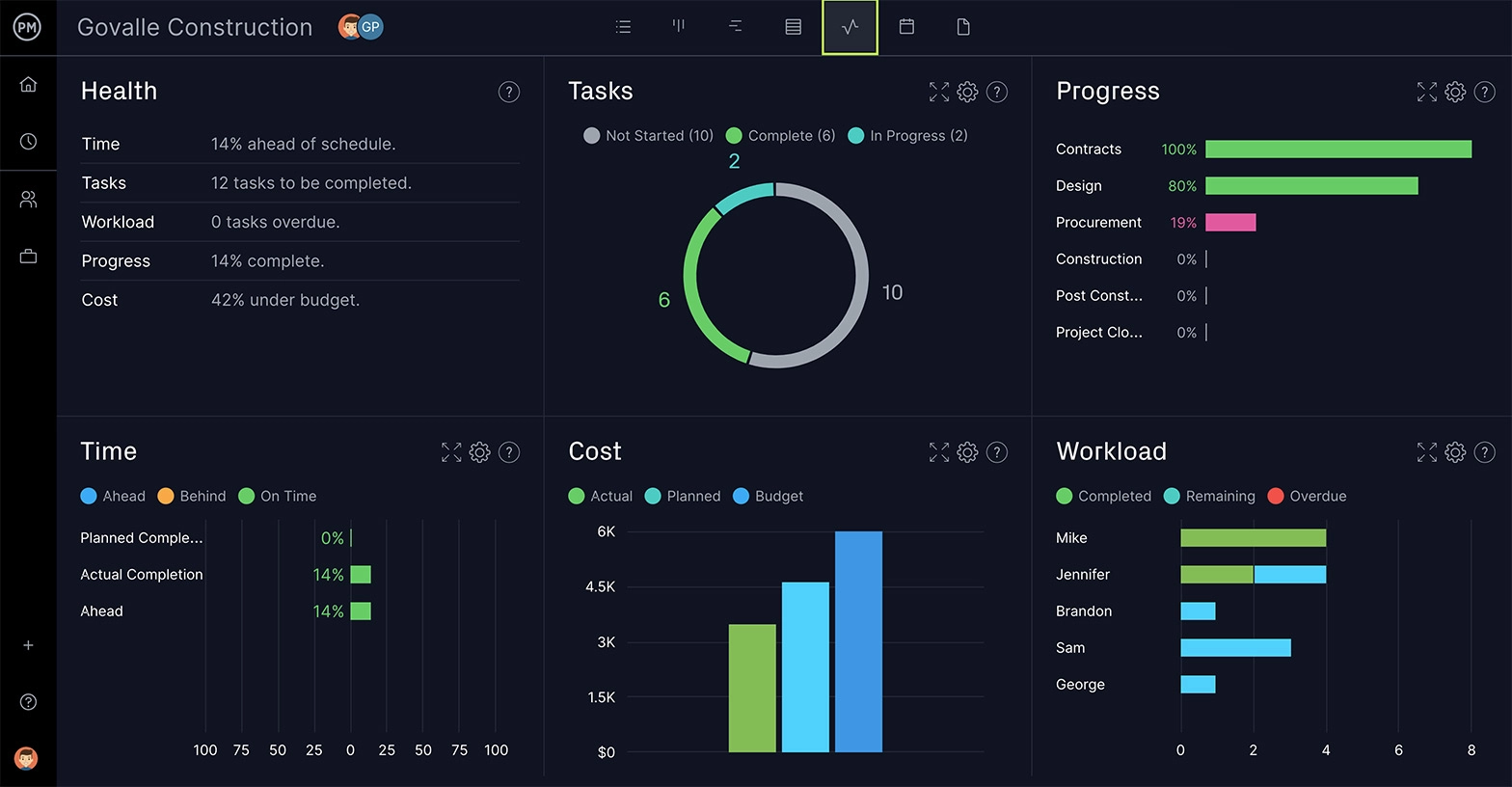 Once you prioritize your projects, you still have to manage them. Our software is packed with the task, resource and risk management features you need to deliver success. That includes a collaborative platform to connect everyone across departments or continents.
Once your project is aligned with your organization's strategy you'll need to implement it, and to do that successfully calls for having the right project management tools. ProjectManager is a collaborative online suite of software solutions designed for project leaders who need to plan, monitor and report on their work in real time. See for yourself by taking this free 30-day trial.