What is the future of project management? Let's look ahead and see what the next 10 years will bring for project management software, jobs, and the role itself.
Does Project Management Have a Future?
There's a trend towards more and more knowledge work being run in a projectized way, which means more and more people doing project management as part of their day job.
So will we need 'professional' project managers in the future? People who just do managing projects?
I think we will, because there will always be complex and complicated projects that need a steady hand and a particular set of skills to bring to a successful delivery
As the business environment gets more and more global, digitalized, uncertain and fast, companies need to quickly adapt and bring services and products to market. Project managers are the people who can make that happen.
I do think project management has a future.
Future of project management: Jobs
PMI says that by 2027 employers will need nearly 88 million people in project-related roles. The global demand for project managers is increasing.
While PMI is an organization for project managers predicting the importance of their own community and you do want to take their figures in context, I do think they have a point.
The role of the project manager has long been shifting away from someone who can tick off tasks as complete on a Gantt chart and towards a strategic leadership position for effecting change in an organization.
Project managers still provide an irreplaceably human combination of leadership, integration of specialists, and ethical behaviour.

~ Arup, Future of Project Management
We are a long way from the death of project management.
Hybrid Project Management: The Next Step for Agile
One of the project management trends we are seeing is the acceptance that hybrid management approaches are the way forward.
I think hybrid project management has been around for ages. It's certainly something I've used: ongoing iterations for development with significant customer involvement in the deliverables at all stages, but managed within a waterfall governance structure and life cycle.
Frankly, hybrid isn't new.
But there does seem to be a trend in accepting that agile approaches like Scrum can fit within a hybrid framework.
The rise of hybrid project management is good news because:
Projects are more complex than ever
They involve many more individuals: more than could comfortably fit in a multi-skilled Scrum team
Most large organizations aren't geared up to run their whole operation in an agile way.
The future of project management needs to be more agile. According to research by IPMA, only 47% of organizations are using agile approaches for delivery.
And we wonder why we can't respond to change fast enough.
The Future is Flexible
The way we run projects has been evolving since we started out formalizing how work gets done in a project setting.
As our environment gets more complex, uncertain and – dare I say it, political – we'll need more and more tools to help deliver projects in that kind of environment.
For example, project managers need to respond to:
Stakeholders with shorter attention spans
Stakeholders with competing demands on their time
Complex and unknown technical situations
Complex and unknown geopolitical and socio-political situations
Higher staff turnover (no such thing as a job for life any more)
Greater demands being put on management teams
Collaborative contracting and partnering with suppliers
Increasingly complex regulation and governance.
Project managers need options that will help them deliver. And that means being able to choose from predictive, iterative and hybrid ways of delivering the work and blending what works to get the best results.
The future of project management relies on more professional judgement and fewer textbook answers.
Project Management Software: The Next Generation
The future of project management software is interesting. I review a lot of PM software tools and there are companies now making massive leaps into integrating big data, automations, machine learning and more into the way they collate, present and make it possible to use large data sets.
Take Otter, for example, the online transcription tool I use for managing meeting output. It saves so much time and helps with inclusive meetings and accessibility.
Our Pick

Otter.ai
Otter is a note-taking app that also records in-person meetings. I have a paid version of Otter and it is the tool I use myself.
We earn a commission if you click this link and make a purchase, at no additional cost to you #ad
Here are some considerations for future technology – project management style.
5 themes for the future of project management software
Blockchain
Artificial intelligence
Human/machine collaboration
Mobile
Remote access
Blockchain
We will need to know about this and how we can harness digital assets to streamline infrastructure, logistics and data tracking on projects.
Over 80% of organizations report hiring someone with blockchain skills or planning to do so in the next 12 months. Could that be you?
AI
AI is already a feature in some project management tools and robotic processing will help automate routine PMO tasks. According to Deloitte, 70% of organizations are exploring or using AI.
Human/machine collaboration
I don't know yet what this would look like in a project setting beyond the innovations we are seeing in AI, particularly in the PMO. But it's coming. And it could affect jobs.
While I still remain positive about the role of the project manager, I think other jobs you routinely interact with, like system testers, could be more at risk of being automated.
Hopefully that means the human's role is elevated into a knowledge leadership position and is freed up from doing the grunt work of tasks like system testing – taking the tools already in use to a whole new level.
Mobile
Devices will become more powerful, but currently we still don't have all the functions of PM software available in most of the equivalent mobile apps. That will have to change.
Remote access
It's going to be increasingly important that tools and systems are available at home and remotely for people based out of their home office. Which means connectivity and security have to extend outside the walls of HQ.
Data security is still an important part of being able to set yourself up on your kitchen table and get that work/life balance you dreamed of.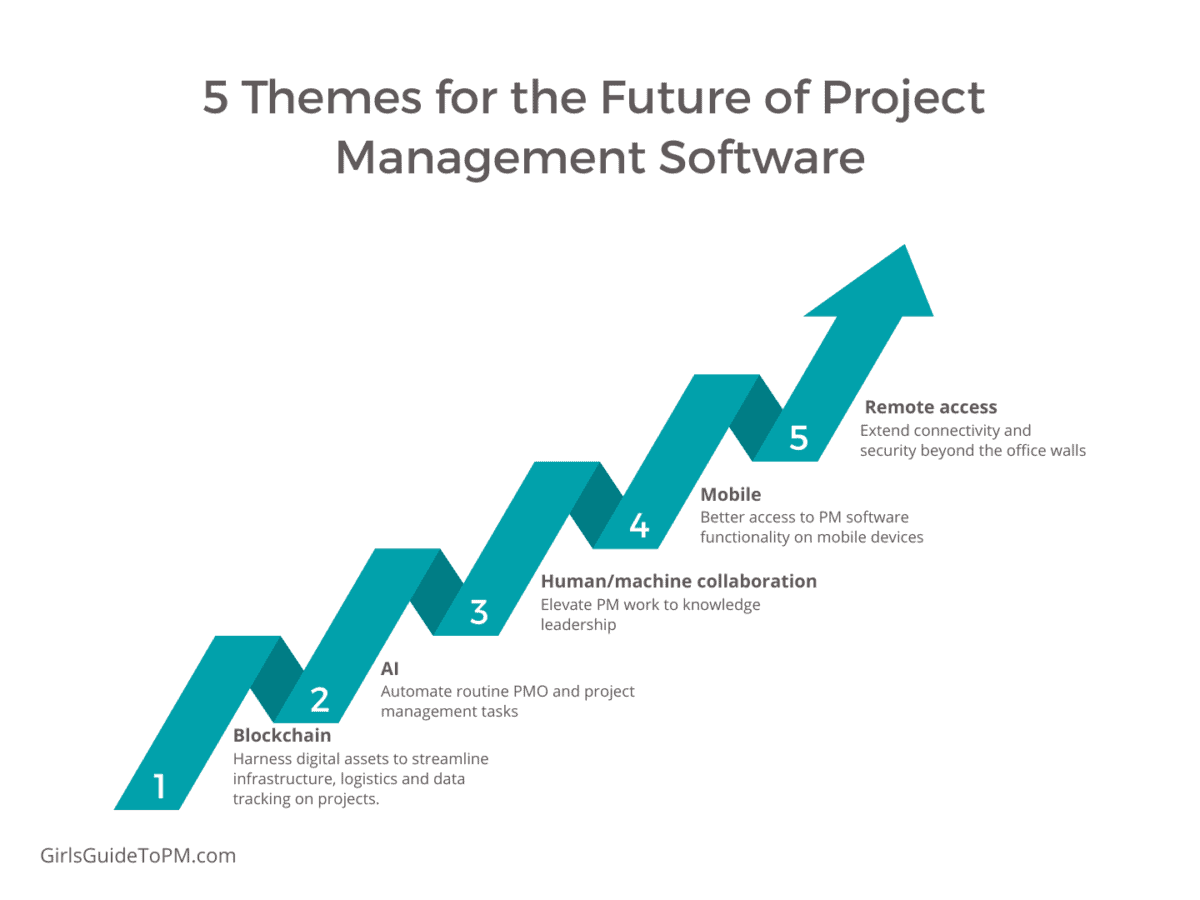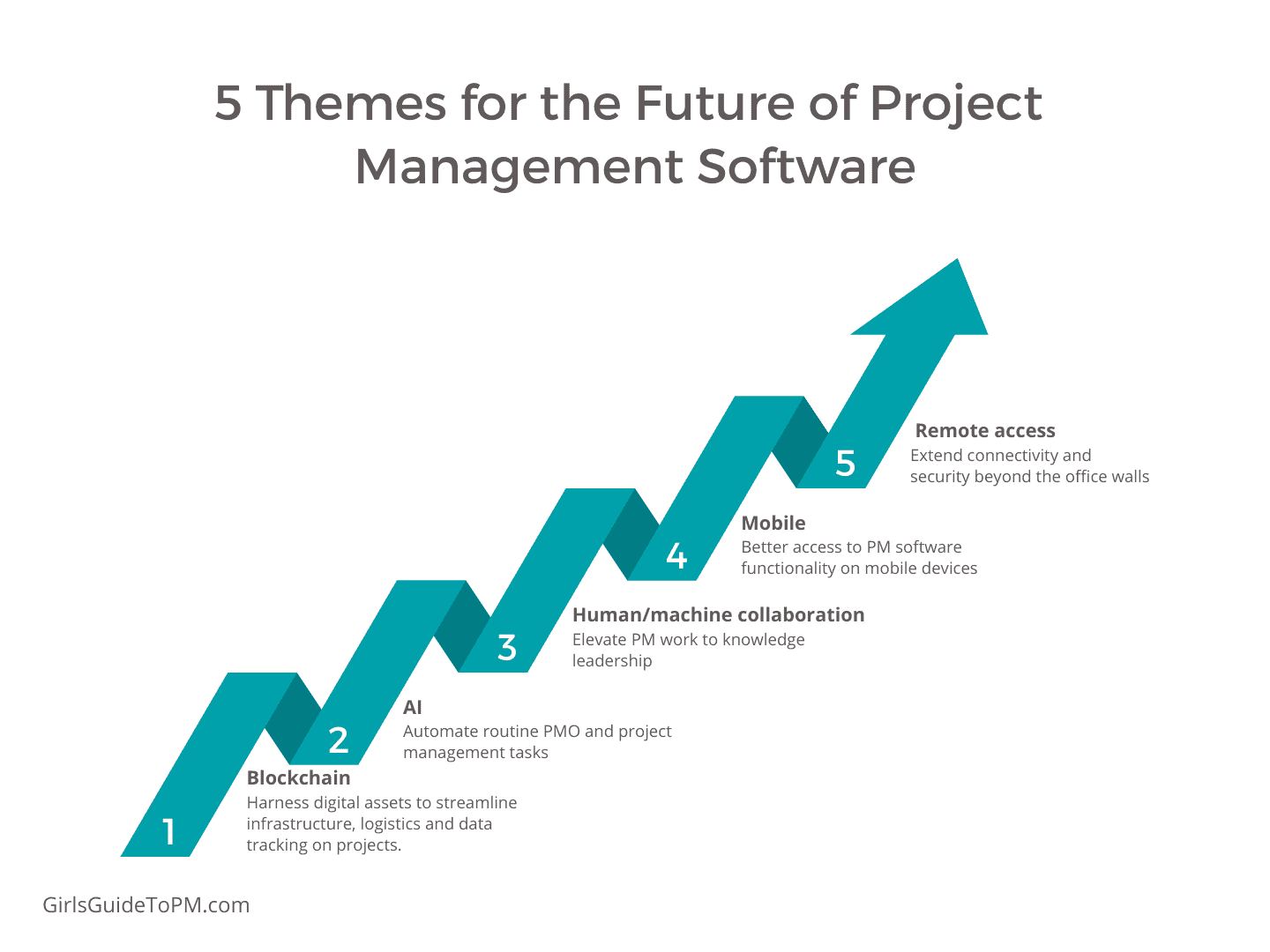 Resource Management: The Next Challenge
For all the talk about the future of work and how project management is going to evolve, I still think we have some challenges with how we work now.
For example, resource management and capacity planning are not things that are easy to do. Project managers lack the tools to effectively manage workload across teams because the solution required relies on enterprise adoption of software.
Make everyone do timesheets and resource planning just so project teams know who's available to work? No thanks.
Unfortunately, unless we get strategic buy in for managing projects in a professional way, the resource planning challenge isn't going anywhere soon.
Projects on the Board: The Next Professionals
Arup's collaborative thought leadership piece into the Future of Project Management talks about every top 100 firm has a project management professional in at least one C-suite role by 2030.
If we are serious about improving project delivery and delivering strategically-aligned projects that generate business value, we need organizations to take project delivery seriously. And that means elevating the discussion beyond senior managers to the board of directors.
The Chief Project Officer role is (in my opinion) long overdue already. With executive oversight from people who actually get it, projects would have more chance of completing successfully – and fewer vanity projects would get started.
Digital Skills: The Next Competency for Project Managers
Digital skills are important for the project managers of the future (and – in all honest, those of us working as PMs today).
CBI's report into what's required to create a world-leading innovation economy says that upskilling people with digital skills is essential. The digital skills pipeline isn't that great at the moment and they suggest more needs to be done to encourage greater ambition in that arena.
PMI's research, The Project Manager of the Future: Developing digital-age project management skills to thrive in disruptive times (2018), has similar themes.
The digital skills important to project managers are:
Data analysis, analytics and management
Security and data protection
Legal and regulatory compliance
Online collaboration and leadership
Knowledge management          
Data-driven decision making.
Add into all of that a very non-digital skill of resilience. With all this change, disruption and digital-ness, the ability to cope with the ups and downs of the job is going to be essential.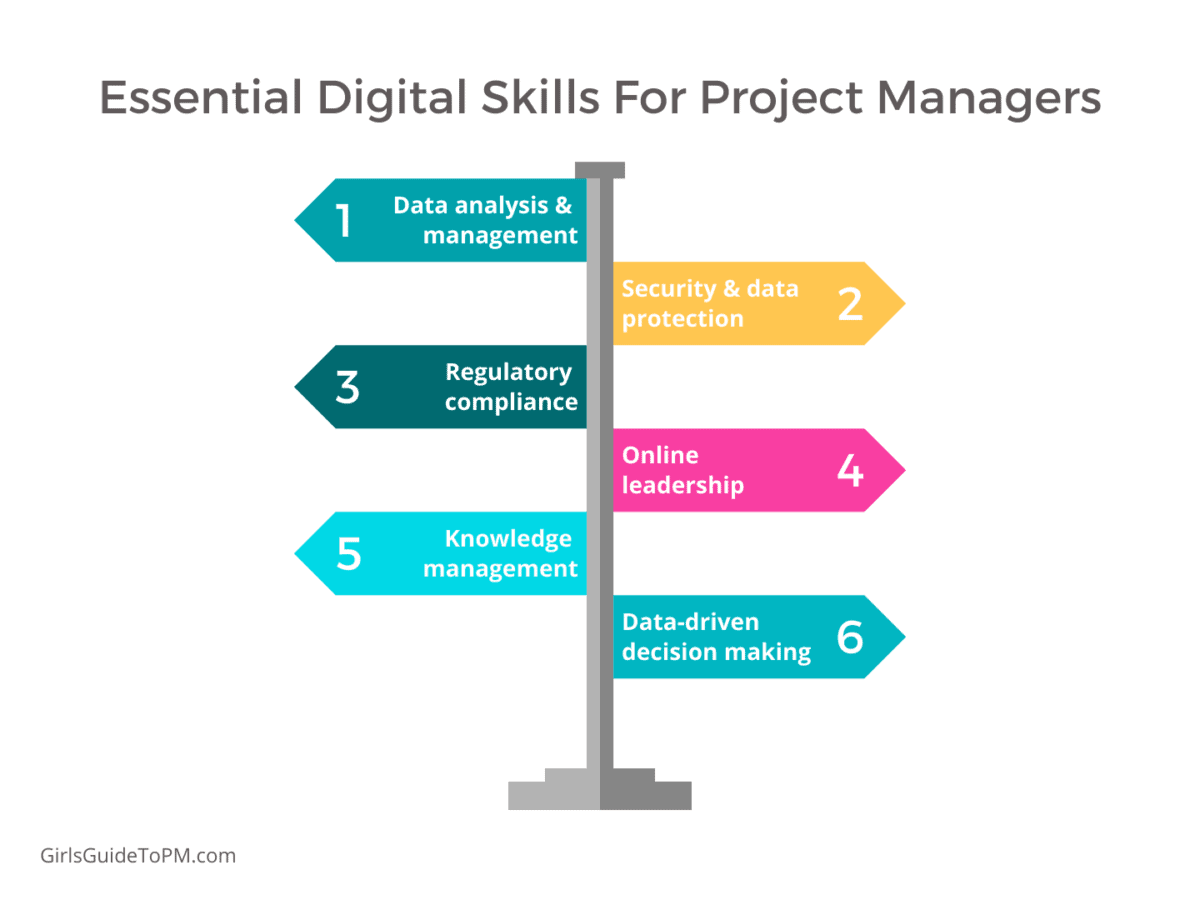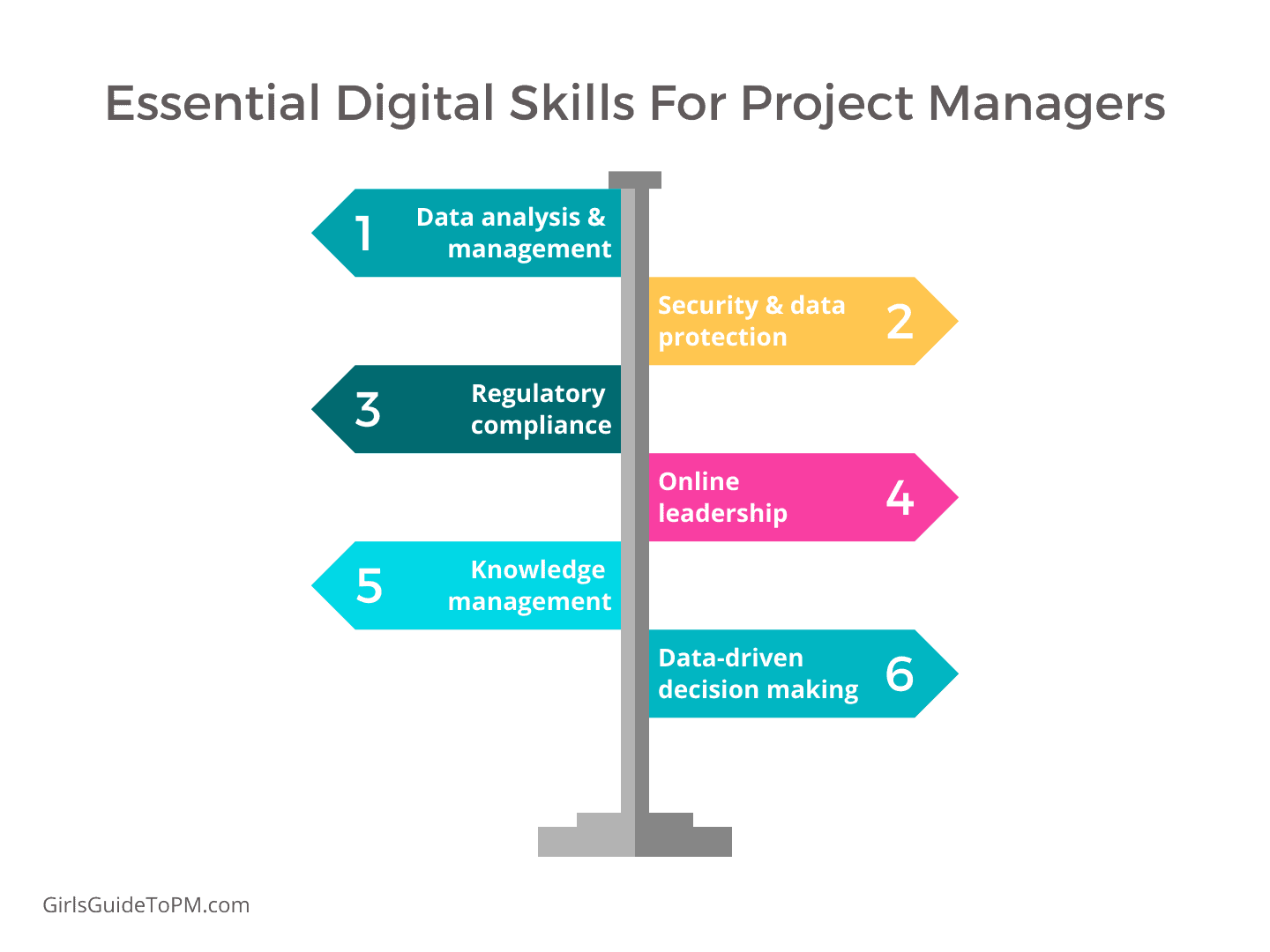 The role of project managers in the future
The future of project management is bright. There remains strong demand for people delivering change.
I believe much of the mundane stuff of being a project manager will go away eventually, as our tools tap into the advances in technology that are already out there.
PM will move from being seen by some execs as an administrative function and towards the strategic partnership that it has the potential to be in every business – not just in those enlightened firms with high levels of program management maturity.
Skills for project managers have been shifting towards the 'soft' stuff for years. That's going to be even more important with the way the future of work is going.
Project managers will need to be the humans on the team. We'll need to connect with others with the skills that you can't get from your robot colleague:
Empathy
Strategic thinking
Fun
Creativity
Motivation and persuasion
Thoughtful customer service
Listening.
Looking forward: Summary
Project management evolves to meet the needs of today's workplace problems. We're facing the kinds of evolution we're seeing at work because the nature of the work itself demands it.
Efficiency is more than having the right process. It's also having the capacity as a team – not simply as a project manager because the role is getting too big for one person to do everything – to lead increasingly complex work and solve difficult problems almost daily.
We can do it. We are doing it. And the best project managers are improving how they do it every day. Are you?
Pin for later reading