(This post contains affiliate links. Read my full disclosure.)
PRINCE2 Foundation was the first project management certification that I took. Then I went on to Practitioner.
The exams for each were tough, but not impossible. PRINCE2 is one of the most popular project management frameworks around the world, with thousands of certified professionals globally. It's totally within your reach.
But I get it. The thought of doing an exam is stressful, even if you have taken a solid Practitioner training course and mentally prepared.
It doesn't have to be tough. You can make it through the exam with the right preparation. In this article, I'll share my 12 top tips for exam success.
1.    Use an exam simulator
The easiest way to go into any exam with maximum confidence is to take mock exams and do a lot of practice questions.
I recommend using an exam simulator for that because the style of the question and the formatting of the answers more closely matches your experience in the test.
A PRINCE2 Practitioner simulator will get you in the right frame of mind to answer the scenario-based questions. It's a huge help with exam techniques such as managing your time and using the 'mark for review' option.
Sample exams help you get used to unpicking what they actually mean and what answer is being sought. Once you can interpret the exam questions, you're away!
2.    Do partial exams
I was working full-time when I took my course and exam, and I expect you are too. If you aren't working, you probably have other commitments.
So it's hard to fit in the time to do a full 2.5 hour sample paper.
Do partial exams instead. Pick an area you want to study. The Mplaza exam simulator gives you the option to do 12 questions on a particular topic. Review the questions you got wrong, using the helpful references to understand what the right answer should have been. Review the references to go deeper into that topic.
Honestly, I would review the references even if you got the correct answer, because if you are anything like me sometimes your response was a total guess!
3.    Aim for 80%+
Aim for consistently scoring 80% or above on your mock exams.
That sounds a lot given the pass mark for PRINCE2 Practitioner is only 55%, but you need that level to give yourself confidence that you adequately understand the content.
If you get a question wrong, find the relevant reference in the manual and highlight the text. Make sure you get an exam simulator that gives you the references to the source material as well as a helpful explanation of why you were wrong.
4.    Tab your book
Foundation is a closed book exam so you have to work from memory only. The good news is that Practitioner is not!
The PRINCE2 Practitioner exam is open book, which means you can take the (print) manual into the exam with you.
But it's a big book. Flicking through it to find the answers is time-consuming so make it easy for yourself. Use coloured tabs.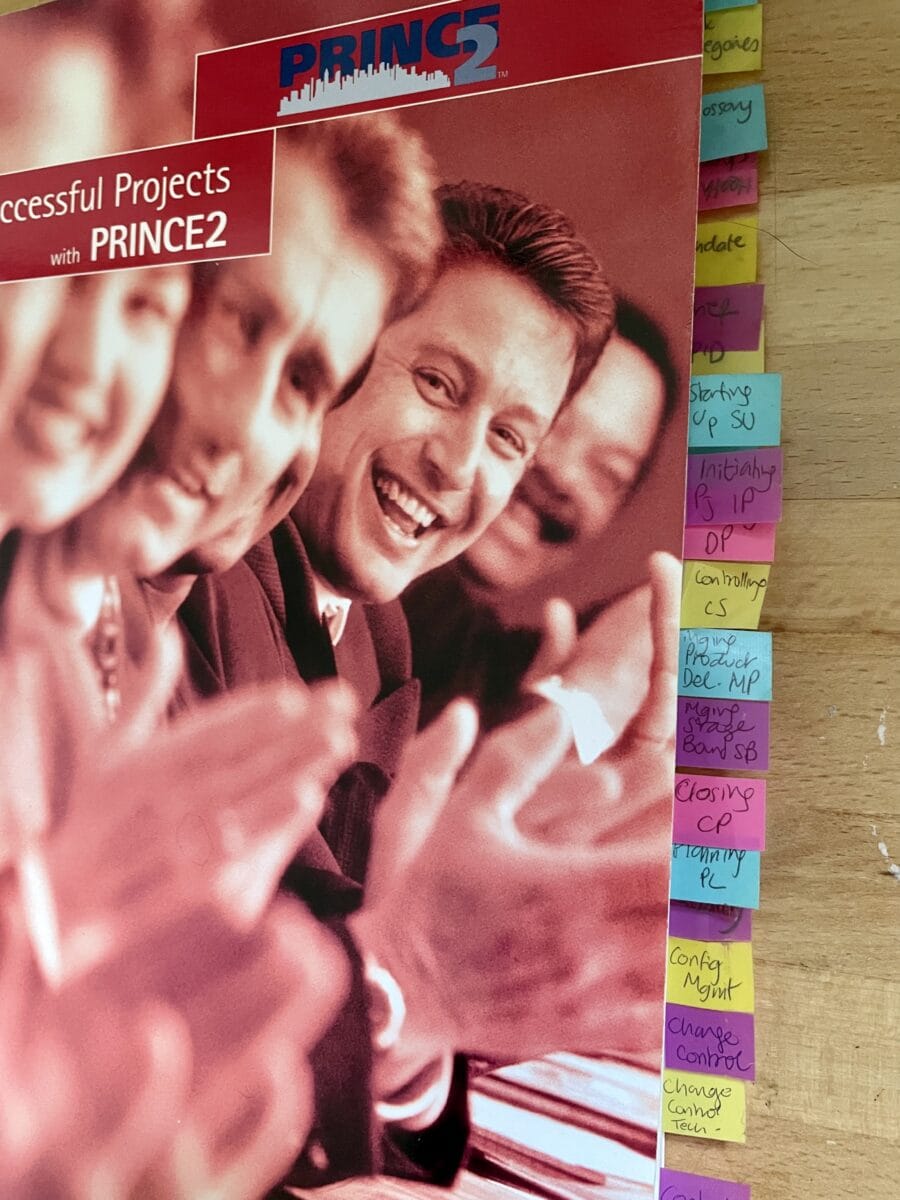 5.    Write in your book
Make the most of being able to take your manual into the test. Make your notes in the book!
There is plenty of space inside the cover or on key pages. Highlight what you need to highlight. Draw out any tables or process diagrams that would act as a quick reference on exam day.
Note: PDF versions were allowed during the open book examination in the worst of the pandemic, but that is no longer the case. It's print manuals only now.
6.    Don't rely on the manual
You need to have pace in the exam to get through the questions. There are 68 questions, and the examination lasts 2.5 hours (150 minutes). That's just over 2 minutes per question.
Trust me, you won't have time on exam day to look up everything. It pays off to learn by rote.
Ideally, practice timed tests without referring to the manual so you get used to having confidence in your own ability. You don't want to feel like you have to rely on your manual all the time.
7.    Study with diagrams
The 3 most useful diagrams are these:
Product map: outlines where products are created and updated and by whom
Timeline diagram: shows processes and stage boundaries over the lifecycle of a project
Process model: shows interactions between processes and who is involved.
Have these diagrams handy while you are revising so you can see how everything links together in the project scenario.
You can create them yourself as part of your revision process, or good ones are included in the Management Plaza PRINCE2 Practitioner training.
Ask your training provider if they have diagrams you can use.
8.    Schedule your exam at a sensible time
I did Foundation and Practitioner in a week.
It is possible to cram and take both exams, but I'm not sure I'm a better project manager because of it. I studied with the intent of passing the exams, not learning the material to deliver successful projects.
Schedule your Practitioner exam about a month after your training, so you have time to digest the material and get enough exam practice in.
9.    Download the tech and get ready
Download the .exe installer from ExamShield, not the app store package. You want the 'real' software installed on your machine ready for the online exam.
Get that all set up as far in advance as you can because being blocked by the anti-virus is no fun just before you settle down for the test!
Try and do some online exam practice beforehand, as there is no answer sheet like there was in my day: it's all on the screen.
10. Answer every question
Here's one of my top study tips: You are not penalised for a wrong answer. If you don't know the answer, just guess.
Mark the question for review and come back to it later. Remember, the pass rate is only 55%. If you are consistently scoring 80% or more, you have a little wiggle room to play with.
11. Don't panic!
I have taken professional exams on and off throughout my career, but if you've been out of education for some time, you might not have sat a timed test for many years.
And so the panic sets in!
Don't stress about it. It's just a test. You don't have to tell anyone you are doing it, so no one will judge if you don't get through the exam paper.
This is another area where having an exam simulator and doing plenty of practice will help you build your confidence for test day.
Try to cultivate a positive attitude.
12. Be consistent
Studying for the exam is a slog. These Practitioner exam tips will help, but ultimately the biggest thing you can do is put the time in.
The good thing is that once you've dedicated a chunk of your life to study, you don't have to take the exam again.
I know your PRINCE2 certification does expire, but most employers are not going to care much about that in real life… you can always say you will re-certify if it's a must-have for them!
Put some time in to consistent studying. Make a revision plan. And just do it.
Your next steps
If you've got this far, it's because you're ready to prep for the exam. Get your official manual tabbed, marked up, and ready. Get your simulator fired up.
And go!
You've got this!
 Here are some popular resources that will help you take the next steps to becoming a PRINCE2 Practitioner:
Pin for later reading