IT projects are unique. IT teams plan hardware and software installations, upgrades and rollouts, and the tools they use are specific to working with infrastructure, information systems and computers. These IT project management templates are essential to get those jobs done properly.
ProjectManager has dozens of free project management templates for Excel and Word that IT managers need when working on web development, software development, mobile app development, network configuration and so much more. Try these 15 free IT project management templates today.
1. IT Project Plan Template
IT project managers are responsible for many different types of projects, from developing new systems to upgrading old enterprise applications. But every IT project has one thing in common: they start with an IT plan. With our free IT project plan template, IT project managers can organize tasks, costs and resources with scheduled deadlines and deliverables.
Using an IT project management template saves you time and helps you to start a project more efficiently, which leads to a more successful outcome. Not only are you able to figure out what you're going to do, but you can share the IT project plan template with your team to get them on the same page.
2. Gantt Chart Template
When making an IT plan, or any plan for that matter, the go-to tool is the Gantt chart. It's a tried-and-true tool for good reason; Gantt charts create a visual timeline in which all your project tasks are scheduled. They can manage time, costs and resources. Creating a Gantt chart in Mircosoft Word or Microsoft Excel is frustrating, especially when there's one ready for you to use when you download our free Gantt chart template for Excel.
3. IT Risk Assessment Template
IT projects are no different than any other type of project in that they're rife with risk. IT risk carries an extra burden in that most businesses, regardless of what they do, demand that their IT systems work. If something goes down or is compromised in any way, it can lead to a significant financial loss or worse. This is why our free IT risk assessment template for Excel is so important.
The structure of any risk assessment tool has common elements. Ours lists the risk numerically, which makes it easy to track, as well describing the risk and the control environment. It collects data but also defines the actions to take if the issues do in fact arise so you can mitigate the risk. There's also a calculator to note the likelihood of the risk occurring and, if it does, what impact it will have.
4. Action Plan Template
Whether you're responding to risk or simply planning an IT project, you need a strategy. Our free action plan template for Excel is a document that outlines the steps you should take in order to achieve that strategy. IT project managers can use this IT project management template to visualize how to turn the strategy into actionable steps, which can be broken down into subtasks or action items.
IT project managers can use the free template during the planning stage of the project. It outlines goals, action steps, tasks and a timeline and can address business, strategic and corrective action as needed. It's a versatile tool. However you use it, an action plan provides a framework that helps you think pragmatically and ensures you don't overlook important tasks.
5. IT Project Budget Template
Getting an accurate count of the costs of your IT project is how you ensure you have the funds to do the work properly. That includes everything from your team, equipment and more. It's a lot of costs to track, which is why IT project managers can download our free project budget template for Excel.
Not only will it help you create a more accurate budget but it'll help you monitor your costs as you execute the project. The IT project management template captures labor, consultant and software license costs to name a few. But it also collects recurring costs such as phone bills, office space and equipment costs. Remember, you're not only creating a budget but a cost control mechanism.
6. IT Server Maintenance Checklist
If the server goes down, trouble is around the corner. To avoid that, make sure to schedule maintenance. There are many things to check to ensure that all are well, which is why we recommend downloading our free server maintenance checklist for Excel. This free IT project management template helps you do a thorough job.
Using the template is simple. On the left-hand side are a variety of tasks that are common to server maintenance, such as updates, security, backups, monitoring, file system maintenance and more. On the right is a grid where you can schedule those tasks as daily, weekly, monthly or occasionally. The template is customizable so you can add or subtract what you want so it better reflects your responsibilities.
7. Dashboard Template
Monitoring IT systems is key to keeping software and hardware alike running smoothly. By having a high-level view, it's possible to not only track progress and performance but catch any anomalies that might indicate issues that need to be addressed before they become problems. Use our free dashboard template for Excel and track this data at a glance.
Use this IT project management template to track keep performance indicators (KPIs) such as tasks, workload, task length and cost. The colorful bar graphs and charts make it easy to digest the data quickly and provide IT project managers with the perspective they need to get valuable insights that'll guide better decision-making.
8. IT Risk Register Template
Every IT project manager knows that risk is always around the corner. That's just part of project management. Planning for it is also part of project management. Our free risk register template for Excel gives you the tools to plan and mitigate risk in your IT projects. This tool allows IT project managers to prepare a strategy that helps them to respond to risk and resolve or take advantage of it if it occurs in their project.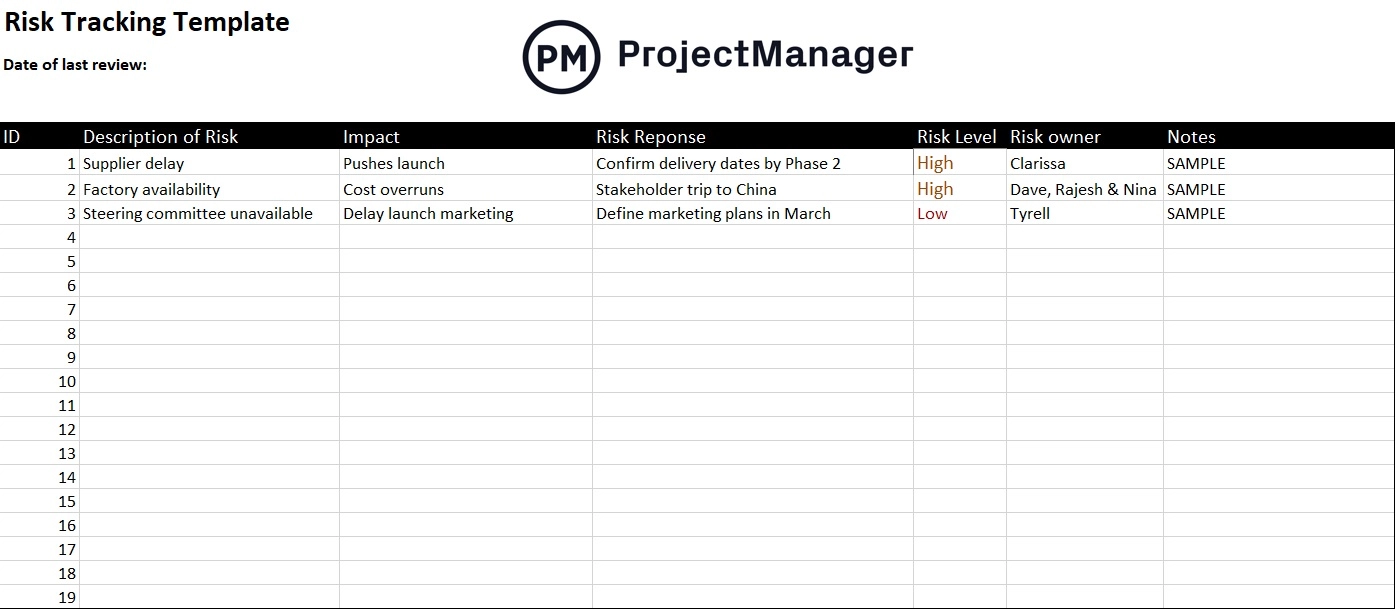 This IT project management template numbers risks to make them easy to track. You can also describe the risk, its impact and what response you'll have if it becomes an issue in the IT project. There's also a column to rank the level of the risk from high to low, which helps with prioritization. Finally, you can assign an owner who's responsible for identifying and mitigating the risk.
9. IT Issue Tracking Template
Issues are problems. Whether they're risks that you planned for or something that comes out of the blue, they can sidetrack your IT project. When an issue arises, you have to be able to identify it and resolve it quickly before it impacts the time, scope or cost of your project. That's what our free issue-tracking template for Excel is designed to do.
Use the free IT project management template to capture any issues that show up in your project, which is the first step in developing an action plan to deal with the issue. There's a column to describe the issue and its impact. Then you can add the priority, the date it was identified and who's responsible for responding to it. There's also space to add the department that's handling the issue, its status (open or closed) and even a place to add notes.
10. IT Change Log Template
Another risk or issue is change. That change can occur in an IT project due to equipment failure, human error, an act of God, such as a power outage or requests from stakeholders, to name a few. Whatever the reason, changes in a project can impact your schedule, budget and more. To manage them, download our free change log template for Excel.
Everything you need to collect and manage change is included in the document. From the project's and project manager's names to the change number and type of change request, it's all included. There's also a date to note when the change was requested or occurred, a description of the change and its status. You can also assign it, add a priority and determine when it's expected to be resolved, understand its impact and outline the action steps that'll resolve it.
11. GDPR Compliance Checklist
Anyone in IT knows the importance of GDPR (general data protection regulation). While it's specific to the European Union (EU), any tech company that collects and processes personal information and has a presence in the EU is under a legal requirement to be compliant with this law. Our free GDPR compliance checklist template makes it easy to manage that process.
Our IT project management template has columns to collect the tasks that are required to remain compliant with the law. It assigns owners to each of these tasks to ensure they're done in a timely and thorough fashion. There's also a place to add a deadline and you can even allocate resources to each task as needed. Then simply check them off as you go down the list. It's an easy way to manage a legal requirement.
12. Requirements Traceability Matrix Template
IT projects have requirements meaning they must be done and done right or else the project suffers. In order to ensure that, use our free requirements traceability matrix template for Excel. It does this by listing all those project requirements and how to track them through the project's life cycle. This way nothing critical can fall through the cracks.
There are many ways in which this IT project management template helps you manage your project requirements. It's great for quality assurance (QA) and understanding what needs testing to ensure it's meeting the project requirements. IT project managers can also use this document to help them make data-informed decisions rather than acting on instinct.
13. IT Project Prioritization Matrix Template
Not all IT project managers have the luxury of focusing all their attention on one project. They're often responsible for a portfolio of work and making sure they allocated their resources wisely among that group. Our free project prioritization matrix template allows you to look at all your IT projects and make objective decisions as to which projects need attention and when.
This Eisenhower matrix is broken into four quadrants. On top, there are two columns: one for do now and the other which says do later. On the left-hand side, there are two rows: crucial and not crucial. Now you can place your projects in one of the four squares to know what must be done immediately, what can be scheduled for the new future, what can be delegated and what can be deleted or moved.
14. Implementation Plan Template
Every IT project starts as an idea that's codified by a plan, but it needs to be realized by an implementation plan, or the steps required to actualize that plan and produce its deliverable. While it might sound redundant to have the plan to execute a plan, anyone who's familiar with project management knows using our free implementation plan template for Excel is how you organize those ideas into actionable steps.
The IT project management template is broken up into three distinct parts. First, there is the project strategy, which moves down to processes and actions to implement that strategy. Then there's the timeline, which shows the planned and actual start and end dates for the tasks as well as the planned hours for the task. Finally, there are the resources to execute those tasks, including materials and costs. With all this mapped out, you can implement your plan successfully.
15. Requirements Gathering Template
Knowing the requirements for an IT project is what starts out the planning phase. They will be collected in a document, which is where our free requirements-gathering template for Word comes in. This IT project management template also acts as a communication tool connecting the requirements of the user to the developer.
But it's not only user requirements that are gathered; there are also business and system requirements captured in the document. The requirements are broken down into seven subsections: user, functional and system requirements, software and user interfaces, workflow activities and change and risk management. There's also high-level technical architecture sketched out plus maintenance and support. There's even testing and evaluation, such as objectives, artifacts, users and tasks included.
ProjectManager Helps With IT Project Management
As any IT project manager will tell you, templates are static documents. They can be a step back, not forward, when it comes to managing a project. What you need is project management software, such as ProjectManager. Our online software delivers real-time data for better decision-making. What also makes our software superior to templates is that you can use a variety of tools that all share the same updated data.
Use Multiple Project Views
Not all project tools are created equal. The Gantt chart is ideal for scheduling, but kanban boards visualize and control workflows as you plan and execute sprints or manage your backlog. Teams might prefer using our robust task list, which also shares the same real-time data as the other tools, such as the sheet and calendar view. That means you can work on the tool you want and stay up-to-date with the most current project information.

Capture Real-Time Data
Having everyone on the team work on the same live data is key to productivity, but it's not everything. IT project managers also need a see high-level view of the project whenever they want. Our real-time dashboard does just that. It captures live data and crunches those numbers to display metrics on time, cost and more in easy-to-read graphs and charts. Best of all, there's no setup required. It's plug-and-play.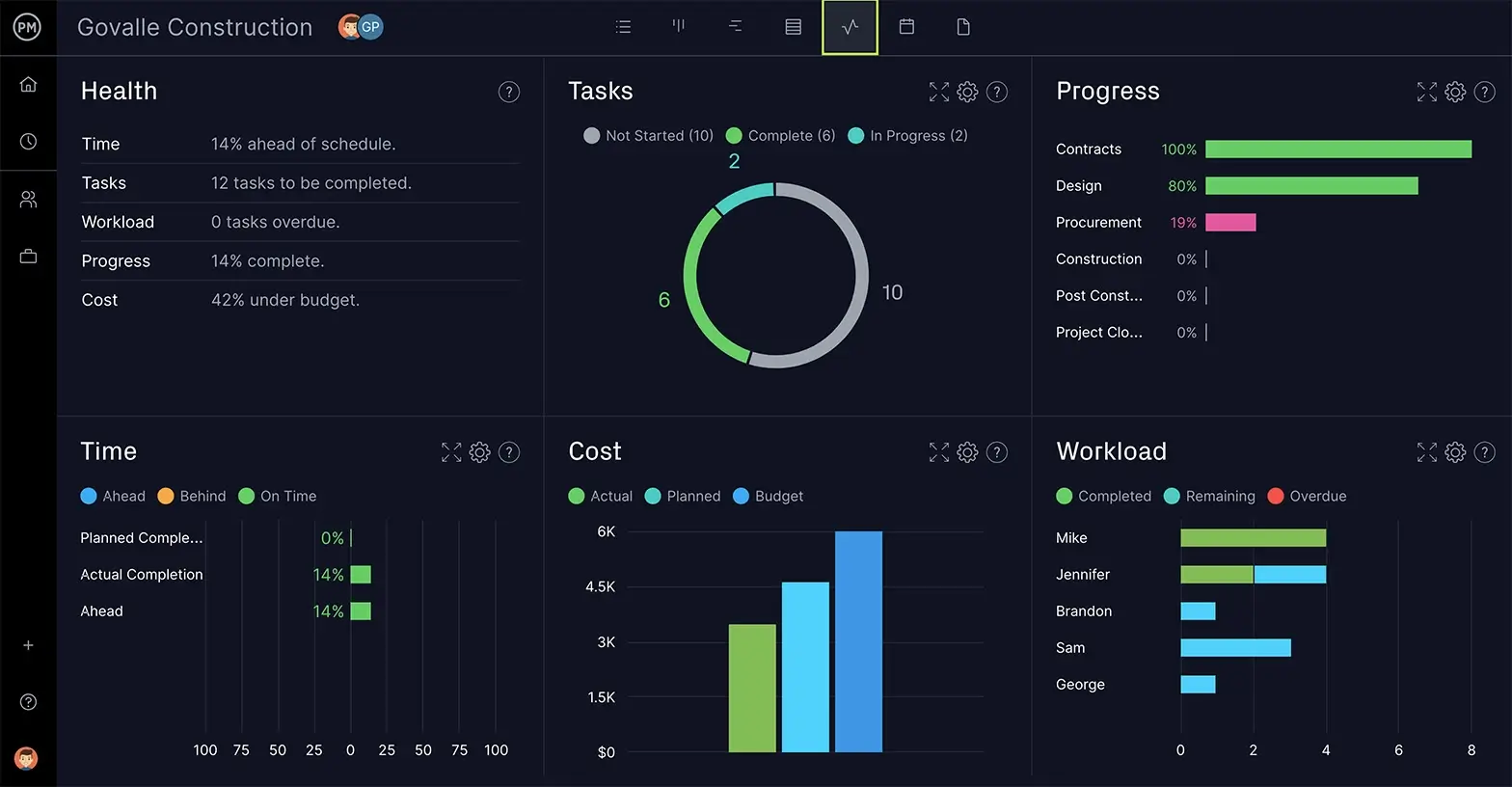 Reports take you deeper into the data, customizing results to show just what you want to see and making it easy to share with stakeholders to keep them updated. There are also resource management tools that balance workload, risk management tools that track issues and task management tools that keep teams collaborating and productive.
Related IT Project Management Content
If you're still on the fence about signing up for a free trial of ProjectManager, we have lots of free content you can read. From weekly blog posts to guides, videos, templates and more, we have information on every aspect of the project management phases. Here's a small sampling of our IT-related content.
ProjectManager is award-winning software that empowers IT teams to plan, manage and track their work in real time. Our collaborative software makes it easy to comment and share anywhere and at any time, whether across departments or continents. Join the teams at Nestle, Avis and Siemens who use our software to succeed. Get started with ProjectManager today.