Workload management is a critical part of executing any project; projects are executed by people and as a project manager, you must ensure that your team's workload is balanced.
Project teams look to project managers to clarify what they should be doing and when, but they don't want you hovering over their shoulders as they check off tasks in their project management software. It's important to strike a balance between controlling your team's tasks and giving them room to work.
What Is Workload Management?
Workload management is the process of assigning tasks to keep individuals and teams working at maximum efficiency. The workload management process involves planning, scheduling, distributing and monitoring workload to ensure teams achieve their goals while making sure work is evenly distributed among team members.
ProjectManager is project management software that's equipped with workload management, task management and resource management tools to help you manage your team's workload in minutes. When onboarding teams, you can add their availability to make assigning easier. Then check the color-coded workload chart to see who is overallocated and balance the workload right from that chart. Keep teams more productive and working at capacity. Get started with ProjectManager today for free.
Let's take a closer look at the key stages of the workload management process mentioned above.
Workload Forecasting
Understanding your project's current and future workload needs is one of the most important steps when managing workload. To do so, you'll need to measure your resource utilization and check your workload capacity to make sure they match your business forecasting and customer demand projections. If needed, your organization might need to hire new personnel or acquire new resources such as raw materials or equipment.
Workload Distribution & Scheduling
Once you've determined what your team's workload will look like in the future, it's important to use project management tools such as Gantt charts, kanban boards or project calendars to assign tasks to your team members depending on their skills and your overall resource availability.
Workload Monitoring
Planning and scheduling tasks are as important as keeping track of them to make sure they've been completed on time and under budget. To do so, you should use workload management software with features like dashboards and reports. To manage your team's workload, you'll need to create a workload plan which entails understanding your resources and the business priorities or tasks to be completed.
What Is a Workload Management Plan?
A workload plan or workload management plan is simply a project calendar or dashboard that tracks an employee's working hours on a timeline. A workload plan is used to determine resource utilization, calculate team capacity and track employee performance.
Workload plans can vary to show more or more minor detail, such as percent complete, deliverables, constraints and milestones. The more details, the more task management information you'll have to better assign work to your team. ProjectManager's workload chart, dashboard and task management tools are ideal to create a detailed workload plan.
Why Is Workload Management Important?
Workload management is a way to keep your teams busy and productive. It's a strategic way to distribute the work throughout your team to boost performance. However, managing workload isn't only about efficient resource management but is also about reducing team stress, burnout and errors. Workload management helps organizations deliver projects successfully. It's also beneficial for capacity planning, resource utilization and employee performance among other positive business impacts.
Workload Management Tips
Here are some of the main tips for effective workload management.
Avoid burnout: A good rule for work management is that employees should be allocated to specific tasks for only 80 percent of their time. The remaining 20 percent will be for answering phone calls, attending team meetings, dealing with customers who call with urgent problems and so on.
Check your team performance: As a team leader, it's important to make sure that your team members are meeting their goals. If they're not, your workload planning might be compromised. If you find team members that aren't meeting their deadlines, then you should level your resources to help the team produce deliverables and reach milestones.
Use a work breakdown structure: Using a work breakdown structure it's a great way to define what are the activities required for a given project, which is a necessary step before creating a workload plan.
Consider your value stream: Measuring how many of the tasks assigned to your team add value to your customer is a great way to gauge your team's performance and how effective your workload distribution is.
How to Manage Workload With ProjectManager
ProjectManager is a robust workload management tool that has features that let you plan, schedule, distribute and track your team's workload. The fastest way to find this information is to use task management, capacity planning or resource management features from your project management software to show who's working on which tasks.
1. Map Out Your Workload Plan
With ProjectManager, you can use multiple planning tools to balance the workload across your team and map out their work schedule. With our Gantt charts, kanban boards, project calendars and workload charts you can map out your tasks in phases and assign them to team members. The assignee's name appears next to the task so you can view who is working on what.
2. Create Workload Schedules
You can use the online Gantt chart to create detailed workload schedules that let you assign work to team members by simply dragging and dropping tasks on the timeline. Since it's an online Gantt chart, all data updates in real time so the entire team sees their new tasks in an instant. Simply click on a task and assign it to certain team members. You can add a number of team members or simply yourself if needed. Team members are even organized by department so you can quickly identify the best person for the job.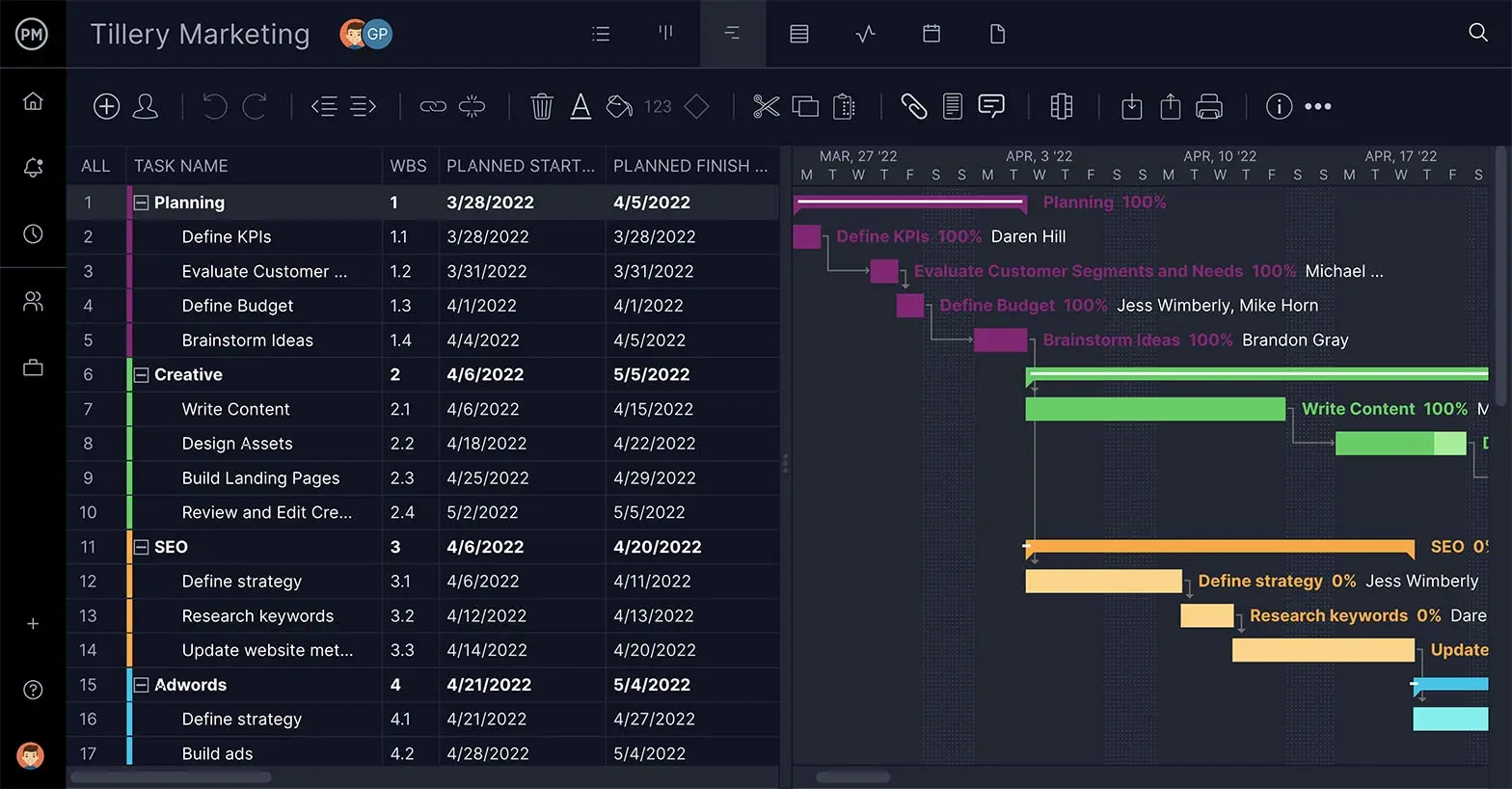 3. Monitor Workload Capacity
ProjectManager's workload chart lets you see the number of assigned work hours to each team member to monitor your team's performance and control heavy workloads. The box is green if the team member has a good number of hours; it's orange if they are over or under-assigned. In the same view, you can click the box and instantly reassign tasks to adjust the workload. Adjustments are automatically reflected in any workload plans on the Gantt chart, the team workload dashboard and elsewhere in our project management tool. Look for team members who are under or over-allocated so you can adjust their schedule accordingly.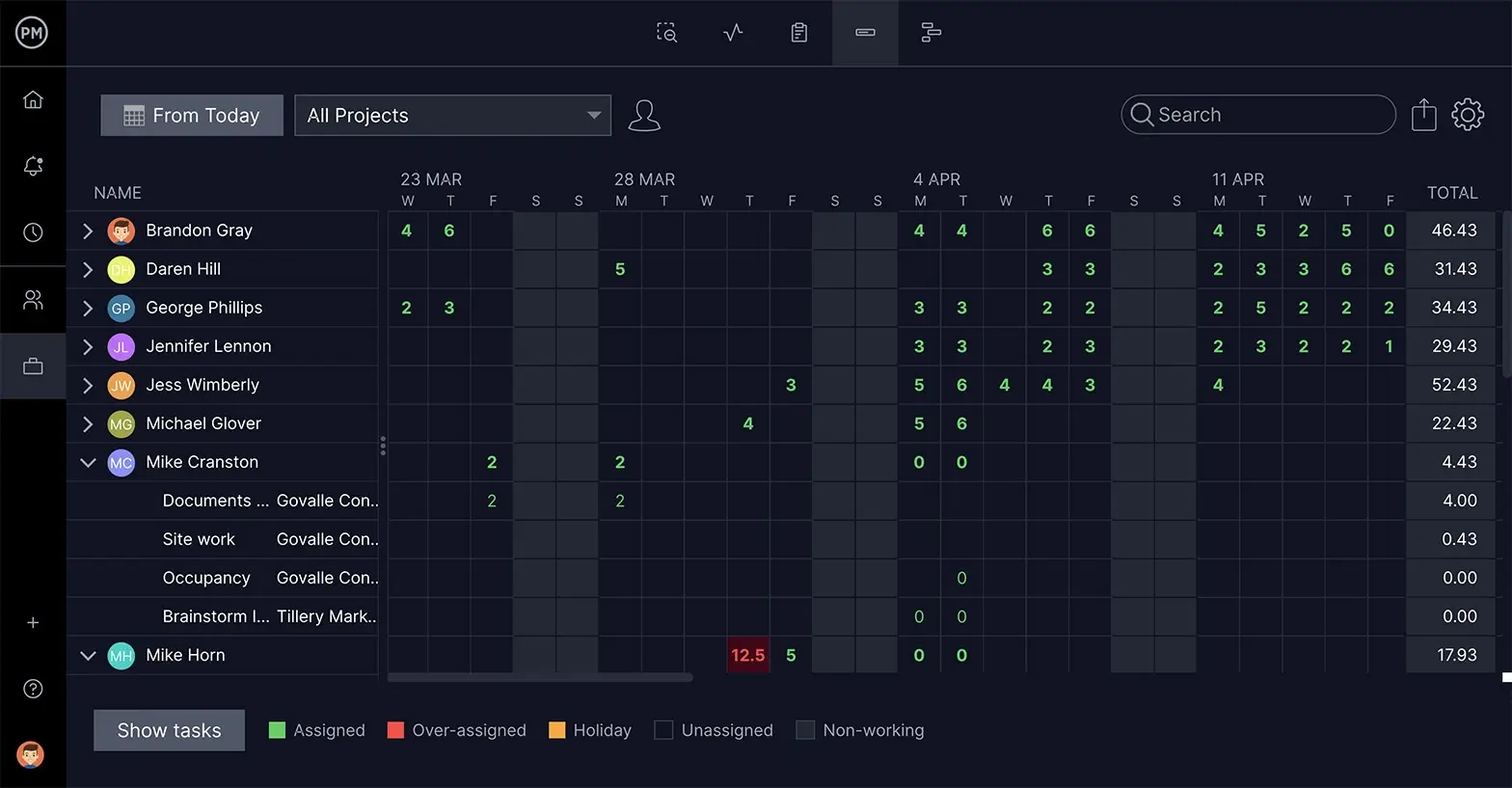 4. Track Workload Costs With Timesheets and Reports
Use ProjectManager's timesheets to keep track of labor costs as you assign work to your team. They sync automatically whenever you make changes to your workload plan from the Gantt chart, kanban boards and other task management tools. You can also generate one-click reports in minutes so you can share your workload management information with team members and stakeholders.
5. Communicate With Team Members
If you're going to change an assignment in your workload management system, don't forget to speak to the people involved first. You can explain that you're reallocating resources to balance the work and that it isn't a reflection of their performance. In fact, as a result of your workload planning, they may end up with a better work schedule. Communicating with your team is key to success, so you'll also need effective team collaboration tools. Talk to them about upcoming holidays and include those in your workload planning so you don't assign them tasks while they're away.
Related Content
Resource management software makes the workload management process easy, especially when it's integrated into your project management solution. Updating your workload plan automatically updates the resource reports in ProjectManager so you quickly see who has time to take on additional tasks. Start your free trial today.