Project timelines are the backbone of any project plan. They're an incredibly useful visual project management tool that lays out your tasks and events in chronological order. This helps project managers plan, create schedules, prioritize work and organize tasks.
What Is a Project Timeline?
A project timeline is a project management tool that defines the duration of the project from start to finish. All your project tasks should be included in it, which helps the team understand what needs to be done and when. Project timelines are the foundation of a project schedule, which is more detailed.
Creating a project timeline is easy with the right tools. ProjectManager offers multiple project management views such as Gantt charts, kanban boards and project calendars so that you can create a robust timeline for your projects. More importantly, these tools are connected to timesheets, workload charts and real-time dashboards for better project resource management.
While there are lots of timeline makers available online, not all of them can be considered project timeline makers. Most online timeline makers are designed for creating basic, all-purpose timelines, but they're not a project management tool like ProjectManager. Let's go over the main characteristics of a project timeline maker.
What Is a Project Timeline Maker?
A project timeline maker is software equipped with project management tools like Gantt charts, project calendars and other task management and project scheduling features. You'll need these and other features to not only create a project timeline but manage projects, which involves keeping track of resources, assigning tasks to team members, monitoring project progress and much more.
What Are the Key Features of a Project Timeline Maker?
Here's an overview of some of the main features of a project timeline maker, which will help you create a project timeline and track it throughout the project life cycle.
Gantt Charts
Gantt charts are a critical part of any project timeline maker because they let you map out project plans, create a project timeline, identify task dependencies and much more.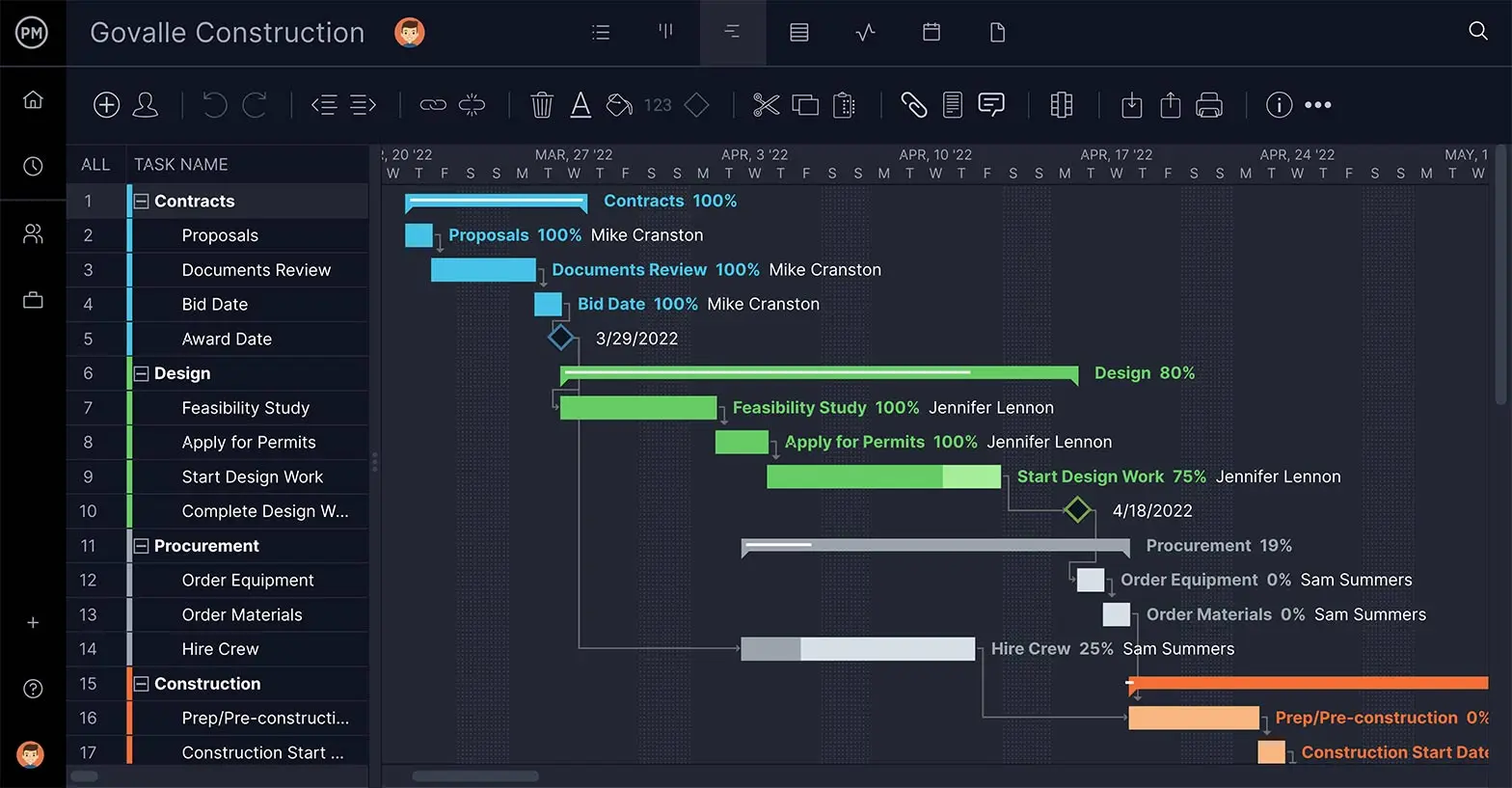 ProjectManager's Gantt chart is one of the best and most robust tools on the market. While some Gantt charts are limited, ProjectManager's online Gantt chart lets you assign tasks to team members, track project costs, identify the critical path of your projects and share files with unlimited storage.
Timesheets
Project timelines show how work will be executed over time. But just merely mapping out tasks on a timeline isn't enough in project management. You'll need to pay for labor, materials, equipment and other types of project resources. That's why timesheets are a great project timeline-maker feature.
With ProjectManager, you can use multiple project management tools like Gantt charts, task lists, project calendars and more. These project timeline maker tools are linked to timesheets, which will help you gather all your labor costs in one place.
Project Calendars
Project calendars are an essential project timeline-maker tool. While most project managers prefer to use a Gantt chart for project planning, scheduling and tracking, there might be team members or project stakeholders who prefer to visualize project timelines in a more familiar tool, like a project calendar.
ProjectManager's project calendar is linked to other project management views like Gantt charts, task lists, kanban boards and project dashboards so that you and your team can plan and visualize project timelines with multiple project management tools.
Project Dashboards
Once you've created a project timeline, you'll need to keep track of it so that your project is completed on time and under budget. ProjectManager's real-time project dashboards are the perfect tool to monitor progress, track project costs and balance your team members' workload so you don't miss anything about your projects.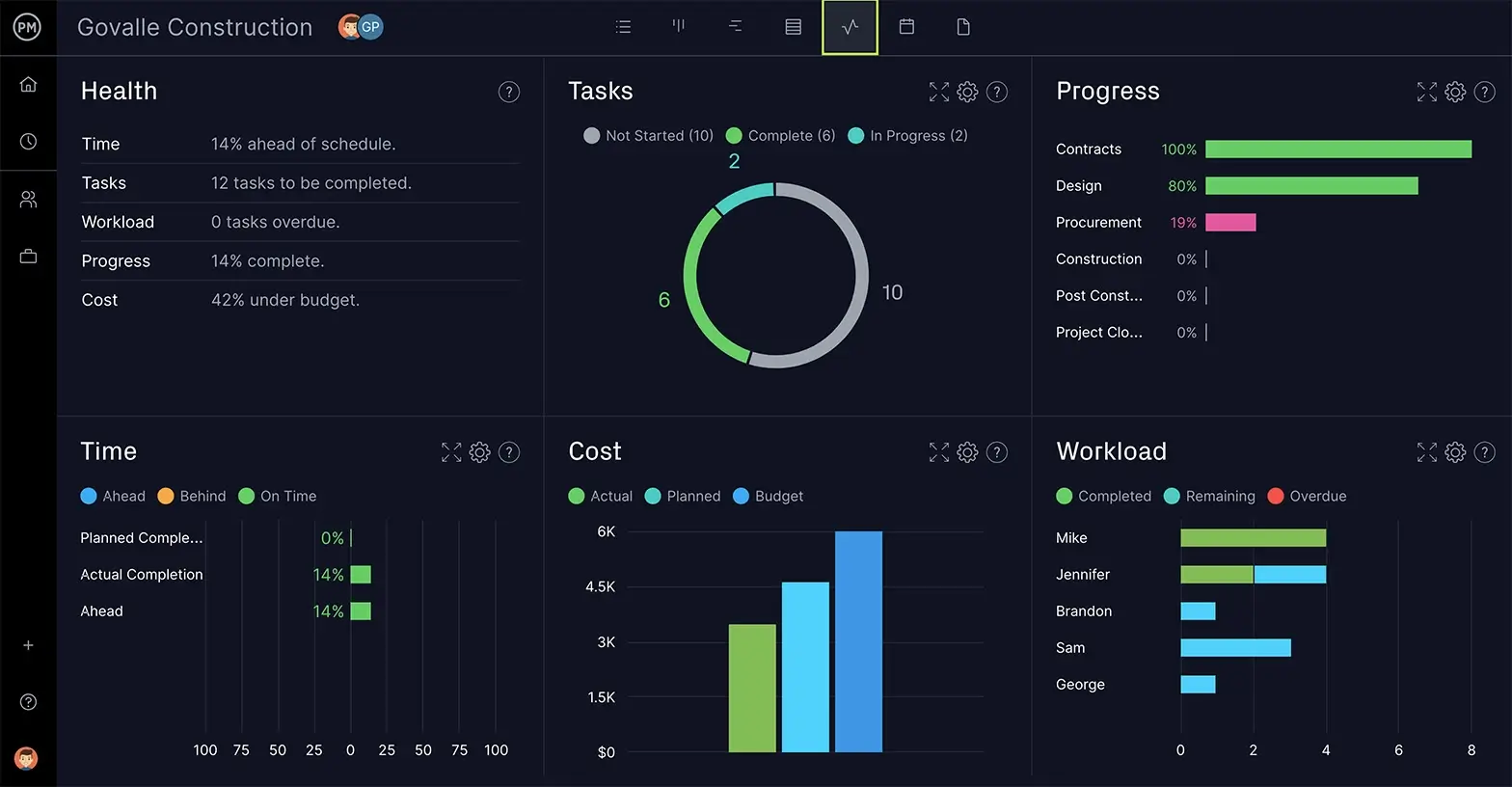 How to Make a Project Timeline
The two most common methods to create a project timeline are Gantt chart templates and project planning software. You can get started with our free project timeline template and once you're ready, you can import your data to ProjectManager to use its robust project planning features.
1. Define Your Project Scope
The first step in creating a project timeline is determining the scope of the project. The project scope refers to all the work required to complete your project, including tasks, deliverables and milestones. To define your project scope, you can begin by outlining what deliverables you are going to produce throughout the project and the tasks needed to produce them.
2. Identify the Tasks That Make up Your Project Timeline
Each deliverable represents a milestone on your project timeline. The points between them are the tasks required to create that project deliverable. In order to ensure that you have a thorough list of all your tasks, use a work breakdown structure, which is a tree diagram with your final deliverable on top and all the steps leading to it.
3. Evaluate Your Project Timeline
Next, look over each of the tasks and events you've collected and ask yourself—do they achieve the goal? Are they specific enough? This is how you determine what's essential and what could be left aside if time and costs constrain your effort.
4. Add Dates to the Timeline
Every task must have a duration, and together, they all have to fit within the timeframe of your project timeline. Therefore, it's critical that you do your best to estimate the time each task will take. There are several ways to get more accuracy, from your personal judgment or expert team members' opinions to historical data and statistical analysis.
5. Create a Timeline on Paper or With a Project Timeline Maker
Finally, you're ready to map out your timeline. You have all the project scope elements you need, and they can be assembled manually or by using a timeline maker or project management software. A timeline maker will only help you create a project timeline, while a project management software will cover your time tracking, task management and team collaboration needs.
Best Project Timeline Makers
If you're looking for a timeline maker software solution, there are many products of varying features, from rudimentary to complex. Here are a few to try out, some free and others paid. We've only included timeline makers that offer project timelines excluding those that focus on graphic design, infographics and presentations.
ProjectManager is a project management software that offers a complete set of planning, scheduling, tracking and reporting tools. Its Gantt chart feature lets you create interactive timelines for your projects in a few clicks. Then you can assign tasks to your team members and use dashboards to keep track of your project's workload, costs, schedule and budget.
Office timeline is a PowerPoint add-on to make and share different types of timelines. Although this timeline tool is designed for PowerPoint presentations, it's capable of creating static Gantt charts and has different types of project timeline templates.
If you're looking for another Microsoft alternative, you could try making timelines with Microsoft Project, which is a project management software that offers more timeline features than Office Timeline or Excel. Microsoft Project has project management tools to plan and manage your projects from start to finish.
Preceden is a free, lightweight project timeline maker that works fast to make colorful timelines. This web-based timeline tool allows you to build and share a timeline. You can create one timeline with up to 10 events on the free version, but payment is required to create more than that.
An easy-to-use timeline creator designed for business. It can attach supporting files, which is a helpful asset. You can create a project timeline, import data and save timelines in a variety of different formats. It's not free, but you can take a 14-day trial to see if it's right for your projects. Free timelines are watermarked, though.
Sheets is Google's online version of a spreadsheet. It allows you to create, edit and collaborate for free, all you need is an account. Google Sheets is a great team collaboration tool when it comes to all-purpose spreadsheets, but it's a limited project timeline maker. There are four timeline templates, but you can create custom ones if you're willing to put in the time.
Project Timeline Makers vs. Project Management Software
We've explored some of the timeline-maker alternatives you can find online. Some of them allow you to create great project timelines, but they tend to be a dead end. You can set up the schedule for your project but then have no bridge to link the schedule to your overall project management tools. Therefore, timeline makers feel limited no matter how many bells and whistles they offer.
You may be better served by project management software equipped with a Gantt chart, which is another visual tool that has a task list spreadsheet on one side and an interactive project timeline on the next. It's sort of like a project timeline on steroids, which gets you over all the hurdles you might have come across when using only a timeline maker.
The big difference between a Gantt chart and a simple project timeline is the data. Both detail the sequence of tasks over time, but the Gantt chart can add more information, such as who is responsible for executing the tasks, whether any tasks have dependencies and even setting milestones to breaking up the larger project into smaller, more manageable phases.
A project timeline with limited information is going to frustrate any project manager. A Gantt chart, on the other hand, is a visual tool with a timeline that was created to respond to all the needs related to building a project timeline, schedule and plan.
How to Make a Project Timeline With ProjectManager
ProjectManager is an award-winning project management tool that organizes your tasks into project plans. The cloud-based software can be accessed anywhere and at any time with an internet connection. It is your one-stop shop for all your project management needs, starting with making a timeline.
There are several ways to start. You can import your list of tasks from a spreadsheet, add them directly to the Gantt chart or use one of the many industry-specific timeline templates to give you a hand.
On your Gantt chart, you can create subtasks, which are smaller tasks that are part of a larger task. Once you have all your tasks collected, you need to estimate their duration. When each has a start and finish date they will populate the timeline on the right-hand side of your screen, where you can assign those tasks to your team members.
Now you have a Gantt chart that works as an interactive timeline and project schedule and you can customize it with colors to make it easy to differentiate tasks. There's also a milestone tool, which is used to mark the end of one phase and the beginning of another. It's represented on your timeline by a diamond-shaped icon. Milestones can also be used to note important project due dates.
Here's where the Gantt chart leaves timelines in the rearview mirror. There's something called task dependencies, which just means that some tasks won't be able to start or finish until another has started or finished, and if you don't identify these dependent tasks they can lead to bottlenecks that block your team from being productive.
But connecting dependent tasks is as easy as dragging one to the other. Now they're linked with a dotted line on your Gantt so they won't sneak up on you. In addition, our Gantt chart allows you to identify the critical path, which is the sequence of tasks that must be completed on schedule to finish your projects on time.
A Gantt chart is a better project timeline, but what makes it indispensable for managing a project is how it's integrated into every other project management tool in our software. For example, you can assign team members to tasks from the Gantt, attach files, add directions, set tags for priority and more. You can even track their progress by the amount of shading on the duration bar.
Another thing timelines can't do is update your stakeholders. A timesheet might give them an outline of what you intend to do with your project schedule, but we can generate reports with one click that are easy to filter and share, showing detailed data on time tracking, cost control, progress, the overall health of the project and much more.
ProjectManager takes your project timeline and turns it into a fully loaded project management software to help you plan, monitor and report on every phase of your project. Multiple project views give teams kanban boards to visualize their workload and Gantts for managers to control schedules. Use task lists to manage your own work. There's more, so why not take this free 30-day trial and see how all our features can save you time and money?