What do you need to know to succeed at project management? Everything! While there's some truth to that joke, this answer can be narrowed down by looking at the project management knowledge areas as defined in the Project Management Body of Knowledge (PMBOK), a book by the project management institute (PMI), which compiles the fundamental concepts of project management.
What Are the Project Management Knowledge Areas?
The project management knowledge areas can be simply defined as the key aspects of project management that should be overseen by project managers so they can plan, schedule, track and deliver projects successfully with the help of the project team and project stakeholders.
Each of these project management knowledge areas needs to be managed throughout the five project life cycle phases, which are project initiation, project planning, project execution, monitoring and controlling, and project closing. These are the chronological phases that every project goes through, also referred to as project management process groups in PMI's PMBOK.
The PMBOK knowledge areas take place during any one of these process groups. You can think of the process groups as horizontal, while the knowledge areas are vertical. The knowledge areas are the core technical subject matter, which is necessary for effective project management.
The 10 Project Management Knowledge Areas
Here's an overview of each of the 10 knowledge areas of project management, including a brief description of the key project management documents needed to control each of them. All of these project documents are part of the project management plan which includes information about all knowledge areas of project management.
1. Project Integration Management
Project integration management can be simply defined as the framework that allows project managers to coordinate tasks, resources, stakeholders, changes and project variables. Project managers can use different tools to make sure there are solid project integration management practices in place. For example, the project management plan is important for project integration because it works as a roadmap for the project to reach a successful end. Once created, the project plan is approved by stakeholders and/or sponsors before it's monitored and tracked by the project management team.
Project management software, like ProjectManager, is ideal for project integration management because it's an online platform that project managers can use to create a project plan, oversee project management knowledge areas and collaborate with their teams online. ProjectManager also has project reporting features that allow project managers to create project reports they can share with project stakeholders to keep them informed.
The project integration area also includes the directing and managing of the project work, which is the production of its deliverables. This process is monitored, analyzed and reported on to identify and control any changes or problems that might occur.
Also, any change control will be carried out. That might require request forms, approval from stakeholders and/or sponsors or another admin. This area is also part of the project closure at the end of the project.
2. Project Scope Management
Project scope management is one of the most important project management knowledge areas. It consists of managing your project scope, which refers to the work that needs to be executed in a project. To manage your project scope, you'll need to build a project scope management plan, a document where you'll define what will be done in your project.
To start building your scope management plan, begin by writing a scope statement. This statement is anything from a sentence to a bulleted list that's comprehensive to reduce major project risks. Another part of this area is a work breakdown structure (WBS), which is a graphic breakdown of project work.
Validate scope during the project, which means making sure that the deliverables are being approved regularly by the sponsor or stakeholder. This occurs during the monitoring and controlling process groups and is about accepting the deliverables, not the specs laid out during planning.
The scope statement is likely going to change over the course of the project to control the scope, such as if a project falls behind schedule.
Get your free
Project Scope Template
Use this free Project Scope Template for Word to manage your projects better.
3. Project Time Management
Project time management involves estimating your project duration, creating a project schedule and tracking the project team's progress to ensure the project is completed on time. To do so, the first thing to do is to define your project scope to identify the tasks that should go into your project schedule.
Those project tasks are then put in an order that makes sense, and any dependencies between them are noted. These dependencies are then determined to be either finish-to-start (FS), finish-to-finish (FF), start-to-start (SS) or start-to-finish (SF). This is mostly for larger projects.
With the tasks now sequenced, the project resources required for each must be estimated and assigned. The duration of each task is also determined at this point. All of this leads to a schedule by first determining the critical path and float for each task. You should use project management tools like Gantt charts, kanban boards or project calendars to place the tasks on a timeline, and then work on resource leveling to balance resource usage.
Once the project schedule is made, plans to control the schedule are necessary. Earned value management is performed regularly to make sure that the actual plan is proceeding as planned.
4. Project Cost Management
This project management knowledge area involves estimating project costs to create a project budget. To do so, you'll need to use cost-estimating tools and techniques to make sure that the funds cover the project expenses and are being monitored regularly to keep stakeholders or sponsors informed.
Related: Free Project Budget Template for Excel
As with other project management knowledge areas, the cost management plan is the document where you'll explain the method to establish the budget, which includes how and if it will change and what procedures will be used to control it. Each project task will have to be estimated for cost, which means including all resources such as labor, materials, equipment and anything else needed to complete the task.
Once you combine all of the task costs, this determines the project budget. Then comes the need to control those costs by using project management tools such as ProjectManager's real-time dashboard, which keeps track of your project costs as your team executes tasks and spends project resources.
5. Project Quality Management
A project can come in on time and within budget, but if the quality isn't up to standard, then the project is a failure. This means that quality management is one of the most critical project management knowledge areas. Your project management plan should include a quality management plan section that specifies the quality control and quality assurance guidelines for your project.
Therefore, to control quality, the deliverables must be inspected to ensure that the standards outlined in the quality management plan are being met.
6. Project Human Resource Management
The project team is your most important resource, so it's crucial to assemble the best team and make sure they're happy. But also you need to track their performance to ensure that the project is progressing as planned. A human resource management plan identifies the roles and requirements for those positions, as well as how they fit into the overall project structure.
After you've determined the job descriptions, it's time to fill those positions and acquire a project team. This can be done in-house by drawing from other departments in the organization, getting new hires or a combination of both. The team needs development, possibly training and other things that'll make them viable for the project.
Managing the project team is an ongoing responsibility of the project manager. The team is monitored to make sure they're working productively and that there are no internal conflicts, so everyone is satisfied.
7. Project Communications Management
All knowledge areas of project management are important, but communication management might be paramount as it informs every aspect of the project. Communications inform the team and stakeholders, therefore the need to plan communications management is a critical step in any project.
Related: Free Communication Plan Template
It's at this point that the dissemination of communications is determined, including how it's done and with what frequency. Target who needs what and when. Also, note how communications will occur when issues such as changes arise in the project.
Manage the communications when the project is executed to make sure it runs as planned. This also involves controlling communications by reviewing their effectiveness regularly and adjusting as needed.
8. Project Risk Management
Risk management plans identify how the risks will be itemized, categorized and prioritized. This involves identifying risks that might occur during the execution of the project by making a risk register.
Perform qualitative risk analysis after the biggest risks have been identified and classified by likelihood and impact. Then prioritize them. Then perform quantitative analysis according to their impact on the project, such as its budget, schedule, etc.
Now you'll need to plan risk responses. If those risks in fact become issues, then a response needs to have been written in advance, with an owner who can make sure the risk is properly identified and handled. Controlling risk involves regularly reviewing the risk register and crossing off those risks that are no longer going to impact the project.
9. Project Procurement Management
This project management knowledge area deals with outside procurement, which is part of most projects, such as hiring subcontractors. This will impact on the budget and schedule. Planning procurement management starts by identifying the outside needs of the project and how those contractors will be involved.
Now conduct those procurements by hiring the contractors, which includes a statement of work, terms of reference, request for proposals and choosing a vendor. You'll want to control the procurement process by managing and monitoring, and then closing the contracts once the work has been done to everyone's satisfaction.
10. Project Stakeholder Management
The stakeholders must be happy, as the project has been created for their needs. Therefore, they must be actively managed like any other part of the project. To start, identify the stakeholders through stakeholder analysis and find out what concerns they have. It's not always easy, but it's a crucial part of starting any project.
Now plan stakeholder management, which means listing each stakeholder and prioritizing their concerns and how they might impact the project. This will lead to managing stakeholders' expectations to make sure their needs are met and that you're in communication with them.
Throughout the project, you'll want to control stakeholder engagement by determining if the stakeholders' needs are being addressed. If not, figure out what changes need to be made to either satisfy those needs or adjust the expectations.
Now that we have a better understanding of what the project management knowledge areas are, let's explore the differences between them and other similar project management concepts.
Project Management Knowledge Areas vs. Project Management Process Groups
We've discussed the project management knowledge areas and they're related to the project management process groups, but they're not the same thing. The project management knowledge areas are guidelines for the technical side of running a project.
The project management process groups, on the other hand, work with the project management knowledge areas to run the project. The project management process groups are the five main phases of a project: initiating, planning, executing, monitoring and controlling and closing.
Project Management Knowledge Areas vs. Project Management Skills
Again, the project management knowledge areas are how the project is managed. They offer various methods to get work planned, managed, tracked, etc. Project management skills, like process groups, work together with the knowledge area. For example, many of the project management skills are technical, or hard, skills. These include those key knowledge area disciplines from planning to risk and everything in between.
But project management skills go beyond technical skills. These are called soft skills and include things such as being a good leader, having strong communication skills and facilitating collaboration. While these skills are often harder to teach, they're no less important to the success of the project. Project managers need to be problem-solvers, manage their time wisely, be organized and have critical thinking skills or all the hard skills in the world won't deliver a successful project.
ProjectManager Helps You Apply the Project Management Knowledge Areas
Project management knowledge areas need powerful tools to be implemented throughout the project's life cycle. ProjectManager is award-winning project management software that has the features you need to plan, manage and track your project in real time. Our task management, risk management and resource management features give project managers and their teams the tools they need to deliver their projects on time and within budget.
Use Multiple Project Management Views
Every project has a diverse team working together for the same goals, but not necessarily using the same tools. When you're applying all the project management knowledge areas, you need diversity. That's why our software gives project managers robust Gantt charts to plan and schedule their projects while teams can choose between task lists and kanban boards. Stakeholders, who don't need to get into the weeds of the project, can view progress on calendars. All project views update simultaneously in real time so everyone is on the same page.
Monitor With Real-Time Project Tracking
The project management knowledge areas require monitoring and control to work. You can't expect the executed project to align with the project plan; you need to review and revise as needed. That is why our software has a variety of tracking tools. You can get a high-level overview of the project with our real-time dashboard, which automatically tracks time, cost and more with easy-to-read graphs and charts. Also, there's no time-consuming setup required as with other software. We also have secure timesheets to monitor your team's progress on their tasks and a color-coded workload chart that makes it easy to balance workload and keep teams productive and working at capacity.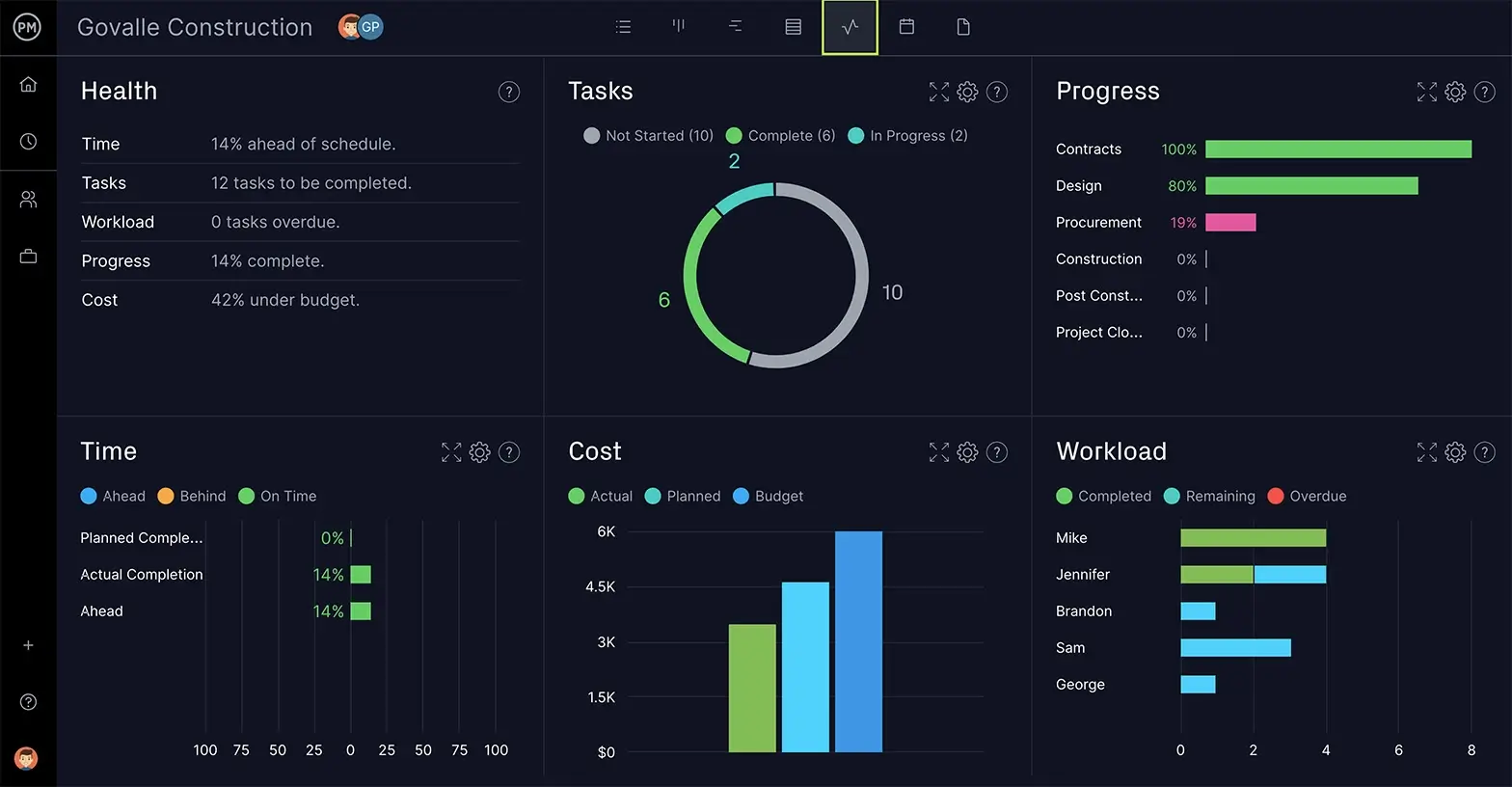 Create Project Reports in Minutes
Another tool to track progress and performance is our customizable reports. You can get more data than from the dashboard by generating a report in only a couple of keystrokes. Get reports on project or portfolio status, workload, timesheets, variance and much more. All reports can be filtered to focus on only what you want to see. Then they can be shared in a variety of formats to keep stakeholders informed.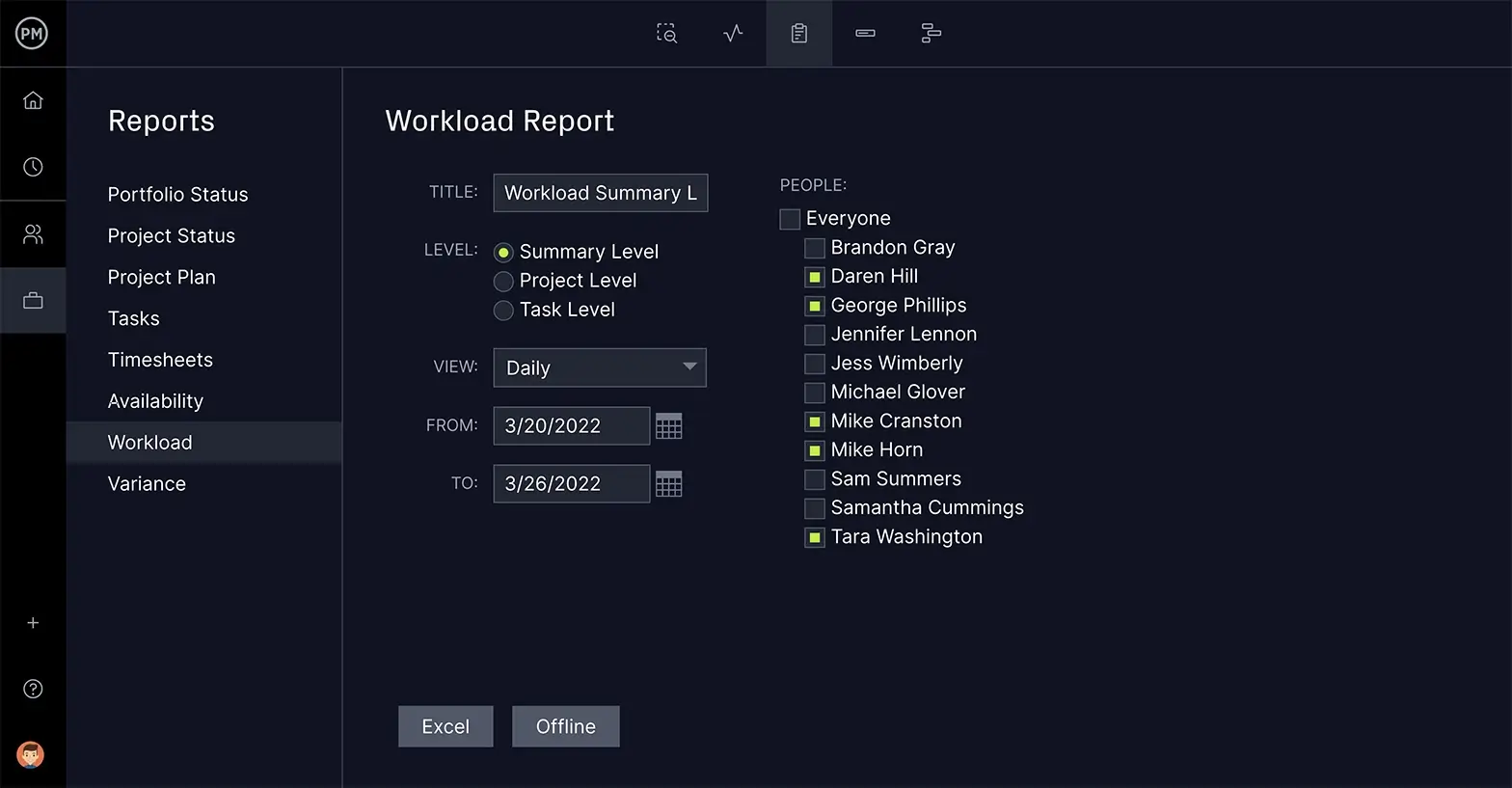 Project management knowledge areas bring a project to life, but life can be chaotic and complex, which is why project managers need a tool to help manage all these moving parts of a project. ProjectManager is online project management software with real-time dashboards and Gantt charts to monitor the project accurately throughout its many phases. See how it can help you manage your projects by taking this free 30-day trial.