If you're working in project management, then you know about Monday.com. You're probably getting a ton of online ads. The company has invested a ton of money in its marketing to people working on projects. But is there a Monday Gantt chart?
Let's take a look at this popular project management software and see if it delivers on one of the most essential project management tools. We'll avoid the question as to why Monday.com named itself after the most hated day of the week and leave that for another time.
What Is Monday.com?
Monday.com bills itself as a work management tool. It says its purpose is to help teams and their organizations work more efficiently. It does this with features that track projects and create workflows, adding automation and visual data. But it's mostly a collaborative tool.
This highly customizable tool is understandably popular as it has a forever-free plan. Its modern look appeals to a wide range of consumers, and there are tons of templates to create boards and automation. It integrates with a lot of other apps. Plus, there are bells and whistles that the general public will enjoy, such as animated fireworks when you complete a task, though this isn't likely to sway project management professionals.
But what about that all-important project management tool, the Gantt chart? It's not unusual that the free plan is limited to two users and doesn't have a full suite of features. Less unusual is the confusing pricing plans. But for our discussion, it all boils down to one question.
Does Monday.com Have a Gantt Chart?
Why is the question of a Monday.com Gantt chart so critical? That's because Gantt charts are the go-to tool for scheduling and planning a project. True, agile teams aren't going to be interested in Gantt charts, but the upper management who oversees them will likely be working on Gantt charts.
Yes, Gantt charts are best for traditional, waterfall methodology, but with cross-functional teams, you need a full array of project tools at your disposal, not just task lists or kanban boards, as important as those tools are. Gantt charts are like spreadsheets with the right side populated with a timeline showing the entire project.
More than just a visual tool, they can link dependencies to avoid costly delays, set milestones to help with project tracking, organize tasks, resources, costs and much more. They break projects into phases to make them more manageable. Few project managers would want to run a project without one. So is there a Monday.com Gantt chart?
Short Answer: Yes, Monday.com Has Gantt Charts
There is a Monday.com Gantt chart. It can be used to track project plans, monitor your progress and measure against your objectives. Monday.com Gantt charts are good to manage any business or personal work. That's true, in the most rudimentary way.
Long Answer: Monday.com Gantt Charts Lack Key Features for Project Management
If you're using a Monday.com Gantt chart you'll see what we mean when we say their project management tool is lacking. First, it's not going to help manage larger, more complex projects. It just doesn't have the features. A major weakness of Monday.com Gantt charts is that dependencies must be added by hand.
Another thing ProjectManager does that Monday.com doesn't do is have roadmaps for program and portfolio management. If you're managing more than one project you can see them all together on one project timeline. That helps you determine how you'll share resources across many projects. We even have portfolio reporting features and a portfolio dashboard.
You'd want Monday.com Gantt charts to link to timesheets, real-time dashboards and other project views, but it doesn't. There is so much that Monday.com Gantt charts can't do it would be misleading to call it project management software. Being generous, it's task management software, which is why the general public likes the app. It's like a more powerful to-do list.
If you're looking for a powerful Gantt chart that can help plan, manage and track projects in real time, you're looking for ProjectManager. Our award-winning project management software has robust Gantt charts that do everything Monday Gantt charts do and so much more. It's easy to drag and drop all four types of task dependencies, you can filter for the critical path and set a baseline to track project variance in real time. That data is shared across the app, such as in real-time dashboards, timesheets, workload charts and much more. Get started with ProjectManager today for free.
How To Make a Monday.com Gantt Chart Better With ProjectManager
If you're stuck using Monday.com but want to experience the full range of what a Gantt chart can do, there's a workaround that can free you from the constraints of a Monday.com Gantt chart. ProjectManager makes it easy to take your project from Monday.com and import it into our software, freeing you to use a Gantt chart the way it should be used.
To get started, visit ProjectManager and take our free 30-day trial. There's no credit card needed. It's completely free and you'll get access not only to our free Gantt chart software, but also task management, risk management and resource management features, plus multiple project views, real-time dashboards, timesheets and many more valuable project management tools.
Export & Import Your Monday.com Projects
Pick the project from Monday.com that you want to export. Save it as a CSV or Excel file. Now it's ready to be imported into ProjectManager.

Choose the Excel File
Log into ProjectManager and toggle to the Gantt chart where you'll see an import button. Click it and a window will pop up that says "Import a Project." Click "Select File" and find your Monday.com project and select it.
Select Options
Now that your Monday.com file is uploaded to ProjectManager, you'll want to decide if this is going to be a new project or if you'd prefer to add it to an existing project. If you're adding to an existing project, be sure to note whether to keep the existing data or delete it.
Import What Data?
The last step is to either import all the data from your Monday.com file or only the task list. Select the one you want to import and click next.
Create a Robust Monday.com Gantt Chart!
When you see the "Success!" window, that means you're done. The Monday.com file has been imported and you're ready to use a real Gantt chart in ProjectManager. Now you'll see what a real Gantt chart can do. It's packed with features and connects to the rest of your project management software.
How to Use Your Monday.com Gantt Chart in ProjectManager
Now let's look at what ProjectManager can do when you use your Monday.com Gantt chart in our software. For one thing, our Gantt chart seamlessly integrates with the rest of our project tools. You can share the Gantt chart with your team and stakeholders, track progress and performance on real-time dashboards and even auto-fill timesheets.
But before we start showing off the features of the Gantt chart, let's focus on what our Gantt chart can do. It's a powerful tool unto itself, which is cheaper than the 40-percent price increase that Monday.com implemented in 2022. With our software, it's easier to onboard and train your team and it has impressive reporting functionality. You can't even link tasks between boards or add holidays to know your team's availability. Here are some other noteworthy aspects of our Gantt charts.
Set Milestones for Your Progress
Milestones are important dates in your project and they show up on our Gantt chart as diamond icons. Simply point and click when you want them. They're great to indicate important deliverables, such as delivering the project plan to the client for approval. Traditionally, they're used to mark the end or the beginning of a project phase. This is helpful in that it allows you to track your progress and make sure you're keeping to the schedule.
Filter By Priority, Dependency and Tags
A big difference between Monday.com and ProjectManager is when you want to link task dependencies or work that can't be done until another task is either started or finished. Our software makes it easy to link dependent tasks, Monday.com doesn't. We also allow you to link all four types of dependencies. There are also customized tags, priority levels and more you can add to tasks to make them easier to find. Just filter the Gantt chart by what you want to see, such as the critical path in the screenshot below. It's that easy.
Our Gantt Chart is All Yours
What a pleasure it is to use a Gantt chart that works with you instead of against you. Monday.com's Gantt charts are one in a long line of difficult Gantt charts. Remember, people used to make these by hand. Even on a spreadsheet, they're complicated and aggravating to edit and almost impossible to share. You don't want multiple copies with different data floating around.
You'll find none of those roadblocks when you plan, manage and track your project on our software. Our Gantt chart is easy to share. You can edit by simply dragging and dropping. All associated tasks automatically update to reflect the change. You can add color to make it easier to see the different project phases and much more.
Get Notified of Progress
Because our software is online, our Gantt chart always has up-to-date information that is shared across our multiple project views. You're always working on the same page as your teammates, whether they're in the next office or next time zone. You can share files, comments and more to foster collaboration. For example, anytime the Gantt is changed or a task is commented on, you're instantly notified by email and there's even an in-app alert so you don't have to leave the tool.
Other Project Management Features From ProjectManager
Now that you're loving our Gantt chart, why not take a look around the software and see what else we have to offer? You can set availability when you onboard your team to make assignments easier, balance the team's workload to keep them working at capacity, boost productivity and so much more.
Kanban Boards
While project managers love Gantt charts, project teams don't need that level of engagement with the project. They want to do their tasks, which is why we have multiple project views, such as task lists, calendars and the visual workflow tool of a kanban board. The kanban board lets teams manage their backlog and plan sprints together, while project managers get visibility into their work and can reallocate resources to remove roadblocks to keep the team working uninterrupted.
Real-Time Dashboard
We've talked a little about the real-time dashboard, which automatically collects live project data and displays it on easy-to-read graphs and charts. It gives you a high-level overview of the project's progress and performance across a number of key metrics, such cost, time and much more. Most project management software makes you build your own dashboard, which takes time away from managing the project. Not our software. ProjectManager has a dashboard that's ready to go whenever you toggle over to view it.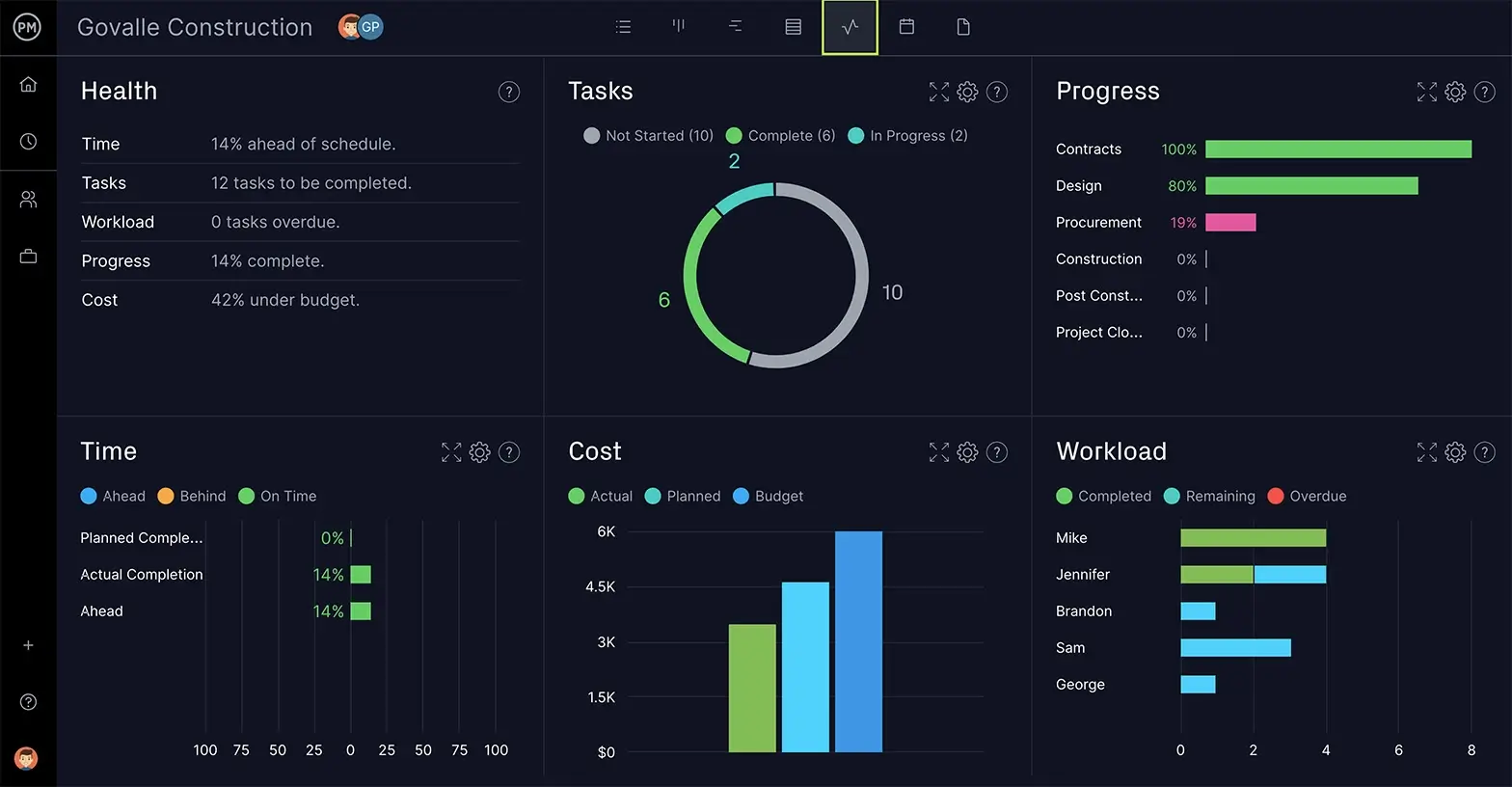 Team Management
Resource management is another key feature of our software. As we noted, we make it easy to onboard your team, define their skills and chart their availability, including PTO, vacation and global holidays for distributed teams. Once you've assigned the team, toggle over to the team page and get an overview of everyone on the team and see what they're working on. To go deeper, there's a workload chart where you can reallocate your team's resources to keep them balanced and secure timesheets to see how far they've gone in completing their tasks.
ProjectManager has more powerful Gantt charts than Monday.com. Our Gantt charts do more, do it better and do it seamlessly with our other project management features. If you need a Gantt chart, but also kanban boards, task lists, calendars and more you've come to the right software solution. Add to that our robust risk management, task management and resource management features and we give you the control you need to deliver successful projects. Get started with ProjectManager today for free.