(This post contains affiliate links. Read my full disclosure.)
Note: The IBM IT Project Manager Professional Certificate opens for enrolment on 30 June 2023. I have pre-registered to take the course, so I'll update this article later with my experiences.
Are you considering the IBM IT Project Manager Professional Certificate? I've done a lot of project management training in my 20+ years as a project manager, and those courses helped me understand the skills, tools and techniques required to succeed leading projects.
But I've never taken one specifically aimed at IT professionals specifically, even though I worked in the IT department for many years, so it is going to be interesting to work through this course.
Luckily for me, many of the training programs I've done have been paid for by my company. However, these days companies seem to be paying for less corporate training, and it seems like we all have to fund our own development.
However… it's really important to choose a good course. If you are going to take a professional certificate, you need to be sure that you are spending time (and money) on something that is worth it. And many of the professional bodies offer certificates and credentials that require pre-requisites – difficult to get if you are just starting out in technical project management.
In this IBM IT Project Manager Professional Certificate review for beginners, I'll share:
Why the IBM Project Management certificate doesn't require pre-requisites (and what you do need to pass)
Why it's especially good for early career project managers, even those who don't work in IT
How long you'll need to spend going through the course materials before you pass, and what that process looks like.
This course is new (it launched in June 2023) and it could turn out to be one of the most popular project management certifications for beginners on the market. I've spent many hours reviewing the materials and going through the lessons so you can save time in your own course evaluation.
How I did this review
I created an account on Coursera so that I could work through the course materials. I joined the class as a pre-enrolled student so I had access to the courses that make up the certificate as soon as they became available. I completed the quizzes and worked through the training videos.
Who is the IBM IT Project Management Certificate for?
The Coursera IBM IT Project Management Certificate is aimed at complete beginners.
You don't need any prior knowledge or pre-requisite study, or any particular education requirements in order to take the certificate.
Everything is very clearly explained, starting from the assumption that you know nothing. If you do know that particular topic, you can skip through the videos on fast speed or move directly to the quizzes.
However, the Introduction to Agile Development and Scrum course does recommend that you are comfortable using a computer and that you've had some involvement in software development or IT project management, perhaps as a team member or stakeholder in development projects.
You'll certainly find it easier to work through the material if you have some experience in the field, although don't worry if you aren't technical at all!
Project managers don't have to be domain experts: you aren't going to end up coding as a result of taking this certificate.
This course is great for:
People who have had no project management training and want to demonstrate they understand project management so they can break into an IT job.
People who are leading projects for their company but have had no formal training and would like to learn what they should be doing!
Project managers who are yet to take a professional certificate but don't meet the requirements for the course they are looking at, for example, not meeting the eligibility criteria for the Project Management Professional (PMP)® exam.
As a result of spending time creating this review, I think it's perfect for early-career project managers because:
It covers pretty much everything you need to know to be ready for an entry-level IT project management job.
It's from IBM. That's a brand that potential employers will recognize.
It's cost-effective if you work through the course quickly. The cost racks up if you spend months on it, but dedicate yourself to getting on with it and it works out cheaply.
It's fully online so you can study around your day job or university requirements.
If you are considering a career in technical, digital or IT project management, this is a low cost, low-barrier-to-entry course to check out what the job is really like.

IBM IT Project Management Certificate
This beginner's IT project management certificate from IBM gives you everything you need to get hands-on experience and break into leading technical projects.
We earn a commission if you click this link and make a purchase, at no additional cost to you #ad
What about people who don't work in IT?
I spent most of the first 15 years of my career in IT departments, running technical and business change projects under the umbrella of the IT division.
And you know what? I've come to the conclusion that there is no such a thing as an IT project.
Most projects these days include technical elements. While you might have a technical team working with you, leading those aspects, it never hurts to understand their world.
If you don't lead technical projects but work with people who do, or you just want to get a better understanding of what that job would be like if you transition into a digital PM or IT software project management job, then this certificate course will give you a good grounding.
About the course and structure
The certificate is made up of 9 courses. These are:
Introduction to project management
Project management foundations, initiation and planning
Project lifecycle, information sharing and risk management
Project management communication, stakeholders and leadership
IT fundamentals for everyone
Introduction to software engineering
Introduction to Agile development and Scrum
Scrum master essentials
Project management capstone
You don't have to take them in order, and you can work on them all at the same time. However, the content builds so it is worth pacing yourself in that order.
You do have to take them all (and pass them all) to be awarded the certificate.
Each course is made up of several modules that cover the various topics. They include readings, demos, glossaries and video training.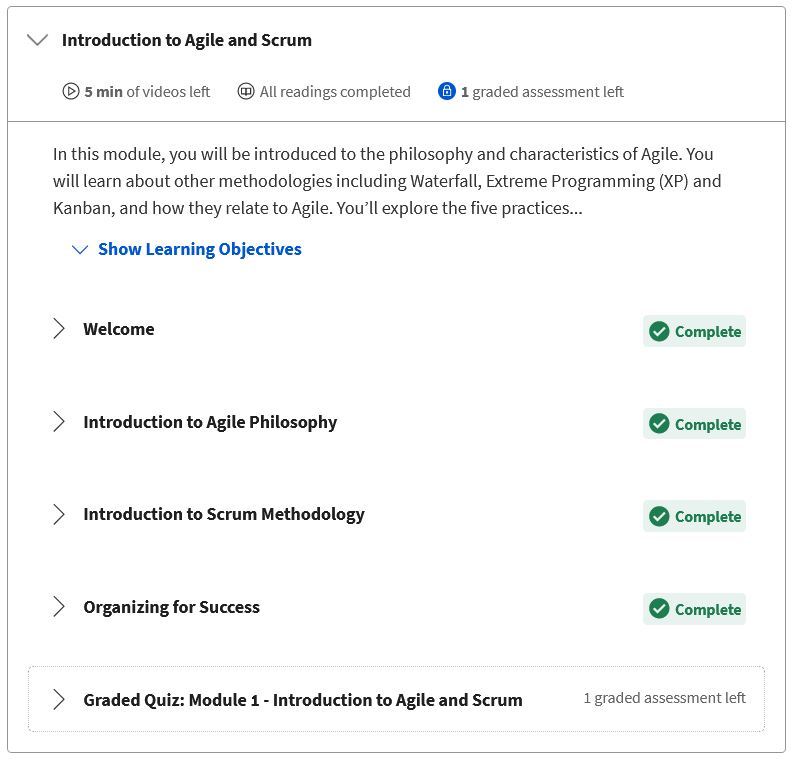 Set up of the course
The good news is that if you do the work in the certificate program, you'll pass. You can retake the quizzes and peer assessments. Stick with the work, and you'll pass.
However, there is a lot of work to do! While there is obviously more to learn about leadership, the leadership fundamentals module will take you 3 hours to work through alone.
I have used a few different learning management systems for online training courses and the Coursera platform that this certificate uses is really slick.
The video pops out when you scroll down the page. The notes capture tool is great – little touches like that make it easy to use and minimizes the effort you have to expend on training.
How long does the IBM IT Project Management Certificate take?
The recommendation is 10 hours of study per week for 3 months. In theory, that's half as much study as you need to do for the Google Project Management Certificate, but the IBM content feels more in-depth and technical as it is specifically framed through the lens of IT project management.
I think you can do complete the course much faster if you dedicate time to it. For example, you might have more than 10 hours a week to spend on the content. You might have project management experience that means you don't need to spend as much time on the foundational content and can skip to the IT-specific content.
If you are completely new to project management, and IT project management specifically, you will want to spend more time going through the content so you truly understand it.
The specific amount of time you'll have to spend on the certificate is going to depend on how much time you can dedicate to studying, and how quickly you pick up the concepts.
How the assessment works
Each module ends with a timed, graded quiz or final exam. Coursera is clear that it has to be your own work, so there are pop ups that require you to commit to the honor code and promise that it's all your own work.
There are also practice quizzes so you can get used to how quizzes are structured before you attempted the graded quiz for each module.
Peer-graded assessments
Much of the certificate relies on graded quizzes, but some of the courses and the Capstone project include peer-graded assignments.
A peer-graded assignment is where you submit your work and other students review it. You also have to review other people's work, and you get a marking scheme to make that easy. It's a great way to encourage participation and it helps you put what you have learned into practice.
What you need to pass the course
You know what you really need to pass the course? Time.
Make sure you put aside the time to do the work, otherwise the IBM PM Certificate will be yet another thing you started on the internet and never got anywhere with. Because you don't have to attend a class, you can let your learning drift if you want to.
Coursera is good at sending you reminders, and they pace your learning by creating dates for assignment submission so you can plan your study time. But it is up to you.
Maybe knowing that you get 14 days free is motivating!
What certificate do you get?
You get a downloadable PDF certificate per course, and when you complete all the courses, a shareable LinkedIn badge via Credly.
There is optional Honors content, for example in the Intro to Agile Development and Scrum course. That means your certificate for that course has 'with Honors' written on it, and it means you took the time to do the optional Honors project, which in this case is creating an Agile plan with ZenHub.
It is useful to do the Honors content if you are serious about learning practical skills to talk about in interview, but you don't have to do them to pass.
Pros
The advantages of the IBM IT Project Management certificate are:
It's technically focused and from a brand that IT employers will value.
It takes you from knowing nothing to having a decent understanding of what it means to lead a technical project, covering a lot of content.
You don't need any prior experience.
You work through examples, demos and case studies in the course, including in the Capstone, so you get to put your skills into practice (helpful for when they ask you at interview if you have ever done a particular thing).
The content is fantastic quality, with experienced trainers.
To earn the certificate, all you have to do is complete all the work.
That final point sounds easy, but trust me, there is a lot of content to get through for the certificate, so don't underestimate the amount of work and learning involved, especially if you are coming to the topics completely new.
There is no final, pressured exam but there is the capstone to work through. If you are nervous about taking invigilated exams, that's another reason to take this course over one that makes you sit a final exam!
Cons
The disadvantages that I found are as follows.
Until you are registered, it's hard to find out how much the IBM IT Project Management certification course costs. It is included in Coursera Plus which is the monthly subscription. The faster you work through the course, the less it costs.
You get 14 days free. After that it's £39 per month, or the equivalent in your country.
Peer-graded assignments. What if you have to wait 7 to 10 days for another student to assess your submitted assignments? As the course is new, there might not be that many people working through it at your pace.
That isn't an issue for 2 of the courses as they exist already and cross over into other professional certificates, so they already have hundreds of students. However, the PM specific modules might require you to wait until someone is ready to review your work.
Recommendation: Should you buy this course?
If you are seriously considering a career in IT project management and want a certificate to put on your job applications from a training provider that people will recognize, then this is a fantastic entry-level certificate.
Get a subscription, use your free trial time wisely, cancel your social engagements and just blitz through the content.
I should let you know that I am impressed with the course and that I'm now an affiliate for the Coursera platform so I can recommend it, but I only recommend products I have tested out and am confident in.
FAQ
Is the IBM IT Project Management Certificate worth it?
I think the certificate is worth it for entry-level and beginner project managers, and those who are considering moving into IT project management from another domain. The course is great quality, put together nicely, and will enhance your career as it focuses on in-demand skills.
Is the Coursera IBM IT Project Management Certificate free?
No, it's not free, but you can audit the course for free. That means you can study the course content, but you can't take the graded quizzes or be eligible to earn the certificate. If you want to learn about IT project management but don't need the certificate, you can study for free.
Is the IBM IT Project Management Certification equivalent to a PMP?
No, it's not. The IBM IT Project Management certificate is not equivalent to a PMP because the Project Management Professional® certification requires you to have experience working as a professional project manager before you are eligible to take the exam. PMP training is aimed at a completely different audience. The IBM IT Coursera project management course is aimed at early-career, beginner project managers.
Does the IBM PM certificate count towards PDUs or PMP training hours?
Yes, you can use the training course as hours towards your PMP 35-hours of project management education eligibility criteria. However, it's not a PMP training course so it isn't going to set you up for success in that exam. I would still recommend that you take a PMP training course and use a PMP exam simulator if you are studying for the PMP exam.
The IBM IT project management course on Coursera also counts towards Professional Development Units (PDUs).
How much does the IBM IT Project Management Certification cost?
The certificate is made up of 9 courses that are all available on a Coursera Plus subscription, which is £39 a month, or the equivalent in your country. You will need a subscription to take the graded quizzes and to earn the certificate. The faster you work through the materials, the fewer months of training subscription you have to pay for.
Ready to check out the course?
Register for the IBM Professional IT Project Manager Certificate now and get started on your next career step.

IBM IT Project Management Certificate
This beginner's IT project management certificate from IBM gives you everything you need to get hands-on experience and break into leading technical projects.
We earn a commission if you click this link and make a purchase, at no additional cost to you #ad
Is the IBM IT Project Manager Certificate worth it?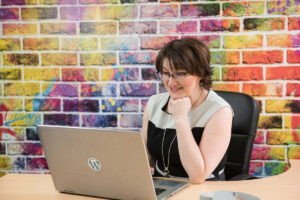 Find out whether the IBM IT Project Manager Certification is right for you. Read my review as I test it out.
Course Provider:
Organization
Course Provider Name:
IBM
Course Provider URL:
https://rebelsguidetopm.com/ibm-pm/