Asana is a well-known project management software solution, but many project managers who try it find that it falls short of their needs. Thankfully, there are many Asana alternatives on the market, many of which are more powerful and offer a wide range of key features that are currently lacking in Asana's portfolio.
Let's first explore Asana's project management tools and understand what it does and what it doesn't do. After that, we'll delve into 14 Asana alternatives that might better fit your needs. We gave each Asana alternative a thorough test drive and we've listed them in descending order of preference.
Why People Seek an Asana Alternative
Asana has positioned itself as a work management platform. It can be used by teams to help them stay on top of their assignments—whether those are project tasks or daily tasks for everyday business. However, Asana might not be the best choice for project managers.
If you're an Asana user who's hit the wall of what the software can do, or if you're simply looking for project management software that fits your needs, we've tested a handful of the best Asana alternatives for you. There's sure to be an Asana alternative with the right project management tools to suit your work.
What Features Make the Best Asana Alternatives?
Let's review the project management features that you should look for when choosing an Asana alternative.
Gantt charts: Most project management software relies on Gantt charts as the main project planning tool. However, Asana's timeline mimics a Gantt chart but lacks advanced project planning features, such as identifying the critical path or the work breakdown structure of your projects.
Kanban boards: Asana's kanban boards are simple and user-friendly for teams to visually manage their work, resulting in increased productivity. However, many Asana alternatives offer more advanced kanban boards to help teams stay on track and control their work.
Resource management: Asana doesn't have timesheets, workload charts or resource tracking reports, which are important resource management features for project managers.
Task management: Asana has multiple task management views that allow users to manage tasks, but fall short for project, program and portfolio management, unlike some Asana alternatives in this list.
Team collaboration: Like most project management software, Asana offers team collaboration tools such as file sharing and real-time team collaboration.
Work management: Asana lacks task automation features, which help streamline workflow, manage recurring tasks and reduce busy work.
2023 Best Asana Alternative Software Rankings
There are many Asana alternatives and each has key features and characteristics that make them unique. The following list includes free, freemium, cloud-based or open-source options. Look through them and decide which is the best Asana alternative for you.
1. ProjectManager
Best Asana alternative for project management
Real-time cost and time tracking
Multiple project management tools and views
ProjectManager compiles your favorite project management tools in one easy-to-use platform. It's award-winning work and project management software designed to help project managers plan, monitor and report on projects while providing teams the tools they need to collaborate and work more productively together. No matter if you have minimal project management experience or you're a seasoned professional, you'll be able to tap into the range of impressive benefits that ProjectManager has to offer.
Asana vs. ProjectManager
Like Asana, ProjectManager has kanban boards, task lists and reporting features. While Asana has timelines for scheduling tasks, you can't filter for the critical path or set a baseline to track your planned effort against your actual effort in real-time. ProjectManager offers multiple project views; from Gantt charts and sheet views to task lists, calendars and kanban boards, everyone can work how they please. All views share real-time data so there's one source of truth and task approvals help maintain project quality. Users can comment at the task level, share files and more—all in real-time. Whether you're in an office or working remotely, everyone can collaborate and work more productively together.
Track Progress and Performance in Real-Time
Track your team's work as it happens with time tracking and task management features with live dashboards that automatically populate with data across the software. There's no setup required as with other Asana alternatives. The real-time dashboard collects live data and displays digestible metrics on workload, budgets and costs. Use the dashboard to create instant reports to share with project stakeholders and quickly understand what projects are running smoothly and what projects require your attention.
These powerful reporting features alone put ProjectManager at the top of our list of Asana alternatives, but there's so much more than the tool offers. Use it to balance your workload and take advantage of other resource management tools such as timesheets to help track progress. Get started with ProjectManager today for free.
Pricing
Team: $13.00 user/month
Business: $24.00 user/month
Quick Facts
ProjectManager has a 30-day free trial
ProjectManager has a mobile project management app available for Android and iOS
2. ClickUp
Best Asana alternative for work management tools
Flexible for different types of businesses and teams
Task management features
ClickUp is cloud-based work management software that's flexible enough for businesses and teams of all sizes. It's a good collaborative tool for teams and clients to save documents. It also makes it easy to assign tasks to teams and manage projects. It has task management features that allow you to track changes, create schedules and create reports.
In fact, there are so many features that it can feel overwhelming, especially if you're new to the software, which means a steep learning curve. It also has customization that offers too many choices and can leave a user paralyzed. On top of that, the UI isn't great. It can be confusing and get in the way of what you want to do, which is your work. ClickUp provides variety when it comes to team collaboration, but lacks other benefits that other Asana alternatives offer.
Pricing
Unlimited: $5 user/month
Business: $12 user/month
Business Pro: $19 user/month
Quick Facts
ClickUp doesn't have a free trial
ClickUp has a mobile project planning app available for Android and iOS
3. Trello
Best Asana alternative for kanban boards
Customizable project management tool
Flexible for light agile work
Trello is task management software that uses kanban boards to organize work, which is both its strength and weakness. While its kanban boards are fully customizable and help users manage work and workflow for in-house and remote teams, putting all its eggs in the kanban basket will frustrate many users.
It's flexible enough for light agile work and has a user-friendly interface. Data syncs across devices when working which is also a plus. But if you're looking to manage resources, then you're out of luck. In fact, even though Trello focuses on kanban boards, the boards could be improved. For example, there are no swimlanes or work-in-progress (WIP) limits. While Trello is a user-friendly tool that's pretty good for kanban beginners, there are other Asana alternatives that offer a wider feature set.
Pricing
Standard: $5 user/month
Premium: $10 user/month
Enterprise: $17.50 user/month
Quick Facts
Trello has a 14-day free trial
Trello has a mobile project management app available for Android and iOS
4. Wrike
Best Asana alternative for integrations
Multiple project management tools
Reporting features
Wrike is project management software chock full of features that are configurable depending on how users want to work. While it's not the best Asana alternative, Wrike offers task lists, kanban boards and Gantt charts in addition to reporting tools and integration with third-party apps such as Google Drive and Dropbox.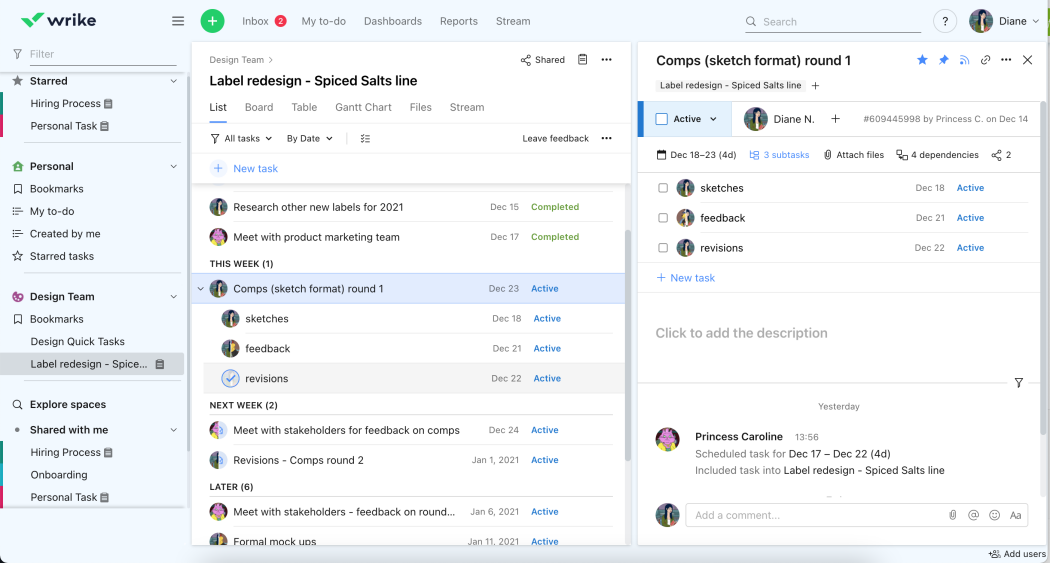 With all of those features, however, the software can be hard to learn and even more difficult to master. It can be a pain to onboard, especially for users with no project management experience. There's a dashboard but it doesn't have the ability to filter unwanted data. Wrike can also be slow to load and users have complained about its confusing UI. Before making a decision you'll need to consider your team's opinions and discuss whether Wrike is a good fit for the organization. If not, you should consider exploring other Asana alternatives.
Pricing
Professional plan: $9.80 user/month
Business plan: $24.80 user/month
Quick Facts
Wrike has a 14-day free trial
Wrike has a mobile project management app available for Android and iOS.
5. Monday.com
Best Asana alternative for ease of use
Attractive design and user interface
Has agile project management functionality
Monday.com is an Asana alternative that appeals to people that aren't strictly into project management. It's a colorful app that tries to appeal to a more general audience with project planning that provides the basics, such as setting deadlines and assigning tasks and resources. It's not all bare bones, though, with progress tracking features that monitor budget, burn rate and project velocity among other metrics.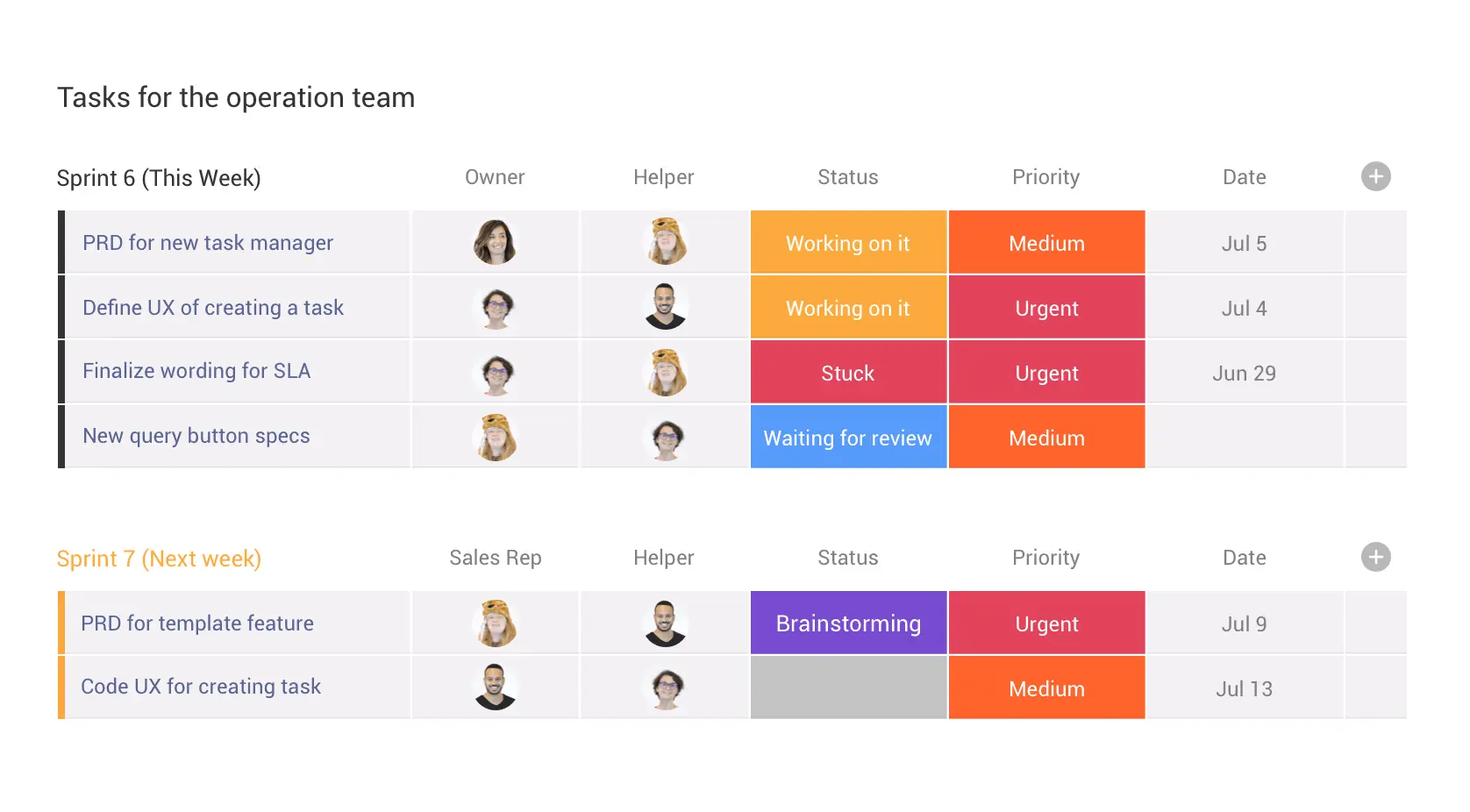 It's clear that this Asana alternative isn't for project managers who run more complex projects, but even for the layman, it can be confusing. The pricing plan is somewhat deceptive, with user pricing looking affordable until you sign up and realize the monthly minimum. There's a minimum of three users for each plan, which adds up. The free trial is also half the time of most other Asana alternatives. Time tracking is only available for the most expensive plan. Also, a tool that prides itself on agile work, its sprints don't work as smoothly as one might expect.
Related: Monday.com Gantt Chart: How to Make a Gantt Chart With Monday.com
Pricing
Basic: $24/month billed annually (minimum of 3 users)
Standard: $30/month billed annually (minimum of 3 users)
Pro: $48/month billed annually (minimum of 3 users)
Quick Facts
Monday.com has a 14-day free trial
Monday.com has a mobile project management app for Android and iOS
6. Smartsheet
Best Asana alternative for project spreadsheets
Strong collaborative features
Automation to streamline workflow
Smartsheet is an Asana alternative that puts all its eggs in one basket, but it's a familiar basket. The whole tool is based on spreadsheets, but super-sized to do more than what one is accustomed to having them do. For example, you can plan, track and even automate work. There are also reporting features. Every user has transparency into what everyone else is doing, which fosters better collaboration.
This Asana alternative's strength is also its weakness, which is spreadsheets. Project management software was developed as a response to the limitations of spreadsheets. Smartsheet is maybe too smart in that it's complicated and difficult to use. That steep learning curve can be overcome with much time and effort, but having to buy add-ons to do important tasks such as time tracking and resource management is going to hit users in the pocketbook.
Pricing
Pro: $7 per user/month (maximum of 10 users)
Business: $25 per user/month (minimum of 3 users)
Quick Facts
Smartsheet has a 30-day free trial
Smartsheet has a project management app for Android and iOS
7. Basecamp
Best Asana alternative for small projects
Features that facilitate collaboration
Intuitive and easy-to-use user interface
Basecamp is an Asana alternative that seeks to offer both project management and communications features. It has a basic plan that's monthly per user, but its more popular option is a flat rate, which makes it unusual on this list. It's a strong tool for teams that are distributed or work remotely as it has a lot of tools that facilitate collaboration, such as message boards, real-time group chat and automatic check-ins. It's also a very intuitive tool and easy to use.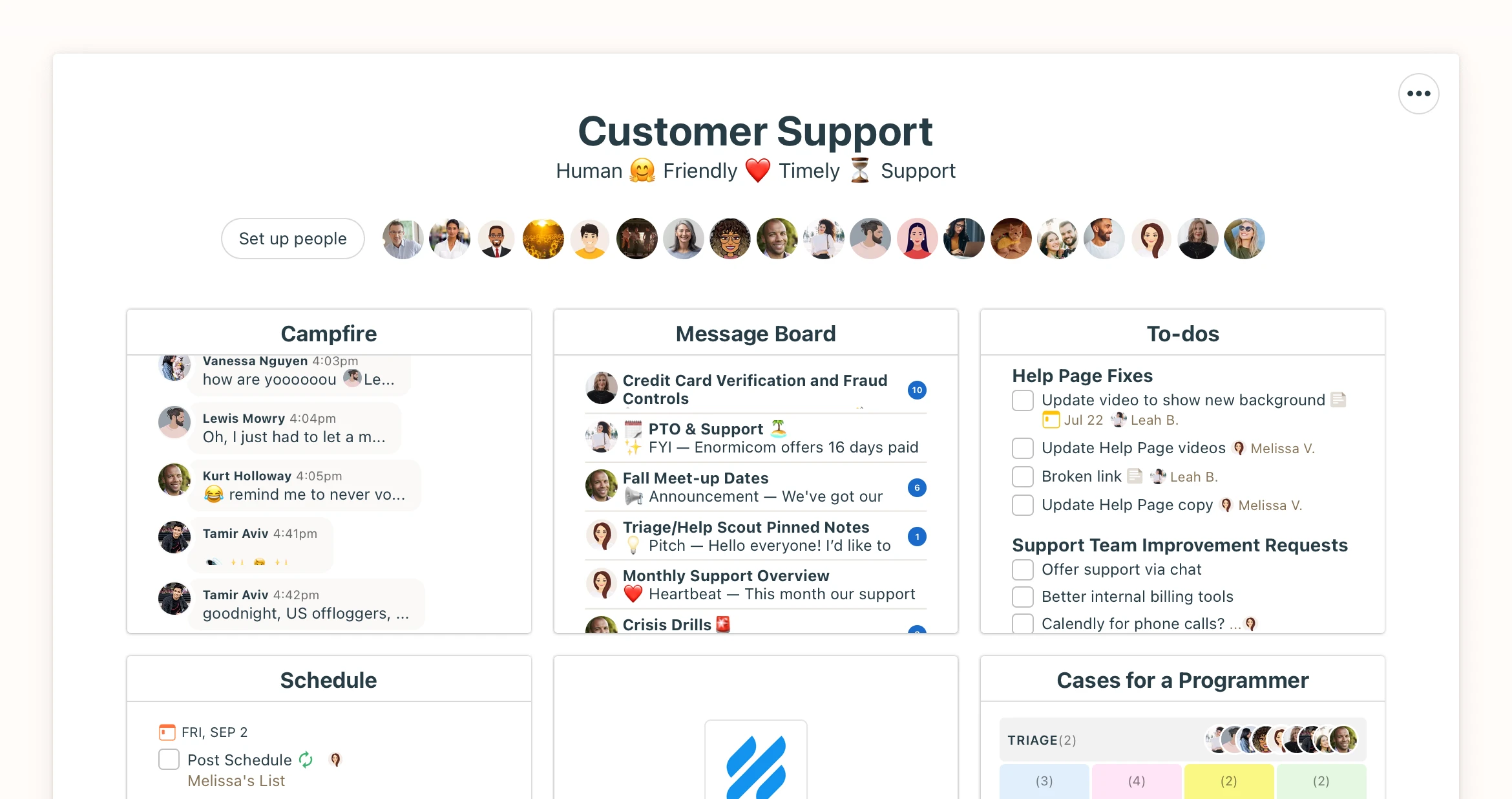 But there are gaps in this software that will likely have users searching for another Asana alternative. There are no tags or labels, for one, such as prioritizing or categorizing your tasks. This is a common feature in most other software products, but it's missing here. Another absence is time tracking, which is a critical feature not appearing on Basecamp. There's limited customization, but more damning is that the chat features, which are otherwise very good, are almost impossible to manage. You can't even archive conversations. Maybe one day they'll fix that to give users more personal control.
Pricing
Basecamp: $15 user/month
Pro Unlimited: $299/month
Quick Facts
Basecamp has a 30-day free trial
Basecamp has a project management app for Android and iOS
8. Hive
Best Asana alternative for team visibility
Library of project templates
Advanced analytic tools
Hive is a relatively new Asana alternative that serves businesses of all sizes. It has features that help manage teams, foster collaboration and automate workflows. It's one of the easier-to-use apps on this list, with accessible and responsible customer service. There's a template library to help get you started, too. Advanced analytics help with budgeting and users can track time within a task. Plus, without having to pay for another user, you can give guests a view of the project.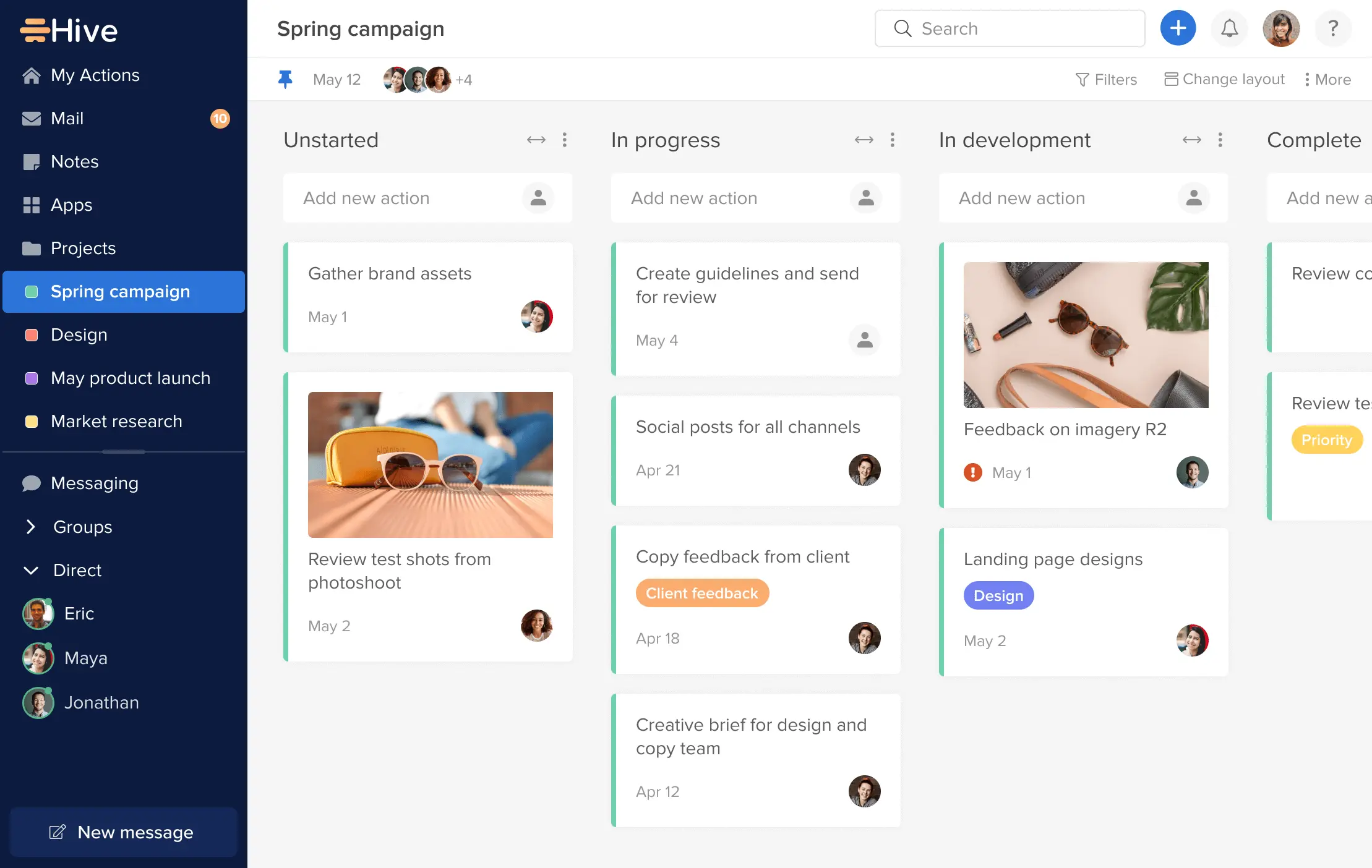 However, a lot of those advanced features, such as analytics, are only available for a price. And while it might be user-friendly, it'll take a while before you get there. It can be a frustrating learning curve before you reach ease of use with the tool. There's a mobile app, but its functionality is limited, which is going to dissuade teams that work in the field. Then there are integrations. If you want them, you have to use Zapier.
Pricing
Quick Facts
Hive has a 14-day free trial
Hive has a project management app for Android and iOS
9. Workzone
Best Asana alternative for marketing teams
Easy-to-use project management tools
Has budget management features
Workzone is an Asana alternative for marketing teams, ad agencies and other organizations that manage many projects. The software has been around for a couple of decades which shows that Workzone has built a loyal following. Workzone has more features than some entry-level project management software solutions and is easier to use than Asana. It offers budget management, collaborative tools, Gantt charts, and portfolio management and works best with traditional project management methodologies.
However, Workzone isn't designed to work within an agile framework, something that many teams prefer. There's also no kanban board for visualizing workflows. Moreover, its workload and time-tracking offerings are less than ideal as it doesn't display cumulative hours for team members. There have also been complaints about its user interface needing improvement. Workzone doesn't offer anything like Asana's templates to help set up the software, meaning manual setup is required. There are other Asana alternatives that can cover these gaps, but Workzone might still be useful to your team.
Pricing
Team: $24 user/month
Professional: $34 user/month
Enterprise: $43 user/month
Quick Facts
Workzone has a 30-day free trial
Workzone has a mobile project management app available for Android and iOS
10. Teamwork
Best Asana alternative for team management
Simple user interface and clear design
Good fit for agile project management
Teamwork is a simpler alternative to Asana which focuses on team collaboration. It's meant for teams focused on a simple user interface and clean design versus those seeking complex project management software. Because of this, Teamwork appeals to those who work in an agile framework with tools like kanban boards and work management features. Teamwork isn't one software, but a suite of different ones, including Teamwork Projects, Teamwork Desk (for the help desk) and Teamwork Chat. This creates both flexibility and confusion.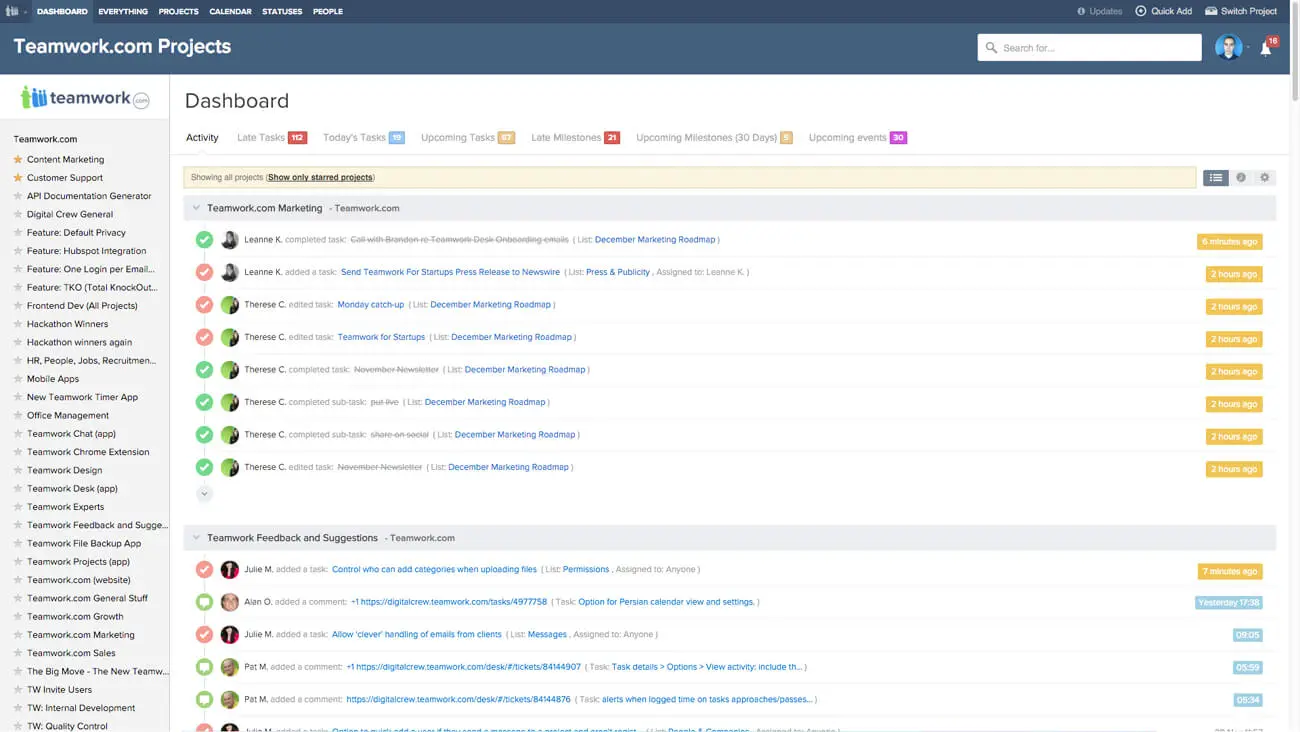 The software often crosses the line from simple to generic. It's a one-size-fits-all solution that lacks advanced Gantt charts or other time-tracking, task management and project-planning features. Teamwork Projects can also make it difficult to set up projects, add tasks, set start and end dates and assign tasks to team members. Teamwork is a collaborative tool that can help with work management, but if you need advanced project management features, you might need to look for more Asana alternatives.
Pricing
Deliver plan: $9.99 user/month
Grow plan: $19.99 user/month
Quick Facts
Teamwork has a 30-day free trial
Teamwork has a mobile project management app available for Android and iOS
11. Todoist
Best Asana alternative for to-do lists
Focuses on task management
Good productivity tool
Another Asana alternative is Todoist. As the name suggests, this is a great app for tackling your to-do task lists. Todoist is focused solely on task management, which makes it an ideal tool for people looking to prioritize tasks and get productive without learning to use more complex project planning software. It's easy to add tasks and recurring due dates. Plus you can view all your tasks at once to get a bird's eye view. Todoist's "favorites" function helps users focus on key projects, labels or filters so essential details don't fall through the cracks. Tasks can also be shared which makes this more than a grocery list app.
However, since you can only view tasks as a list, Todoist lacks the basic functionality to be an effective project management app. There are no Gantt charts, calendar views or kanban boards to facilitate workflows. In addition, only individual tasks, not projects can have due dates. Plus, you can't mark a project as complete. There's a free version but its offerings are limited. While the paid version gives you more bells and whistles and is a great free Asana alternative, if you're going to pony up the cash, you'd be better off with other Asana alternatives.
Pricing
Pro: $4 user/month
Business: $6 user/month
Quick Facts
Todoist doesn't have a free trial
Todoist has a mobile project management app available for Android and iOS
12. Podio
Best Asana alternative for productivity tracking
Tracks client contacts
Has customizable templates
Another work management alternative to Asana is Podio. It's a great productivity tool that can keep track of client contacts and other key information such as notes from meetings. There are customizable templates that help users get started that much faster. Podio helps facilitate team collaboration and helps with project organization, especially when a project deals with external teams. It also acts as a collaborative bridge between team members from different departments in an organization.
Podio can track tasks and multiple projects while organizing them by group and colleagues. But because it's a very specific project and task management software, it's not the best project management software for project implementation.
Pricing
Plus: $11.20 user/month
Premium: $19.20 user/month
Quick Facts
Podio doesn't have a free trial
Podio has a mobile project management app available for Android and iOS
13. Jira
Best Asana alternative for software development
Good for tracking issues
Plugins available on marketplace
Jira is a software product of Atlassian and is often used for tracking issues in software development. But Jira has grown to be used outside of the IT segment for tracking a range of issues, tasks and work items. What it might lack in features is made up on the Atlassian Marketplace where many plugins can be purchased to extend the tool's features.
Customers have complained that while this Asana alternative does have a mobile app, it pales in comparison to the web version of the software. If you've been using different software to manage your tasks and want to migrate that work into Jira, you'll find it complex. There's also a limit to file size uploads that can be frustrating if you want to upload an image.
Pricing
Free for up to 10 users
Standard: $7.75 per user
Premium: $15.25 per user
Enterprise: Custom pricing
Quick Facts
Jira offers a 7-day free trial
Jira has a mobile project management app available for Android and iOS
14. ProofHub
Best Asana alternative for large teams
Collaborative project management tool
Intuitive and quick to pick up
ProofHub is another cloud-based project management software made to help plan, collaborate and organize work. Project managers are able to communicate with teams and clients, share information and all in an easy-to-use tool that is intuitive and quick for most to pick up and use.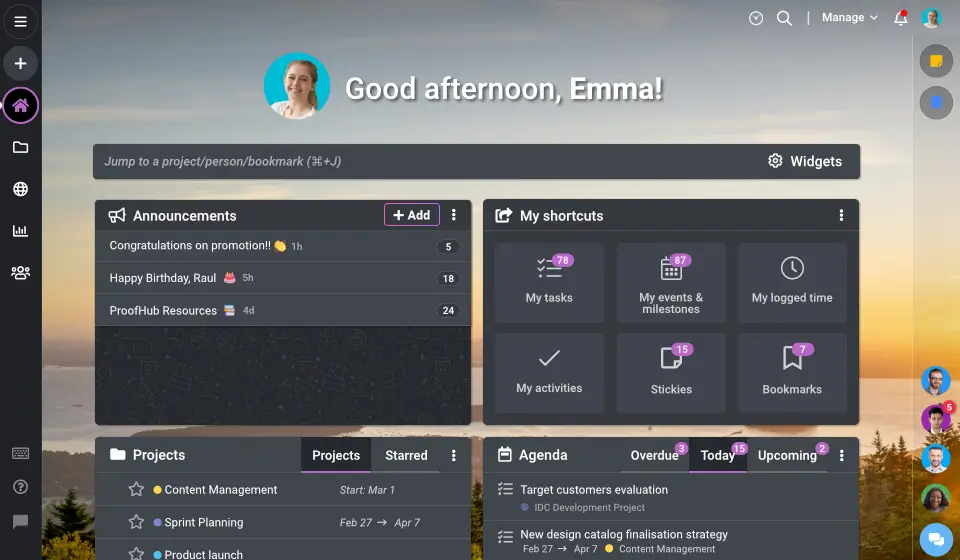 This Asana alternative has kanban boards, Gantt charts and a chat feature for collaborating, but there's limited interaction with other software platforms, a problem for most users who need more than one tool to complete their work. There are also issues with tracking and many features can be a bit buggy. This on top of minimal budgeting tools is a problem.
Pricing
Essential: $45 per month, flat pricing
Ultimate Control: $89 per month, flat pricing
Quick Facts
ProofHub offers a 14-day free trial
ProofHub has a mobile project management app available for Android and iOS
Which Asana Alternative Is Right for You?
You've seen our list of Asana alternatives and there are many contenders, but the top choice is ProjectManager. This award-winning project management software empowers teams to plan, manage and track their projects in real time. It has all the collaboration features you need to share files and comment on tasks, plus there are task management, risk management and resource management features to help you stay on schedule and budget.
If you're looking for the best Asana alternative, look no further than ProjectManager. While there are plenty of software alternatives that do what Asana does and more, none of them have the array of features that make ProjectManager the go-to tool for all your work management and project management needs. Manage your tasks on a Gantt chart, kanban board, list or calendar. Collaborate with team members and track progress with a real-time dashboard and one-click reporting. Get started with ProjectManager today for free.