We have great news for all those agencies and freelancers working on a retainer. As the title says, ActiveCollab now has a new feature in the project budget area!
Retainer Definition
Before we get started, let"s pause for a moment and define what's a retainer. Sometimes, service providers find clients they work well with, and the collaboration is based on mutual trust, making it more regular. A retainer is when two parties agree that one will provide a certain set of services and the other will pay a certain amount throughout regular intervals, usually monthly. Now, let's see how you can implement this model in ActiveCollab.
Budget Allocation in ActiveCollab
When you start a new project, check the box to enable budget, time, and expense tracking if you'd like to keep track of your project finances right where your tasks are.
Next, select the budget type for the project at hand. We have already covered this topic when this feature was released, but here's a quick summary:
Use a fixed budget when you have a set amount for the entire project
Select "time and expenses" if you have a target budget but will charge based on the time and expenses spent during development
Non-billable projects are usually internal projects used to organize your team better
The novelty lies in the second option, where you can now choose the target budget for four different intervals:
Whole project
Yearly
Monthly
Weekly
All you should do for better data-driven decision-making is enter the target budget and the preferred interval. You can also set up budget alerts so you're notified through the app and email when you reach a certain percentage of the target budget. This way, you'll have complete control over your finances without checking constantly. But if you want to take a quick look, check the project info for a snapshot of the current state.
Retainers and the Benefits of Budget Intervals
If you have clients you work with at regular intervals, this new option will allow you to set the target budget for each interval, and the cost will be reset automatically every 1st day in a year, month, or week.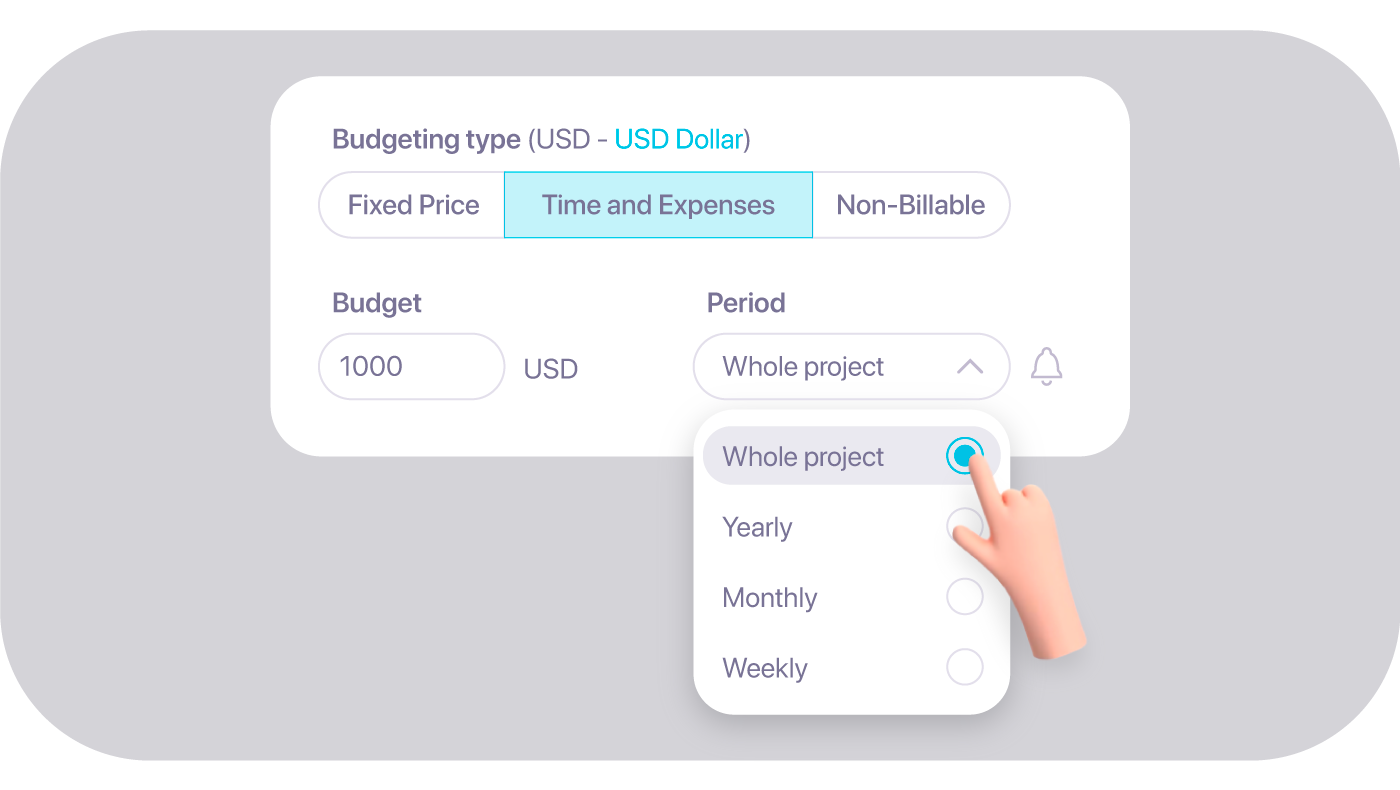 Let's illustrate with an example of a content writer who regularly collaborates with a company and is expected to write two posts weekly for an agreed sum of $300. The writer can set up the target budget and interval, as well as the alert (just in case!) that will set off at 70%, which is $210 in this example.
If the first day of the week is set to Monday, that's when the cost will be once again reset to $300, and the writer will also receive an email with the details of the expired budget interval. No matter when the interval is set off, it will be restarted on the first day of the year, month, or week. So, in our example, if the writer sets up the budget interval on a Thursday, the cost will snap back to $0 on Monday.
Detailed Budget Reports
If you're wondering what happens if you overstep or fall short of the target budget, that's up to what you and your client agree upon. All ActiveCollab will do is notify you of your budget interval status and reset the cost regularly. You'll also be able to track your results through project budget vs. cost reports, where the intervals will be based on what you selected for the project. Our writer will be able to flip the project report through weeks, while those who chose a monthly interval will analyze a month at a time.
We hope this very requested feature will help you track your project budget more easily and collaborate with your clients better! Stay updated on the new features we're developing by subscribing to the ActiveCollab newsletter and reading our monthly recaps, where we go through everything we've been working on each month. Happy budgeting!