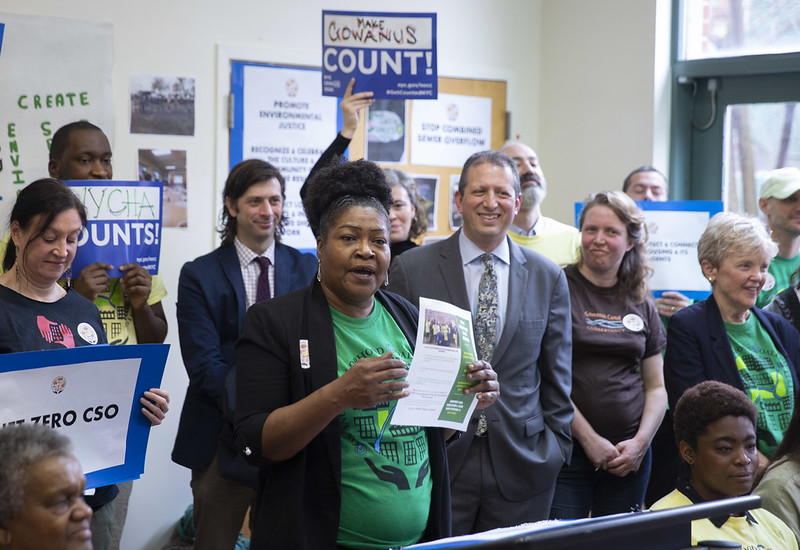 Activists, Council Member Brad Lander & others (photo: John McCarten.City Council)
---
With voting underway in this month's primary elections, including for almost all 51 City Council seats, including about three dozen that are "open" due to term limits, crowded fields of candidates are pushing for every vote.
The competition is especially hot, if civil, in Brooklyn's 39th City Council District, one of the most politically-active areas in the city, with some of the highest voter turnout rates, and the home district of Mayor Bill de Blasio, who represented the district before being elected Public Advocate then Mayor. His successor, City Council Member Brad Lander, is now term-limited and attempting a similar jump to citywide office in his bid for Comptroller, hoping to be catapulted by the district's voters who will also be choosing his replacement among a large and diverse field of candidates.
The district stretches from Cobble Hill to parts of Kensington and Borough Park. It includes Carroll Gardens, Gowanus, Park Slope, Prospect Park, and Windsor Terrace. Due to an overwhelming Democratic majority within the district, the winner of District 39's primary will all but certainly become the next Council member.
City Council members are responsible for writing and passing legislation, negotiating and approving the city's budget, performing oversight of city agencies, making crucial land use decisions, and attending to constituent services in many different ways.
Seven prominent candidates have emerged to take Lander's place and Democratic voters are choosing among an array of former teachers, labor organizers, and political and civil rights activists. The race is set to be decided through early voting June 12-20 and primary day on June 22, along with absentee voting. It is among the first citywide use of ranked-choice voting, where voters can select up to five candidates in each primary in order of preference, and, as long as no candidate receives a majority of first-place votes, votes are redistributed as candidates are eliminated in an instant-runoff tabulation.
In addition to citywide issues including post-pandemic recovery, policing and public safety, and an affordable housing crisis, Lander's successor will need to address district-specific concerns that have been essential to the campaign. For instance, the next Council member will inherit a planned rezoning initiative for an 82-block section of the Gowanus neighborhood, which has proven controversial but appears likely to be a done deal by January, when the next Council class takes office.
The Gowanus rezoning proposal, which Lander has shaped and supported with conditions still being negotiated, would allow for 8,500 more units of housing in the neighborhood, 3,000 of which would have affordability caps on rent. The plan includes developing a 100% affordable complex on a city-owned lot known as Public Place, which is in need of intense environmental remediation before construction begins, part of the larger issue around the Gowanus canal as a toxic site being cleaned up. Proponents say the plan would bring much-needed affordable housing and modernized zoning to the area; opponents claim the remediation and environmental impact mitigation efforts aren't enough to keep the area healthy, and some have called for a higher percentage of affordable housing and/or more deeply affordable thresholds. One of the key sticking points in the deal Lander is looking to reach with the de Blasio administration is investments in nearby NYCHA developments.
The Council district also overlaps with much of school district 15, spanning from Cobble Hill to Sunset Park, which has initiated rare integration efforts amid the city's sluggish approach to racially divided schools. The push was led by parents and activists and realized by Lander and Council Member Carlos Menchaca, who also represents parts of the school district, and has shown encouraging results for those who support integrated schools. In 2019, school district 15 eliminated the use of grade and test-based screening for middle school admissions, instead employing a lottery-based system. The move prompted backlash from some of the district's white families, a smattering of whom reportedly moved their kids to private schools in response.
Educational equity and pandemic-related school issues, including their full reopening, have figured prominently throughout the Council race, with several former educators and public school parents running for the seat.
According to 2010 Census data, the district had a population of 154,341 people, with 65.9% white, 14.2% Hispanic, 12.5% Asian, 4.4% Black, and 2.3% multiracial. Out of the 58,051 occupied housing units in the district, 40,009, or 68.9%, are occupied by renters, and 18,042 are occupied by owners.
During his time as the City Council member of the 39th district, Lander prioritized worker protections, housing rights, racial justice and police reform, sustainability, public education, safe streets, and participatory government. As he's running for city Comptroller, he has not made an endorsement in the race to replace him.
Shahana Hanif
Hanif, who was born and raised in Kensington, has worked in Lander's office as Director of Organizing and Community Engagement in Lander's office, and the Bangladeshi Community Liaison previously. If elected, Hanif would be both the first Muslim woman and the first South Asian woman elected to the New York City Council, along with being the first woman to represent Council District 39.
Hanif has been a Community Board 12 member and a County Committee member in Assembly District 44. She has also worked as a public housing tenant organizer with the Committee Against Anti-Asian Violence (CAAAV).
In Lander's office she has worked especially on establishing and running the participatory budgeting program, which allows residents to have a say in where some public funds are spent, among other initiatives.
Hanif lists her top three issues and solutions as integrating public schools, providing affordable housing for all, and divesting from policing. She also places emphasis on radical language justice and her "NYC Survivor Security Plan." Hanif's policies are reflective of her own lived experiences as a daughter to Bangladeshi immigrants, a Lupus survivor, and a member of Muslim student clubs that were said to be infiltrated by the NYPD.
While discussing integrating schools, Hanif has called for abolishing admissions screens, expanding culturally responsive education, and creating sustained pipelines for Black and brown teachers. Additionally, Hanif outlines a plan to expand free childcare in the district and on CUNY campuses, along with fighting for better wages for early childhood educators. She also emphasises mental health services for students throughout schooling including into college.
Within her affordable housing platform, Hanif calls for investing in permanent affordable housing over temporary shelters and combating the ill-effects of gentrification within the district. She says she would prevent the privatization of NYCHA by pushing for more funding for public housing. She also aims to expand tenants rights, specifically the right to legal counsel, and wants to work towards creating a more participatory city planning process, saying the Gowanus rezoning discussion has too often excluded impacted residents.
Hanif calls for defunding and demilitarizing the NYPD, citing a rising budget despite the deaths of Black and brown New Yorkers at the hands of police. She wants to end mass incarceration, surveillance, and over-policing. She calls for defunding the NYPD budget by $3 billion and reallocating those funds to various mental health and youth services, while also insisting on police-free schools that invest in guidance counselors and mental health services as an alternative.
Hanif wants to expand participatory budgeting so community members can help decide where funds are needed the most.
Having watched the most linguistically-diverse neighborhoods in Brooklyn become devastated by COVID-19, Hanif calls for "radical language justice" to defeat barriers to city services and care. Her goals for resolving language injustice include establishing a "Citywide Interpretation Fund" for interpreters, translators, and other interpretation services, creating a pipeline for diverse translators that include a variety of languages rather than…


Read More: In Brooklyn Political Launching Pad, Another Highly Competitive Council Race